Showrunner Shuffle: 'Last Man Standing' Latest Series To Nab a New Boss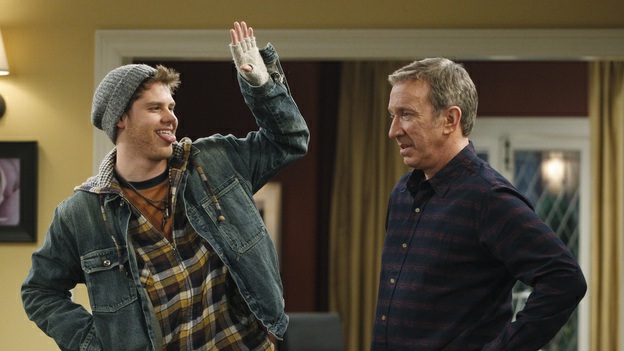 After being fabled in urban lore for years, the Season of the Showrunner Switcheroo has finally come to be. Ever since the network upfronts announced which series would be returning for the upcoming television season, the public has heard news of several shows dropping their existing showrunners and bringing in new ones. The latest in the trend is Last Man Standing, the Tim Allen sitcom that just concluded its first season on ABC. EW reports that original showrunner Kevin Abbott is leaving his post to take the lead on the new ABC program Malibu Country, starring Reba McEntire. Tim Doyle (who has served as EP on The Big Bang Theory and Rules of Engagement) will be assuming control of Last Man Standing. 
The news might have been more jarring if the world wasn't quickly becoming desensitized to the idea of showrunner swapping. Recently, the HBO hit True Blood (which aired its Season 5 premiere on Sunday) announced that creator and showrunner Alan Ball would be stepping down, and the series executive producer Mark Hudis would be taking charge for the developing sixth season. You can read more about this here.
The Showtime dramedy Nurse Jackie nabbed former Dexter writer/showrunner Clyde Phillips to lead. Former series heads Liz Brixius and Linda Wallem dropped out of production in light of Nurse Jackie's relocation to New York. You can read more about this here.
Prior to this, it was announced that Cougar Town, which is moving from ABC to TBS, would be giving creative control to Ric Swartzlander. Original showrunners/creators Bill Lawrence and Kevin Biegel will remain attached as executive producers — they and the cast have expressed a positive attitude about the change-up. You can read more about this here.
Back in March, Paul Lieberstein, The Office's showrunner and onscreen sad sack (better known as Toby Flenderson), announced that he would be giving up his top dog position in order to head The Office's developing Dwight Schrute-centric spinoff, The Farm. No word yet on who will take Lieberstein's spot as showrunner. You can read more about this here.
The freshman comedy Whitney didn't quite earn its keep during its first year on NBC, but the network is bent on finding the magic it believes to be inherent in its star's television presence. Whitney has hired Friends vet Wil Calhoun to take over; previous showrunner Betsy Thomas will remain EP status. You can read more about this here.
But the greatest deal of outrage has come in response to the replacement of Dan Harmon as showrunner on his cult phenomenon, NBC's Community. Harmon was removed by the network from his position and granted an executive producer credit; outside writers David Guarascio and Moses Port were brought on to head the series. You can read more about this here, but try not to get too depressed.
[Image Credit: ABC]
More:
Fall 2012 Pilot Preview Catch-Up — VIDEOS
Showtime Orders Drama Series 'Masters of Sex' and 'Ray Donovan'