Showtime Sets 'Californication', 'Shameless', and 'House of Lies' Return Dates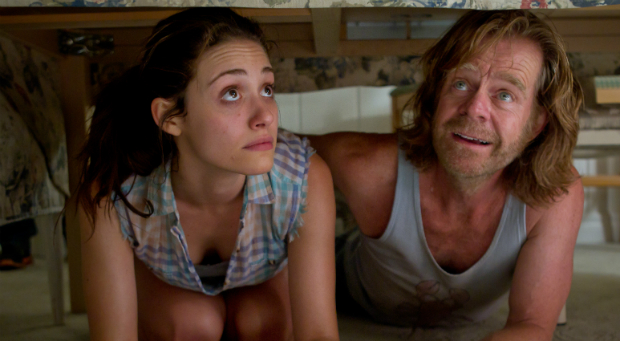 Do not make any plans for the night of January 13, Showtime subscribers. You'll be busy. The network has assigned this date to the season premieres of three returning series: Shameless, House of Lies, and Californication.
The hourlong William H. Macy-led dramedy series Shameless will return to Showtime for its third season on Sunday, Jan. 13 at 9 PM. The show, based on an eponymous British program, stars Macy as an alcoholic single father of six self-sustaining children in a working class Chicago neighborhood.
At 10 PM, House of Lies will kick off its second season. The comedy stars Don Cheadle as master management consultant Marty Kahn, leading a professional team comprised of Kristen Bell, John Lawson, and Parks and Recreation fan favorite Ben Schwartz (dialing back his Jean Ralphio shtick just a bit).
Finally, at 10:30 PM, Californication heads back to the network for a sixth season. Star David Duchovny returns with a story arc that will reportedly involve Hank Moody with the writing of a rock musical.
[Photo: Showtime]
More:
'The Mob Doctor': What You Need to Know Before Watching Jordana Spiro's New Series
'Boardwalk Empire' Season 3 Premiere: Jimmy, We Miss You Already
'Saturday Night Live' Recap: Seth MacFarlane Gets Laughs, and the Boys Take Over
From Our Partners:

'Keeping Up With the Kardashians' Finale: Kourtney Gives Birth to Penelope Scotland Disick — VIDEO
(Celebuzz)

(Celebuzz)