'Game of Thrones' Adds Sigur Ros to Its Cast of Thousands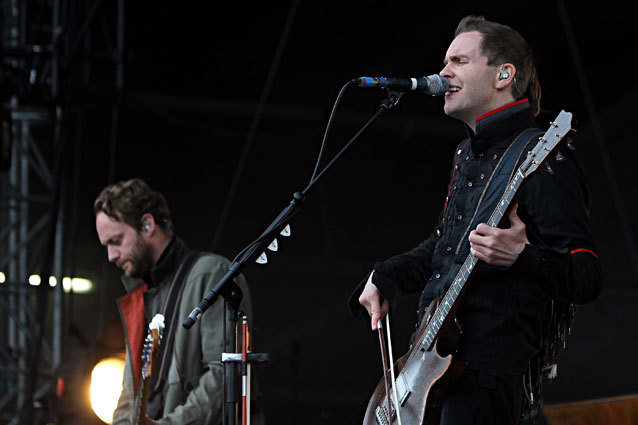 WENN
Another day, another piece of Game of Thrones casting news: Icelandic band Sigur Rós will be joining Westeros' cast of thousands in season 4. Made up of Jón Þór "Jónsi" Birgisson, Georg Hólm and Orri Páll Dýrason, the band is a favorite of showrunners David Benioff and D.B. Weiss, who often listened to their music when filming in Iceland. It's the third time that a band has made a cameo on the show – members of Coldplay and Snow Patrol have previously appeared – and it marks a continuing tradition of working with indie musicians to bridge the gap between our world and the seven kingdoms.  
There's no word yet about the role the three will play, but they are currently filming in Croatia. Also currently filming there? The Lannisters, inlcuding Lena Headey, Peter Dinklage and Nikolaj Coster-Waldeau. Which means that it's now time for every Game of Thrones fan to do what they do best, and speculate. No doubt there's a diehard out there who will have the pieces put together in no time. 
Fans will surely also be waiting to see if Sigur Rós manage to play a song more iconic or traumatizing than "The Rains of Castamere"- which was infamously performed by another indie rock band, The National. The HBO juggernaut also previously asked The Hold Steady to contribute "The Bear and Maiden Fair", and both songs appeared on the show's soundtrack. 
More:
Watch the 'Game of Thrones' Audition Tapes
This Rhianna-'Game of Thrones' Mashup Is Life Changing
'Game of Thrones' Iron Throne Not Good Enough For George R.R. Martin
---
From Our Partners
From Our Partners:


A Complete History Of Twerking (1993-2013) (Vh1)


20 Grisliest TV Deaths of 2012-2013 (Vulture)