ABC's 'Sing Your Face Off' is Officially the Most Random Competition Show on TV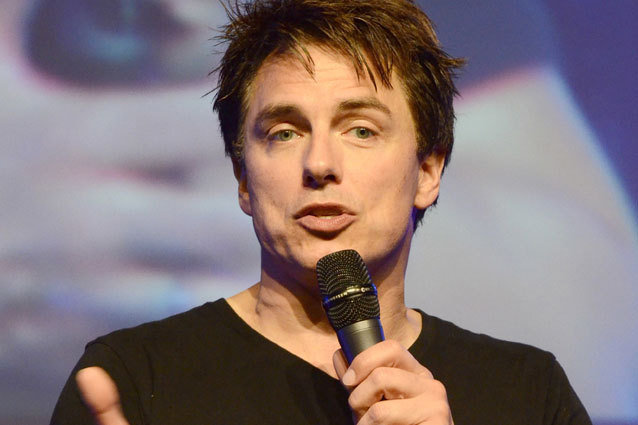 Congratulations, ABC! You've won the award for Most Random Competition Show on Television for your new series, Sing Your Face Off. So what are you going to do now? Fill it with the most random and motley crew of celebrities we've ever seen, of course. And before you go on assuming that it's American Idol meets the 1997 Nicholas Cage/John Travolta epic Face/Off (lord, we wish), let us show you in all of the ways it decidedly is not.
According to EW, ABC has signed several celebrities to judge, host, and star in this new and totally confounding series. Least weird is the signing of '80s pop star Debbie Gibson (sorry: Deborah! She's an adult now) to tackle judging duties alongside Darrell Hammond of Saturday Night Live fame. Really. To host, actor John Barrowman (of Torchwood/Doctor Who and Arrow fame) has been tapped, which isn't as bizarre as it sounds because he's tackled presenter and hosting duties on several shows (quite successfully) across the pond.
But here's where things get strange: The series follows five celebrity contestants as they perform week after week under the assumed identity of a pre-selected music icon. In homage, one would assume. And those folks include heavy metal singer/former inhabitant of Stars Hollow, Conn. Sebastian Bach, comedian Jon Lovitz, Toronto Raptors player Landry Fields, Disney star China Anne McClain, and Lisa Rinna. Because it isn't a truly spectacular reality television program until Lisa Rinna gets involved.
Scratching your head as much as we are? Confused? Intruiged? Scared? Sing Your Face Off debuts this summer, so we'll just have to wait to figure out what to make of this cacophony of reality television decision-making.
Follow Alicia on Twitter @Alicialutes | Follow Hollywood.com on Twitter @hollywood_com 
More: 
'The Sing-Off' is Back! Thanks 'Pitch Perfect'
Yo, Yo, Yo: Randy Jackson Leaving 'American Idol' Is Not Dope
'The Voice': Shakira, Usher, Cee-Lo, Christina All Set to Spin in Seasons 5 & 6
---
From Our Partners:


Watch Justin Bieber Attacked in Dubai (Celebuzz)


33 Child Stars: Where Are They Now? (Celebuzz)