Singing Showdown – Who Came Out on Top: 'The Voice' or 'The X Factor'?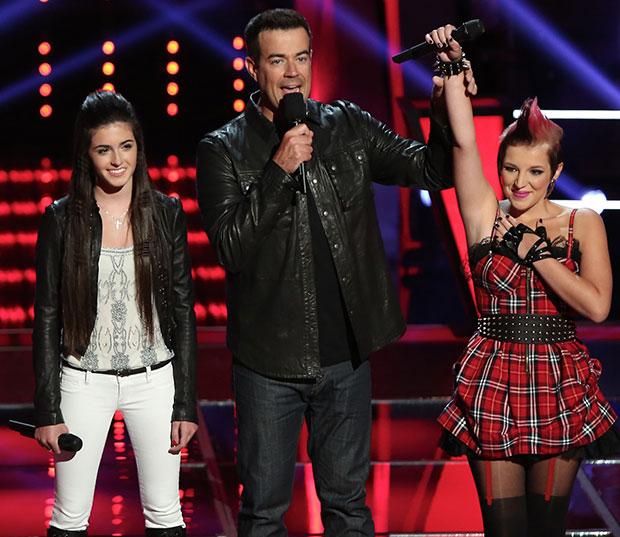 Tuesday night's battle royale between dueling musical programs has a victor. FOX's The X Factor suffered a near-TKO at the hand of NBC's The Voice. The ratings are in, and it seems as though Tuesday night's special, abbreviated airing (after last week's late-running sports event caused a shift in FOX's programming) of The X Factor could not hold up against Christina, Cee Lo, Adam, and Blake.
In a breakdown of the numbers, NBC dominated with The Voice's 4.3 rating in the 18 – 49 demographic, bringing in 11.22 million viewers for its 8PM, 2-hour broadcast, according to The Nielsen Company.
The two shows overlapped for a half an hour at 9:30PM, when The X Factor began its portion of the showdown. Unfortunately, the several factors working against The X Factor showed in the numbers. Simon, Britney, L.A., and Demi brought in a 2.3 rating in 18 – 49, with 5.71 million viewers. For comparison, the prior Wednesday night airing on October 11 had 9.56 million viewers and a a 3.5 rating in the 18 – 49 demographic.
With the Nielsen numbers in, it seems a ringing endorsement for The Voice's continued dominance in the singing competition game. It will be interesting to see how much of a bounce back The X Factor will receive when it returns to its normal schedule tonight.
Are you surprised by the ratings? Let us know in the comments!
[Photo Credit: Tyler Golden/NBC]
Follow Alicia on Twitter @alicialutes
More:
Fox Clarifies Tuesday Night Lineup, Includes 'X Factor'
'X Factor' To Hit Us (Baby) One More Time With a Third Season
A Singing Showdown: 'The Voice' Vs. 'The X Factor'
From Our Partners:

Donald Trump Speaks Out on Ripping Kristen Stewart on Twitter, Warns Robert Pattinson: 'Back Off…She's Bad News!' — EXCLUSIVE
(Celebuzz)

Emily VanCamp, Lea Michele, January Jones: Celebrities Who Show Major Cleavage in GQ — GALLERY
(Celebuzz)