Sky the Wire Fox Terrier Takes 'Best in Show,' But Who'd Win Our Pop Culture Dog Show?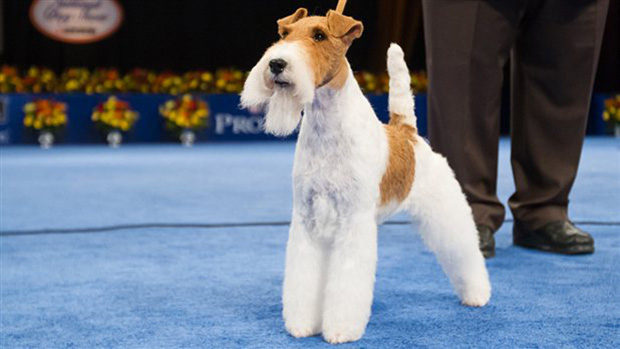 Every year, a parade of prancing pups vies for the ultimate doggy honor: Best in Show at the National Dog Show. And every year, it's some gorgeous canine who is likely the envy of every family on the owner's block. But hey, there are a lot of great pups out there and it gets lonely at the top. Naturally, we've found a few pop culture pups to join this year's winner — Sky, the Wire Fox Terrier — at the top!
Most Literary Dog: Uggie
This year, Uggie (The Artist) pawed his way to a book deal and barked his life story to a biographer for Uggie: My Story. It's not quite as vibrant as his adorable toe-tapping antics on the big screen, but sometimes a pup's got to use his brain too!
Best Undead Pup: Frankenweeine
This one's a double whammy. Not only is this adorable cartoon pup actually resurrected from the dead, he's also a character brought back to life from Tim Burton's original, live-action version of the film Frankenweenie. Plus, he's the cuddliest reanimated dog we've ever seen. Bonus points!
Most Athletic Dog: The Dog from the Volkswagen Super Bowl Commercial
How many dogs are so dedicated to getting in shape that they'd resist hot dog pieces falling from the sky? Not any dog I've ever met. This guy's got panache and will power, and just look at him run! He's no Darth Vader kid, but he gets our vote for the fittest pop culture pup!
Most Presidential Dog: Bo
President Obama's adorable Portuguese Water Dog has it all: He's hypoallergenic (for Malia's sake!), he's well-bred, he's fluffy, and he's always smiling. Plus, his dad (as those of us who are crazy dog owners often call a pup's owner) was just reelected as President of the United States. Bo's having a pretty good year, and he's only four years old! Plus, it's because of Bo that we have this adorable video of Obama giving him a belly rub. Somebody GIF that heartbreakingly adorable moment – stat!
Best Dog Who is Actually a Human: Armie Hammer
After Julia Roberts' evil queen accidentally feeds him "Puppy Love" potion, Hammer's prince becomes a big, handsome puppy of a man. He even plays fetch! Somehow, he's still incredibly handsome throughout all this…
Bravest Dog in the Presence of Various Psychopaths: Bonny The Shih Tzu
What happens when you put one of the fluffiest, girliest pups in the middle of a pack of psychopaths? She melts your cold, cold heart. In a film that's as violent as it is hilarious, Bonny is a ray of adorable sunshine (and the object of Woody Harrelson's aggressive affection) – even if she does have to compete with Tom Waits' disconcerting rabbit.
Best Dog Doing Something Stupidly Cute on the Internet: Bo the Bulldog and Willow
It's a tie! In one corner, we have Bo, the bulldog who just wants to sit in this box. Shut up. He doesn't have time for your reservations about his ability to fit. He needs to sit in this box and you just need to go back to your desk and stop bothering him already.
In corner number two, we have Willow. She's a cute, fluffy dog popping out of a giant pile of leaves. And guess what? She finds that freaking ball. She's kind of my hero.
Best Dog Who Is Actually a Cat: Lil' Bub
This is not a dog. It's a cat. But he's so fantastic, he merits a spot on this list. He's a fantastic, toothless little weirdo!
Who's your favorite dog of 2012?
Follow Kelsea on Twitter @KelseaStahler
[Photo Credit: NBC]
More:
Seven Movie Dogs We Wish We Could Resurrect 'Frankenweeie'-Style
Film's Best Scene-Stealing Dogs and Pups

Jennifer Lawrence Bikinis in Hawaii (PICS)

Best and Worst of the Thanksgiving Parade