'Smallville' Creators To Develop 'Charlie's Angels' Pilot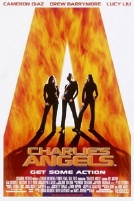 Alfred Gough and Miles Millar, former executive producers for Smallville, are taking over the reboot of classic 70's lady cop show, Charlie's Angels for ABC. Millar and Gough replace Josh Friedman, who was originally hired to script the remake. Producers Drew Barrymore, Leonard Goldberg and Nancy Juvonen remain unchanged. 
Angels will be joining other 70's remake Hawaii 5-0 in the fall on CBS, putting the final nail in the coffin that was original thought on network television. Not sure what's going to be worse: a remake that captures the patronizing, objectifying spirit of the original and leads to overused photo poses for years to come, or the ever-popular 'dark' and 'gritty' "re-imagining" , where all the fun is surgically removed and replaced with daddy issues, and everyone is a drug addict or something. So here's hoping that the Smallville creators do what they do best- create something bland and inoffensive with little relation to the source material.