'Smash' Gets The Saturday Snub: Is The Curtain Falling on NBC's Broadway Baby?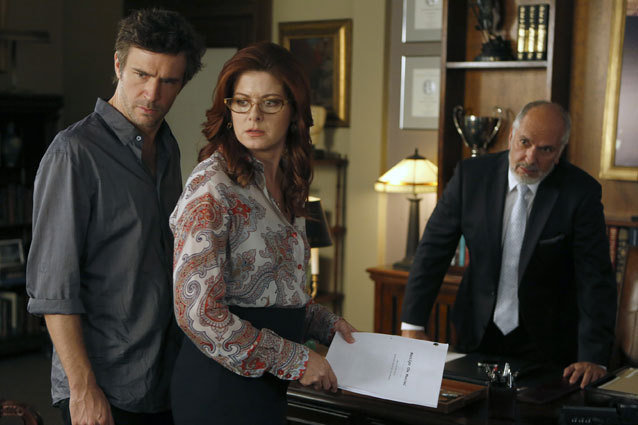 Before the spotlight could be turned up and focused in on Bombshell, it seems as though NBC is slowly lowering the curtain on the Internet's favorite show to hate-watch, Smash. Indeed, Karen Cartwright and her zany cast of producers, directors, musicians, dramaturgs (yep, this show really does have everything), and company players has been moved from its Tuesday timeslot to the worse-than-a-Friday-banishment graveyard that is Saturday night at 9PM. The switch is set to begin on April 6.
RELATED: 'Smash' And Burn: NBC's Musical Series Nearly Ties Ratings Of 'Hart Of Dixie'
The powers-that-be at Peacock HQ made the announcement Wednesday afternoon in a press release that also discussed movement of several other shows — including the Matthew Perry-fronted Go On (moving to Thursdays after The Office), an expansion of Celebrity Apprentice to two hours, and the debut of Ready For Love (yet another reality dating competition) from 9 – 11 on Tuesday nights. Needless to say, such a move from Tuesday to Saturday is one big nail in a very jazz handy coffin.
RELATED: The Ratings For 'Smash' Were Absolutely Terrible
So what does this mean for our Broadway babies? Not to be dramatic (though what's a Broadway show without a little drama, eh?), but death, most likely. It seems that NBC is ready to dim the lights on the ratings-plauged series, once seen as a shining beacon of hope for the fledgling network. The show has been skewered by critics from the get-go, and with numbers plummeting even further in its second season, it's no surprise that execs decided it was better to let it quietly live out its final days on a less financially-lucrative night. Basically, Smash has left the Great White Way in favor of a Floridian dinner theater.
It seems like no matter how much you beg, Bombshell, NBC doesn't want to let you be its star.
Follow Alicia on Twitter @alicialutes
[Photo Credit: Craig Blankenhorn/NBC]
---
You Might Also Like:


14 Movies That Are, Surprisingly, Not Porn


Stars Who Have Lost Roles For Being Too Hot (Celebuzz)