'Smash' Scoop: New Showrunner Talks Season 2 Changes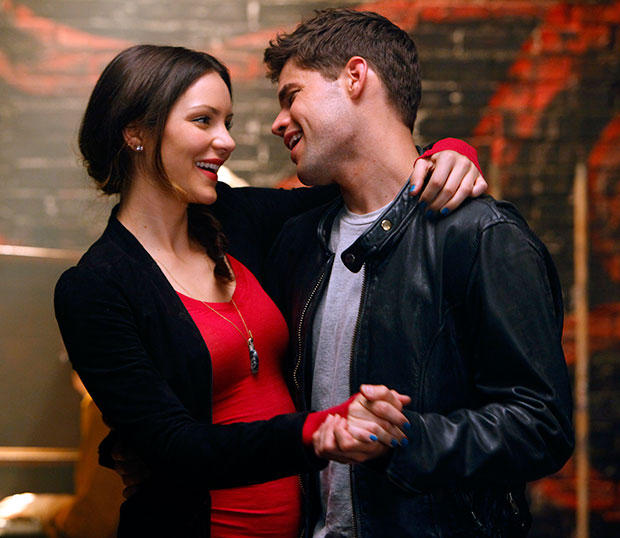 "It's still is the same Smash. A little bigger, more music, sort of a little bit younger in certain new cast members, but I think the people who watch it will still see the same show that they love." That's how new showrunner Josh Safran described Season 2 of the hit musical dramedy on Sunday at the Television Critics Association.
Last year, fans were treated to roughly one new original song per episode, but Safran promises the new season will exceed our expectations. "There is definitely more than that. One of the fun things I think about the second season of our show is that 'bigger' and 'more' is sort of a fun thing that we played with. So we're doing more original music, more musical sequences per episode, more diversity of styles."
These "diversity of styles" can largely be attributed to the second musical that Smash will be focusing on this year. While Bombshell will still have a large spotlight, fans can get excited to watch "Hit List" make its way to the Broadway stage. Cast newcomers Jeremy Jordan and Andy Mientus will play Jimmy and Kyle, respectively, two friends from childhood who hope Karen (Katharine McPhee) can help bring their edgy musical from a dream to the stage.
In addition to many new regular cast members, Smash boasts an impressive list of guest stars this season. Safran says, Jennifer Hudson will star in "three of the first four episodes" with many more A-list names sure to follow. "We have Liza Minnelli, we have Sean Hayes, we have Bernadette Peters coming back for several episodes. It's fun coming back on a show like this where you can sort of widen the worldview and show performers from other shows or bring in Broadway actors who play characters related to our cast."
Of course there is one character that fans are hoping they never see again: Ellis, the smarmy, peanut-smoothie-making, wannabe producer. However when asked if Ellis is gone for good this season, Executive Producer Neil Meron smiled and quipped, "Ellis is still alive…" All together now: Nooooooo. 
From exciting new performances and beautiful original songs, Safran summarizes that Smash will stay true to its broadway roots this year. "Changes-wise I actually think it is still Smash, I don't think it has really changed that much, I think that the stuff from last year that you love is still there."
Check out the fantastic trailer for season two below and don't miss the premiere of Smash Tuesday, Feb. 5 at 9 PM on NBC.
Are you looking forward to the second season of Smash? Eager to see performances from the newest musical "Hit List"? Hoping Ellis gets hit by a bus? Sing your thoughts in the comments below!
Follow Leanne on Twitter @LeanneAguilera
[Photo Credit: NBC]
MORE:
The Oscars: 'Smash' Duo Craig Zadan and Neil Meron to Produce the Show
Leanne's Spoiler List: Season 2 Secrets from 'Smash,' 'Vampire Diaries' Boss Talks Delena
NBC Announces Returns Dates of 'Smash,' 'Biggest Loser,' 'The Voice,' and More

'Buckwild' Stars Talk 'Jersey Shore' Comparisons: 'I Ain't Paying For No Tan' (EXCLUSIVE VIDEO) (Celebuzz)

Oscars 2013: Best Picture Race Is Down to 'Lincoln' Versus 'Zero Dark Thirty' (Moviefone)