Smash Superlatives: The Most Outrageous Moments From 'The Read-Through'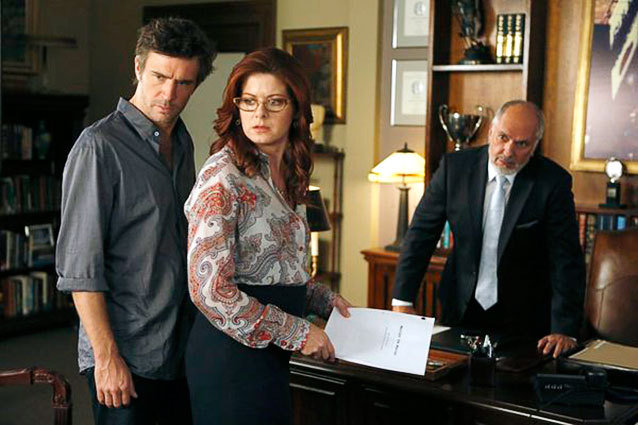 Smash is a musical drama that sparks a flurry of emotions in anyone who watches it. People either love it, hate it, love to hate it, hate to love it, love iet so much that it eventually turns to hate, hated it until they started to love to hate it now they just hate to hate it. There are so many choices! So to help celebrate all the outrageous, over-the-top, and fantastically farfetched moments, we present to you a weekly recap filled with the best Smash superlatives! 
With Jerry now at the helm of Bombshell, the group decided to host a read-through so everyone could hear Julia and Pete's (the dramaturg) new book. Julia was excited and calm to debut her new take on Marilyn and the men who made her, however she ran into a friend who told her that Pete recently destroyed the career of another writer by steering her in the wrong direction and then rewriting a better script of his own. It turns out Pete did write his own version of Bombshell. His assistant (Hairspray leading-lady Nikki Blonsky) inadvertently spilled the news to Julia.
When Julia confronted Pete, he denied the whole thing, encouraged Julia to go through with the reading, and the entire team—especially Derek—absolutely loved the new book. However Jerry decided that he would rather produce a flashy and fun version of Bombshell and the group was split down the middle with what creative direction they want to take. It was decided that Eileen would be the deciding factor and as the drama nears the 10:55 mark Eileen says, "Well, my decision is…" fade to black, cue the "next week on Smash". Damn you, cliffhanger!
RELATED: 'Smash' Superlatives: New Song
Karen decided the host a read-through of Hit List for Jimmy and Kyle so a bunch of her theater friends came over, read the first act, and realized that the writing is really bad. However everyone decided that the songs were amazing so after some emotional tug-of-war between Kyle and everyone else, they decided that Hit List should go the way of Rent and become a musical with only songs. Karen and Jimmy decided to keep things professional and just be "friends" but the audience sees that Jimmy and Kyle think that she is actually dating Derek.
Ivy was a week into rehearsing for her new Broadway-bound version of Dangerous Liaisons (or Les Liaisons Dangereuses if you want to get all fancy about it) when her male lead, comedy actor Terrence Falls (Sean Hayes), finally decided to show up. Terrence was too afraid to show his vulnerabilities as an actor so he decided to turn this tragedy into a comedy. However, Ivy was not going to let this movie star ruin her big break, so she encouraged Terrence to tap into his emotions. The actor took this to mean that he should go off his six or seven different types of medications and Ivy quickly realized that her play is screwed.
RELATED: 'Smash' Superlatives: The Dramaturg
Best Original Song: "Public Relations" — the big new possible opening for Bombshell's second act captures the essence of Broadway in the best way possible. It was three minutes of pure fun.
Best Cover Song: Karen's reinvented and slowed-down version of Death Cab for Cutie, "Some Boys" was absolutely angelic. The lighting and Karen's sweet (yet almost obsessive) way of following Jimmy around the apartment was a really unique Smash experience.
Best Insult: In order to stress the severity of an impressive read-through, Derek thought it would be best to be as brutally honest as possible with Julia: "We can't afford for you to stumble again, and neither can your career." Ouch!
Best-Backhanded Compliment: The group of actors give their opinion of Hit List after their rough read-though, "The concept is cool, but the dialogue and characters need some work."
Most Awkward Moment: Karen looks at Jimmy like he's some kind of a musically talented Greek god (hey, we would too). So it was heartbreakingly awkward when some little blonde with sex hair appeared half naked asking where the coffee is. Can you say player?
RELATED: 'Smash' Superlatives: The Season 2 Premiere
Dumbest Line: Karen's new roommate, Ana, is trying so hard to be relevant in this episode — going to kickboxing class, offering boy advice, and encouraging Karen to call Jimmy. So when Karen gets a call from Derek that he'd like to get Hit List into a small showcase, it's obvious that Karen now has the perfect excuse to call her crush. So it was especially eye-rolling when Ana wore an overly-smug expression and said, "Something tells me you just found your reason to call."
Biggest WTF Moment: Watching our beloved Sean Hayes bumble around the stage acting like an immature 12-year-old reciting lines. We understand that he's supposed to be a comedic actor but the entire persona that he put on is just one big head-scratching, sigh-inducing fiasco.
Most Swoon-Worthy Moment: Listening to Jimmy sing, "Caught in the Storm." Up until now we've only heard Karen's version of the song and let's be real, he blows her out of the water.
Best Verbal Bitchslap: Eileen showed us that sometimes the best insults can be said in the sweetest voices. As she was hanging up the phone with some frustrating little assistant she quipped, "And by the way, you're terrible at your job."
Best Almost-Kiss: Karen and Jimmy almost had a perfect NYC rooftop kiss, the wind was blowing, the lighting was romantic and they both are ridiculously attractive. However the moment was completely when Jimmy offered Karen his hand and said, "Friends?" Why has he never bothered to ask her if she's actually dating Derek?
Biggest Bombshell Blunder: The Bombshell creative team is completely split down the middle and they can't decide on a creative direction for their show. Will they go for a flashy and fun portrayal of an icon, or an insightful and emotional journey of Marilyn and the men who made her? Eileen will reveal her answer next week!
RELATED: 'Smash' Scoop: New Showrunner Talks Season 2 Changes
What did you think of "New Song"? Which superlatives would you like to add to the list? Sing your thoughts in the comments below!
Follow Leanne on Twitter @LeanneAguilera
[Photo Credit: Craig Blankenhorn/NBC]
---
From Our Partners:


Seal Is Dating the Pink Power Ranger: Report (Vh1)


60 Celebrity Bikini Bodies: Guess Who! (Celebuzz)