'Smash' Superlatives: The Most Outrageous Moments from 'New Song'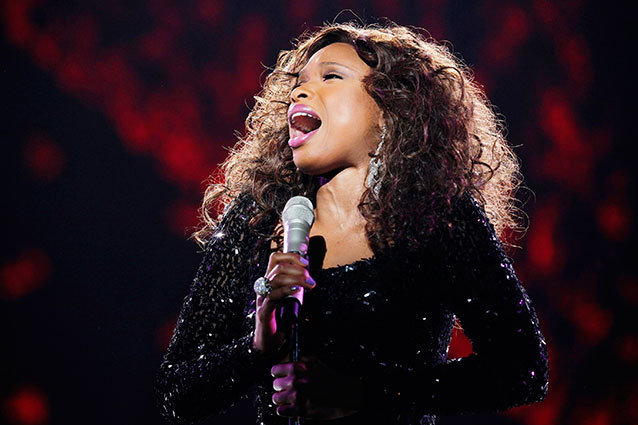 Smash is the musical drama that sparks a flurry of emotions in anyone who watches it. People either love it, hate it, or love to hate it. So to help celebrate all the outrageous, over-the-top, and fantastically farfetched moments, we present to you a weekly recap filled with the best Smash superlatives! What was the best cover song of the night? Who had the best verbal bitch-slap? What was the biggest Season 1 jab? Read on for all the awards and take to the comments with your favorite moments from "New Song."
RELATED: 'Smash' Superlatives: The Dramaturg
This week's Smash was all about one thing: Veronica "Ronnie" Moore's (Jennifer Hudson) one night-only concert that Bravo was filming for an on-air extravaganza. The only problem is Ronnie has never been perceived by the public as anything other than America's Broadway Sweetheart, and despite her momager's opinion, she was willing to shake things up a bit.
And with that cue, Derek (Jack Davenport) and his visionary directorial skills was ready to turn Ronnie into a sexy, fresh and edgy performer. The show was a huge success and all you really need to know is Ronnie ended the night with a brand new song that Jimmy (Jeremy Jordan) wrote in less than 24 hours. Oh and Jimmy kissed Karen (Katharine McPhee) when he was super duper high on drugs.
The dramaturg Peter, took Julia (Debra Messing) to one of his acting classes and had his students read Bombshell out-loud after he had changed all the names. Julia realized that she only ever viewed Marilyn through the eyes of the man that she was with, so after a rush of inspirations, she and Peter worked non-stop on a new book for Bombshell.
After Nick returned from hiding, Eileen (Anjelica Huston) went to her court appearance regarding the Bombshell's dirty money, and confessed that she knew exactly where the money was coming from. This freed Bombshell from it's hold and the musical can now officially head to Broadway — but not with Eileen as their producer. At the end of the episode we learned that new Bombshell producer Jerry was working with Ellis this entire time to get the dirt on how to force his ex-wife out of the show.
RELATED: 'Smash' Superlatives: The Season 2 Premiere
Best Original Song: Jimmy's less than 24 hours creation, "I Can't Let Go," was a gorgeous, flawless, lyrical piece that Ronnie used to end the show on the best way possible.
Best Cover Song: "I've Got Love" is Ronnie's signature song that she sang twice in the episode: once as a Broadway sweetheart and the other as a sultry and sexually-charged singer. Both versions were undeniably amazing.
Best Insult: "'If I'm going to be screwed by somebody it not going to be you." –Jimmy to Derek.
Best-Backhanded Compliment: "I know he's the world's worst human being but he's a very good producer." –Eileen on giving Bombshell over to her ex-husband Jerry.
Dumbest Line: That was definitely anything that came out of Jimmy's mouth when he was high as a kite. "I many have done some drugs. Did I screw something up? Because Derek was angry, and then I was angry, and then Kyle was angry. Are you angry?" And the cherry on top of the silly sundae is the line Jimmy uttered after he and Karen shared the first kiss: "Wow. Wow and I'm not just saying that because I'm rolling."
RELATED: 'Smash' Scoop: New Showrunner Talks Season 2 Changes
Biggest WTF Moment: To let out some of her anger, Julia hurled a book at Peter's face in the middle of a school quad. Sure, it was a very light book, but still. How old are you? Use your words honey.
Most Swoon-Worthy Moment: Anytime Jeremy Jordan sang while playing the piano.
Best Verbal Bitchslap: At one point in the episode, Jimmy puffed up his chest and attempted to start a fight with Derek in front of Karen. When she protested, Derek smoothly sneered, "It's alright darling, he's just showing off for you." Burn!
Most Awkward Moment: When Nick returned (I honestly didn't even remember that he was missing to be honest) he and Eileen sat on the couch and were supposedly sharing some sexual tension and angst. But in reality the scene was awkward as hell and only left us thinking about what an awful and awkward relationship this has been.
Best Jab at Season 1: A acting student in Peter's class said it perfectly: "You can tell whoever wrote it knows how to write, but it's missing something." Biggest Bombshell Blunder: Even though he was never in a scene, Ellis managed to take down his former boss Eileen after all. Eileen, is out, Jerry is in, and Ellis is now a very rich little rat.
What did you think of "New Song"? Which superlatives would you like to add to the list? Sing your thoughts in the comments below!
Follow Leanne on Twitter @LeanneAguilera
[Photo Credit: Will Hart/NBC]
---
From Our Partners:


40 Most Revealing See-Through Red Carpet Looks (Vh1)


33 Child Stars: Where Are They Now? (Celebuzz)