Sneak Peek: 'Glee' Behind the Scenes Special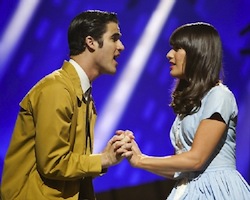 Sure, a certain Fox drama has given us a look at what it's like to perform in a glee club, but have you ever wondered what it's like to work on a show about performing in a glee club? If so, you're in luck. Next month the BIO Channel will premiere a one-hour Glee behind the scenes special.
Glee: Don't Stop Believing is set to air on April 10 at 9 p.m. ET, which is right after the show's return from hiatus. The special takes a look at how the idea for a the show came about (apparently it wasn't concocted by Apple to sell more songs on iTunes), and what it takes to put each episode together. It also features interviews with the creators, as well as cast members Matthew Morrison, Jane Lynch, Lea Michele, Cory Monteith, Jayma Mays, Chris Colfer, Dianna Agron, Jenna Ushkovitz, Darren Criss and Mike O'Malley. 
For a preview, check out the video below.
[WetPaint]