'SNL': 10 Biggest Moments From Season 37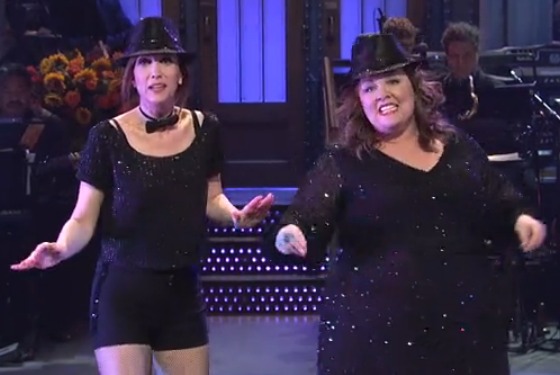 Season 37 (!) of late night institution Saturday Night Live comes to a close tomorrow night on NBC with host and musical guest Mick Jagger closing things out. While the finale has all the makings of a classic episode written all over it (especially with Foo Fighters and Arcade Fire coming by to jam out with The Rolling Stones front man) there's already been plenty to make this a memorable season. Before we bid adieu to this season of SNL, let's look back at all the highs (Melissa McCarthy's debut, Jimmy Fallon and Maya Rudolph's returns) and lows (Lindsay Lohan's "comeback," Lana Del Rey's "performance") and everything in between from this past year.
Alec Baldwin Breaks a Record: The 30 Rock star kicked off season 37 the only way he knows how: by hosting for a record-breaking 16th time. Trumping pal Steve Martin for the coveted title, Baldwin proved yet again, why he's one of the best SNL players to never actually be an SNL cast member.
Melissa McCarthy Establishes Her Place as a Comedy Queen: Riding high off the success of Bridesmaids and her Emmy win, the funny lady proved that her breakout year was no fluke. Her first-time turn as host of the October 1, 2011 episode set the bar awfully high for the rest of the season. The actress was the ultimate team player (including getting to have fun with her Bridesmaids co-star Kristen Wiig in the opening monologue) and had no problem going above and beyond the call of duty in the name of comedy for sketches in which she fell down a flight of steps, humped a balloon, and squirted Ranch dressing on her face.
Welcome Home, Jimmy and Maya: Will Ferrell may have had a disappointing homecoming last week, but his fellow SNL alums Jimmy Fallon and Maya Rudolph most certainly did not. Fallon's spirited holiday-themed episode and Rudolph's non-stop funny turn made for the two best outings this season. (The third being, of course, McCarthy's.) It's hard to argue against the notion that the glory days of SNL are long over when old cast mates are the best part of a current season, especially when writers up the ante for sketches like Rudolph's inspired Maya Angelou-meets-Punk'd bit:
Lana Del Rey … Sings?: SNL can be a great place for a new artist to get massive exposure, but that widespread attention doesn't always help. During the Daniel Radcliffe-hosted January 14 episode, musical guest Lana Del Rey blew up the Twittersphere after her warbly performances of her songs "Video Games" and "Blue Jeans," inspiring cries of "What was that?!" The backlash was almost immediately met with backlash (including a counter attack by Wiig on Weekend Update) and Del Rey redeemed herself with an improved performance on Letterman, but the damage was done: The singer will forever go down in SNL infamy. 
Taran Killam Dances His Way to the Top: Taran Killam has quickly established himself as one of the most promising cast members on SNL thanks to his scene-stealing in hilarious sketches like "J-Pop America Fun Time Now" and his killer impressions (namely
Andy Cohen
) but the rising star became a viral sensation when he paid homage to musical guest Robyn. Boosting morale in the writers' room at 4:30 in the morning, Killam kills it
mimicking the "Call Your Girlfriend" video
.
Jon Hamm Comes to the Rescue: Lindsay Lohan was supposed to have a comeback this year, propelled by her fourth SNL hosting stint. But there was no classic "Debbie Downer" moment to be found, and Lohan looked stiff during the poorly written episode. With the exception of the instantly viral "Real Housewives of Disney" sketch and a cameo from Jon Hamm, who earned more laughs than the hostess, it would have easily been considered the season's worst. (The honor still belongs to Anna Faris, who also deserved better.)
Digital Shorts Turn 100:
Andy Samberg
,
Jorma Taccone
and
Akiva Schaffer
celebrated an important milestone when their Digital Shorts reached 100. That's right, Justin Timberlake doing unspeakable things to your mother, Michael Bolton dressing up as Captain Jack Sparrow, and 98 other awesome things got a proper star-studded tribute. Watch it here:
="text-align:>
Zooey Deschanel Can Laugh At Herself: Siri, does New Girl star Zooey Deschanel have a good sense of humor about her quirky, overly adorable persona? She sure does! Look no further than the incredibly funny "Bein' Quirky with Zooey Deschanel" sketch, which Deschanel herself appeared in as Mary-Kate Olsen facing off against herself (well, Abby Elliott, anyway.) Watch it again or for the first time. "It's not garbage if it's new to you."
Paul Brittain Makes An Exit: After just a year with SNL, it was announced in January that featured player Paul Brittain was exiting the show to pursue other projects. While Brittain's impact was minimal, he did leave the 37th season with some memorable moments, including a visit from the whimsically weird Lord Wyndemere and Kings of Catchphrase Comedy headliner Goran "Funky Boy" Bogdan.
Kate McKinnon Climbs On Board: With Brittain out, there was space for a new featured player. Enter: Kate McKinnon, a great impressionist (as evidence by her dead-on spoof of Bravo's Tabatha Takes Over) with even greater potential. While she's only had a few weeks to show SNL fans what she's got, Season 37 looks like it set the stage for a stellar Season 38 for McKinnon.