'SNL': Jeremy Renner's Promo Lacks Chems, But Has Plenty Of Charms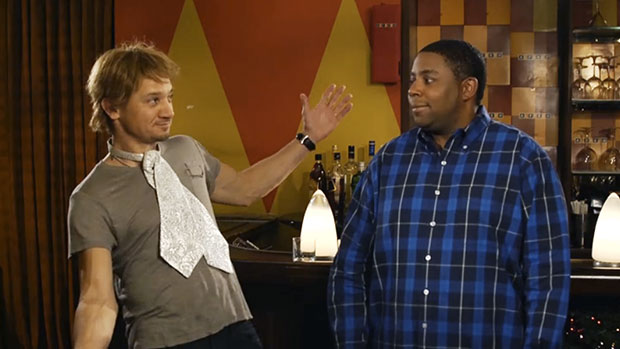 Jeremy Renner is a man's man. The Oscar nominee, who has starred in a bevy of man's man movies like The Hurt Locker, The Town, and The Bourne Legacy, is an intense, rough-and-tumble action star. Sound familiar to another host from this season of Saturday Night Live? If you guessed Daniel Craig, you are correct. (However, if you guessed Anne Hathaway, you are way off and maybe should brush up on your guessing skills.) 
While Craig had one of the funniest SNL promos in quite some time, the same unfortunately couldn't be said for his lukewarm episode. Unlike fellow intimidating actors like Liam Neeson, who knows how to translate his intensity into big laughs, SNL and Craig didn't quite get the hang of the self-aware humor needed for a star who isn't traditionally known to be funny. So what fate will befall Renner come Saturday when he hosts SNL for the first time in his career? 
The 
Avengers
star seems game to poke fun at himself and his stoic, tough guy persona (in the clip he both screams when he thinks he sees a mouse
and
comforts a "drunk", emotional
Kenan Thompson
) but the video doesn't quite possess the same punch as Craig's did. Even more disconcerting, Renner participates in an un-pretty
Pretty Woman
-esque makeover montage, which gives me pause that
SNL
might have the handsome 41-year-old actor participate in the groan-inducing go-to comedy bit for every man's man: having him dress in drag. Here's to hoping this weekend's brand new episode, which features
Maroon 5
as returning musical guests, is entirely devoid of drag…and chems. Please, no more
Bourne
chems. 
The Renner-hosted episode of Saturday Night Live airs on November 17 at 11:30 PM ET on NBC. 
Saturday Night Live Recap: Anne Hathaway's Third Time Continues to Charm

'Twilight Saga: Breaking Dawn — Part 2' Star Kristen Stewart on 'Twilight' Finale: I'm 'Desperate' For a Job Now (VIDEO)
(Celebuzz)