The New King of 'SNL' Digital Shorts: Kyle Mooney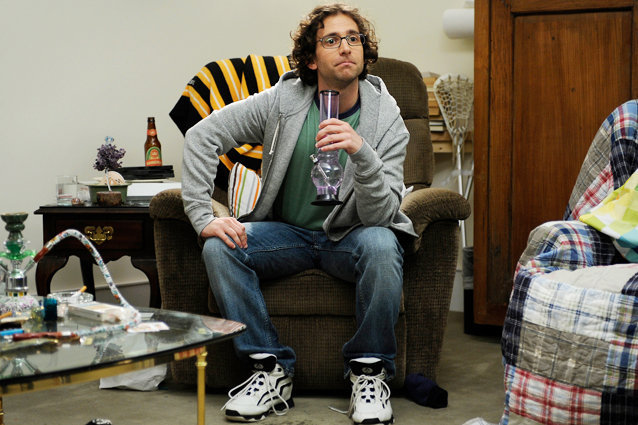 NBC Universal Media
For a number of years Andy Samberg, along with his The Lonely Island cohorts, was Saturday Night Live's king of the digital shorts, with such classics as "D*** In a Box" and "Motherlover." With Samberg off the variety show and starring on Fox sitcom Brooklyn Nine-Nine now, there is an opening for a new digital master and freshman cast member Kyle Mooney seems to be filling that void.
Mooney, along with Beck Bennett, who frequently joins in the digital fun, came to SNL from the sketch group Good Neighbor, where funny YouTube videos made up a large part of their comedic output. Mooney's oddball shorts have typically occupied the last half hour of SNL, which traditionally is a dumping ground for half-baked sketch ideas. In this case, however, the placement has more to do with the nature of the shorts, which tend to be more esoteric than normal SNL fare.
At the beginning of the season, no one quite knew what to do with them — they engendered more WTF social media reaction than anything the show has done in recent memory — but as time has gone along Mooney's looniness has developed a following. For those who regularly turn off the show after Weekend Update, we proudly offer up the best of Mooney's digital shorts from the season.
Miley Sex Tape
What able bodied young man wouldn't want to make a sex tape with Miley Cyrus? Based on how easily he keeps being distracted from the task at hand, even with his buddies Bobby Moynihan and Bennett trying to get him back on task, the answer is apparently Mooney.
Flirty
Mooney plays the male lead opposite Vanessa Bayer in a three-minute rom-com about apartment neighbors who keep meeting cute. His enthusiasm when she agrees to a date is so infectious, you can almost join him in ignoring what she's about to do with Bennett.
Ice Cream
The story of an ice cream parlor clerk (Mooney) who becomes so distracted by the meaning of a joke told by a customer (Bennett) that he ceases to function. The kicker is when the joke garners the same reaction from his boss (Taran Killam).
Dancing
Mooney becomes a dance sensation and finds fame after being discovered by Bennett, and then loses it just as quickly, all in the span of a few minutes and without ever leaving his living room.
I Know
You know that one friend that you have that always knows everything? Mooney plays one to such an extreme that not even death can stop him.
Inside SoCal
One of the personas that Mooney brought with him from Good Neighbors is the disaffected skate punk. In this short, Mooney and Bennett play a modern Wayne and Garth as they host their web show from a party at the condo of the dad of one of their buds (Jonah Hill).
420
Mooney does a tribute to the stoner holiday, even though he doesn't smoke. It wouldn't be the same without Seth Rogen's take as the confused pot dealer who's called upon to join the celebration.
Beer Pong
Jay Pharoah and John Milhiser think that they're going to a pledge party at the biggest party frat on campus… that is until Mooney and Bennett explain the way that the brothers rolls. Let's just say it's not Animal House.