'SNL' Recap: Louis C.K. Tried to Make It Fun, Despite the Storm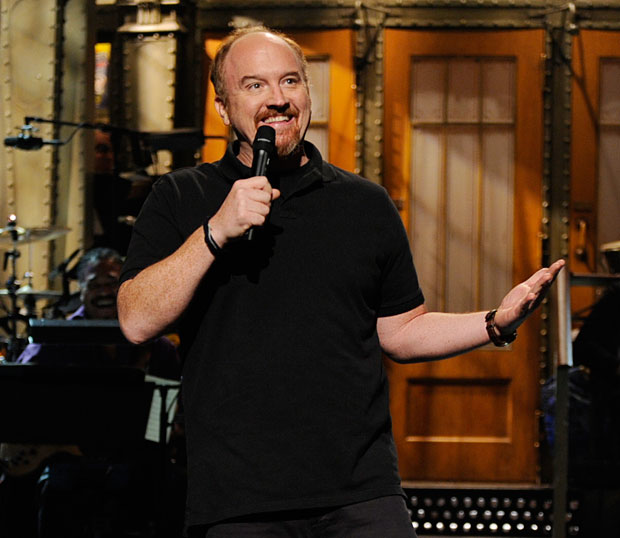 We have to hand it to Saturday Night Live. At least they tried. Despite Hurricane Sandy, the late-night sketch show put out a live performance. Because well, the show must go on. And it did. It went on. And on. And on.
And to think, we had such high hopes for it — even calling first-timer Louis C.K. the most unpredictable host yet. Unfortunately the thing they couldn't have predicted was Hurricane Sandy. The super storm hit New York City only five days earlier, leaving most of the city without power still to this day. Driving home the point was the heartfelt letter C.K. wrote to fans just hours before taking the SNL stage. In it he said, "here at 30 rock, these folks are working so hard this week. There are kids in the studio every day, because members of the crew and staff had to bring them to work. Many people are sharing lodging. Everyone is tired. But there's this feeling here that we've got to put on a great show."
That feeling wasn't lost on us — and we certainly didn't expect them to overdo the tropical storm skits — but it could have used a lot more topical content. This was the last weekend before the presidential election. There was so much material to work with — and yet there was only one political skit, if you don't count the show's opening spoof on our politicians in action in dealing with the storm. Where was President Obama (played by funnyman favorite Jay Pharoah)? Where were the timely references that made the show famous? Heck, we would have even taken a nod to Daylight Saving Time ending last night.
We're not saying it was without fun, because that would be a lie. Technically "fun" came in the form of the musical act. Though somehow watching lead singer Nate Ruess jump around on stage for two sets went with the whole slightly awkward theme of the show.
The political skits that did take place were the highlights. The press conference opener with Mayor Michael Bloomberg and his extremely energetic sign interpreter got the show started off right. And had us laughing when the sign for "Obama" turned out to be pushing your ears forward. Yes, it was juvenile, but after a natural disaster you have to laugh every now and again — if only to remember what it sounds like.
The opening monologue put debutant host C.K. in a place he is most comfortable — behind a microphone. And talking about some of his favorite things: awkwardness, aging, and the misery that is his life. (We're surprised he didn't throw in a mention of his unsuccessful 1993 audition to be a show cast member.)
Some political overtones drove the show's favorite Fox & Friends parody, where C.K. played a FEMA manager with a deadpan delivery — something he has become famous for. He went behind the mic stand once again in the Abraham Lincoln skit that mocked his own real life show on FX, Louie, which is also directed, written, produced, and starring him.
Seth Meyer's "Weekend Update" was delivered with the usual mix of guest spots and stretched jokes. Jason Sudeikis' Mitt Romney brought the best stuff, finally giving something to those seeking the political humor. Playing up the GOP nominee's awkwardness, Romney is taken to task over his policy flip-flopping — like his stance on FEMA, prompting Romney to admit: "If there is anything people should know about Mitt Romney at this point is that nothing I have said in the past should be any indication of my positions in the future." The show couldn't lean any further to the left if Hurricane Sandy herself tried to blow it over. Though Meyers ended Update on a serious note by sharing info on how to donate to Red Cross hurricane relief efforts.
There was no shortage of underwhelming skits: Fred Armisen's "Australian Screen Legends" should have been called "Bad Australian Accents and Stereotypes," and the Zog horn blowing bit had the cast laughing more than the audience. The back-and-forth in "Hotel Fees" was another instance where we laid the blame with Sandy, and sleep deprivation.
The last skit, appropriately titled, "Last Call" where C.K. sucked face with an equally drunk bar patron (played by Kate McKinnon) was a metaphor for the whole show. The more tired you were the funnier the skits seemed. That explains so much about the previous hour and a half. Because again what started off as awkward ended up funny. Isn't that how all good comedy is born?
What did you think of last night's show? What was your favorite joke or sketch of the night? How about least favorite? Share in the comments section below.
[Image Credit: Dana Edelson/NBC]
More:

Country Music Association Awards 2012: See the Best-Dressed Stars of the Night (PHOTOS)
(Celebuzz)