'SNL': Taran Killam and Bill Hader to the Rescue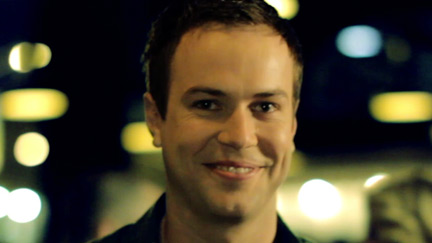 Kristen Wiig's touching farewell on Saturday Night Live over the weekend packed one hell of a surprising emotional punch. Sure, goodbyes are never easy and beloved SNL cast members have come and gone plenty of times before, but there was something more overwhelming at the core of her lovely, bittersweet sendoff. Perhaps it was witnessing the rare sight of a funny lady's hard work appreciated or watching dear friends share a last dance on the stage that launched their respective careers, or maybe it was just the overwhelming sense that an important SNL era (one that may also include possible departing cast mates Jason Sudeikis and Andy Samberg) was officially over. Maybe it was all of the above.
But if you found yourself weeping with worry over the future of SNL, you can go ahead and dry your eyes. (After all, how many times has SNL been declared dead only to have a Will Ferrell or Tina Fey or Jimmy Fallon or Amy Poehler emerge and shake things up again?) No, things will never be quite the same without Wiig's comedic styling or her eclectic mix of manic characters, but SNL still has two incredibly talented and funny cast members poised to make the show their own: Bill Hader and Taran Killam.
Of course, to suggest that Hader is on the cusp of breaking out as a comedy star would be doing the funny man a disservice. Having already proven himself as a masterful impressionist (his Alan Alda is nothing short of a revelation), an ego-free team player who commits to every bit, and, of course, the creator of SNL's best character in years, Stefon, in his six seasons on the show, Hader has unequivocally become the most dependable SNL cast member. While Hader usually plays second banana outside of SNL (Superbad, Adventureland), his supreme likeability and versatility should, by all means, make him a leading man in comedy. With Wiig (and more than likely Sudeikis and Samberg gone), it's Hader's time to go front-and-center.
Killam (pictured), on the other hand, is the very definition of breakout star. Having quickly moved ahead of the pack of newcomers (including one-trick pony Jay Pharoah and the since-departed Paul Brittain), Killam has the approachable good looks of Sudeikis, but with an even wider range of tricks up his comedy sleeve. The 30-year-old has walked the right balance of fantastic impressions (Michael Cera, Andy Cohen) and destined-to-become-classics originals ("J- Pop American Fun Time Now!"). Not to mention that awesome, viral off-hours clip of him paying homage to Robyn's "Call Your Girlfriend", which means he's capable of pulling off what Samberg did for years, on and off the show's clock. Watch his season-best moment when he played the Watch What Happens host here:
While it will be interesting to see which female steps into the spotlight with Wiig's absence (newbie Kate McKinnon has serious potential), Hader and Killam could bring just the right amount of veteran know-how and rookie intensity to give the show a shot of post-Wiig adrenaline it will need in Season 38. Need proof? Just watch the latest installment of Hader's Stefon. It. Has. Everything.