'Snooki & JWOWW' Preview: 'Shore' No More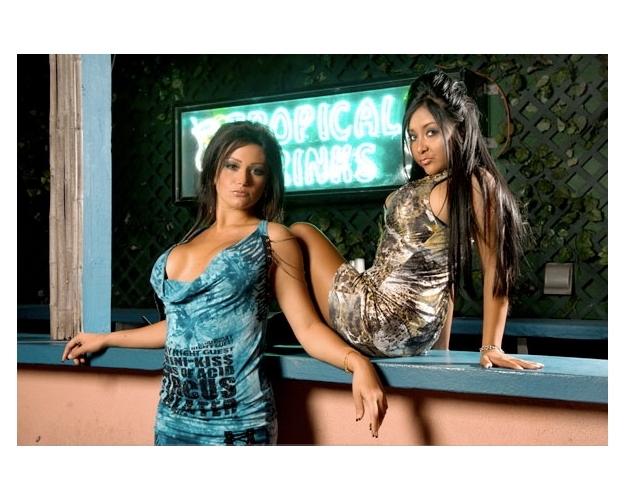 Following in the rich tradition of This Kardashian Does Something With This Other Kardashian at a Location, Jersey Shore stars Snooki and J-WOWW are getting their own spin-off. While Pauly D has already branched off from the rest of the Macaroni Rascals for the relentlessly dull Pauly D Project (a DJ Pauly D without Vinny is a DJ Pauly D-vided) the apocalypse-causing Snooki and her shockingly normal sidekick (well, by Jersey Shore standards) Jenni 'J-WOWW' Farley are getting their own  series as well.
MTV has just released their first look at the spin-off series, Snooki &JWOWW, which features the spray tanned twosome getting into brand new zany adventures in Jersey….City. Aside from the new location, things aren't all that different with the reality show stars: They are still with their respective beaus Jionni and Roger and they still play off each other like some deranged Laurel and Hardy act (just wait until you see their classic "smell my finger" routine.) Just like the old days! Well, except for the fact that Nicole 'Snooki' Polizzi is going to be someone's mother. Or, as she put it best in the preview, "The fact that I can reproduce is very scary."
With Jersey Shore fatigue having settled in with viewers by the time the gang forever ruined international relations when they traveled to Italy, it only makes sense for the show's most interesting characters to branch off and do their own thing. But is pregnant Snooki something we as a society can collectively handle? Maybe not. What I do know is if the entire series was J-WOWW popping up from behind things like she does at the 15-second mark, they would have their most dedicated viewer.
Watch the preview for Snooki & JWOWW here:
Will you be tuning in for Snooki & JWOWW? Or were you desperately hoping for Sammi & Ronnie Take Xenadrine instead? Do you actually find Snooki and J-WOWW's friendship sort of endearing? Are you still coming to terms with the fact that Snooki can reproduce? Sound off in the comments section!
[Photo credit: MTV]
Follow Aly on Twitter @AlySemigran
More:
Jersey Shore Renewed For Sixth Season
Snooki Reveals She is Pregnant