So Who Is 'Gossip Girl,' Anyway? – POLL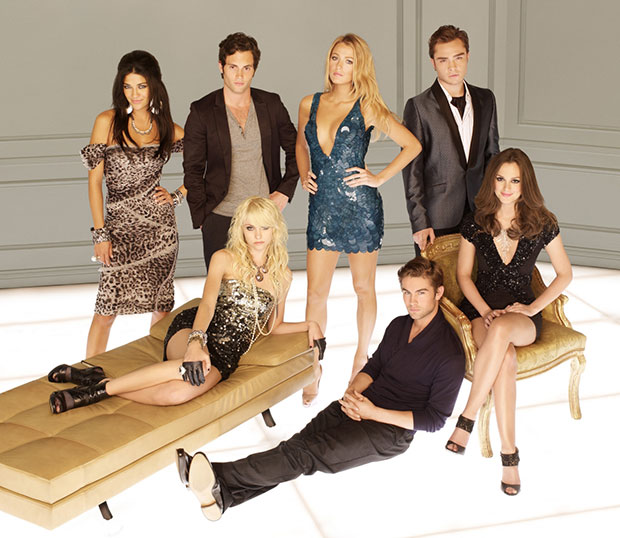 [UPDATE: Tonight's season finale, "New York, I Love You XOXO," will reveal the identity of Gossip Girl! Check back to Hollywood.com tonight at 10 PM EST after the East Coast airing to find out who it is!]
Last night, Gossip Girl dropped the first hint of the identity behind the titular blogger, and with only two episodes left of the series, it's about time we started getting clues! Hollywood.com already knows the secret to end all secrets, but if you are looking for any inside information, we're sorry to disappoint you: this is one reveal that we are keeping under wraps (it's for your own good!).
But that doesn't mean we can't allow some wild speculation! We won't reveal the name behind all the drama of the Upper East Side, but we can reveal that Gossip Girl is indeed one of the major recurring cast members. This blogger will appear in the season finale (we won't say how much, though!). And you will be shocked to find out the truth.
Could Gossip Girl be Blair?
The Queen B certainly has gained a lot from others' misfortunes being broadcast on the gossip website. She's even sent in a few blasts of her own. But let's not forget how many times she has burned by GG, especially on her wedding day to Louis. Would she destroy her reputation over and over again, just for the sake of throwing off suspicion?
Could Gossip Girl be Serena?
Gossip Girl's popularity took off when Serena returned from her year at boarding school. Maybe she was trying to come back with a bang, and reassert her popularity by having an anonymous blogger obsess over her reasons for leaving the UES. However, since the real reason she left was because a guy OD'ed in her presence, she probably didn't want a lot of attention focused on her.
Could Gossip Girl be Nate?
We know he has a taste for publishing gossip, especially now that he runs The Spectator. But he also was making a big effort to discover who GG is. Could that have been a ruse to throw his friends off his scent?
Could Gossip Girl be Dan?
Lonely Boy sure gained a lot the same time GG made his/her first appearance, and we know that he has a real passion for publishing his friends' secrets. Hell, his serial even went after his own dad in a harsh, unapologetic light! And at the beginning of this season, both he and GG had the same opinion of Serena: she was dead to them. However, after Blair runs away from Louis with Dan after her wedding, GG outs their location. Would he betray the girl he loved and was trying to get with at the time, all for the sake of publishing the truth?
Could Gossip Girl be Chuck?
He's never been shy about his life. His only secrets are that he is always trying to take down his father, Bart. But the secret about his mother's identity was published on GG before he even knew about it. Is he just a really good actor?
Could Gossip Girl be Jenny?
Little J has made no effort to conceal both her adoration and disdain for the UES crowd. But since she's been gone for so long from NYC, has she been able to keep up with all the drama?
Could Gossip Girl be Eric?
His boyfriend, Jonathan, was accused of being GG. Was he taking the fall for Eric, the real mastermind? However, Eric was hospitalized at the beginning of the series for trying to take his own life… we think that takes precedence over gossip.
Could Gossip Girl be Lily?
Serena got her scandalous gene from her mother. Lily is on her fifth husband and is at the heart of as many scandals as the teens running around the Upper East Side. But is she in touch with the young drama?
Could Gossip Girl be Rufus?
Nestled out in Brooklyn, Rufus certainly hates all things about the Upper East Side but like Lily, he might be too old to really get in the middle of teen affairs.
Could Gossip Girl be Bart?
Bart is way too old to read Gossip Girl, let alone write it, plus, he was presumed dead for a couple years. Kind of hard to be monitoring a gossip site when you aren't technically alive.
Could Gossip Girl be Ivy?
This UES poser loves her secrets. Not only was she involved with Dan's father, she is currently shacking up with Serena's father! But she didn't make her debut into UES society until only recently. Did she inherit the GG moniker from someone else?
Could Gossip Girl be Dorota?
Blair's maid is close enough to all the action without being involved in any scandals herself. She knows how to be seen and not heard. But she also cares about the well-being of her charge, Blair. Would she betray her employer and family for a shot at infamy?
<a href="http://polldaddy.com/poll/6742807/">Who do you think 'Gossip Girl' is?</a>
So who is Gossip Girl? That's one secret we'll never tell…
Well, until the series finale of GG airs, so check back here Dec. 17 at 10 p.m. ET to find out if you were right!
XOXO, Hollywood.com
Follow Sydney on Twitter @SydneyBucksbaum
[Photo Credit: Frank Ockenfels/The CW]
More:
OMG! Identity of 'Gossip Girl' Will Be Revealed!
'Gossip Girl': OMG! Chuck And Blair Get [SPOILER], But Who's Getting Arrested? — PIC
'Gossip Girl': Who ELSE Is Getting Married?!? — PIC

Kate Middleton Pregnant: Could Her Royal Baby Be Crowned Queen Diana? (EXCLUSIVE GUEST BLOG)

Taylor Swift, Harry Styles Sing Karaoke, Hold Hands in New York City (PHOTOS)