'So You Think You Can Dance' All Stars Who Better Come Back Every Year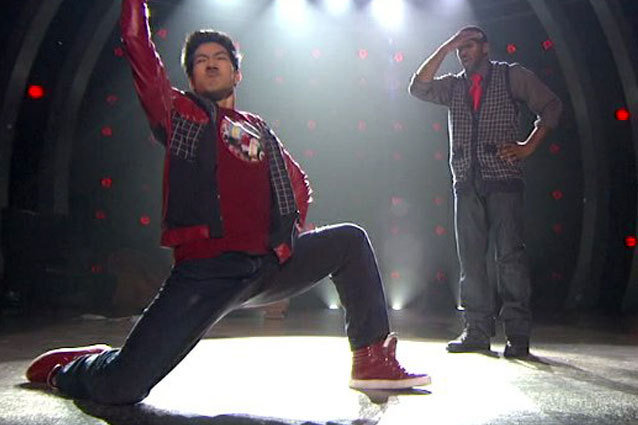 FOX
The format of So You Think You Can Dance has evolved considerably over the past ten seasons. But without question, the best addition to the show has been the incorporation of the All Stars into the Top Ten. Once the field has been whittled down to five guys and five girls, the producers bring back favorites from past seasons to partner the contestants. While almost anyone who makes it past the dreaded Vegas Week is up to the task, we have our favorites. These are the All Stars who we hope will keep coming back, both to remind us of their crazy talent and to help propel their partners into the finale.
Alex Wong
It's always a joy to see Alex Wong back on the SYTYCD stage, not just because he's a versatile, athletic dancer, but also because his own career as a contestant was cut short. What a heartbreak it was to see fan favorite Alex brought down by an injury in season seven, especially after that killer NappyTabs routine with Twitch. Fortunately, the dreaded Achilles has healed and Alex is back leaping across the stage with today's hopefuls.
Chelsie Hightower
Season four ballroom standout Chelsie Hightower graduated to rival competition show Dancing with the Stars. But to us, she'll always belong right next to Cat, receiving her accolades from Nigel and Mary. She's a little powerhouse and can make any guy look like a lift expert.
Robert Roldan
Actual Disney Prince Robert looks like the groom on top of a wedding cake, but he's not just a pretty face. The contemporary dancer finished third in season seven. This season, choreographer Travis Wall paired Robert, who recently overcame serious injury, with fellow suvivor Tucker Knox for a breathtaking piece that certainly helped keep Tucker in the competition.
Allison Holker
Has there ever been a more reliable contemporary female dancer than Allison Holker? The season two star never fails to impress. Every time she's on stage with a contestant, the judges look like they would practically beg her to come back and compete again. She's also one half of the first confirmed All Star love connection — she's engaged to hip-hop heavyweight Twitch.
Twitch
For a contestant, hip-hop is the most dangerous style to draw and be paired with an All Star. The All Star can't carry the contestant here. In fact, sometimes he can make him look downright uncoordinated, and definitely uncool. Season four's Twitch is guilty of making his partner look bad on numerous occasions, but how can we be mad at him? Hip hop will continue to separate the hopefuls from the champions in an attempt to find out who is the most "bucc."
Melanie Moore
With her babydoll face and pixie haircut, Melanie Moore is the America's Sweetheart of So You Think You Can Dance. She took the season eight crown and barely broke a sweat. The judges continue to fawn over her, and any guy who draws her is sure to make it through to the next week.
Travis Wall
We got to know Travis Wall as a contemporary contestant in season two. Since then, he's redefined himself as one of the show's no-fail choreographers and has a handful of Emmy nominations to show for it. Luckily this year, we got the best of both sides of Travis when he choreographed and partnered contestant Amy Yakima in a smoldering routine to Chris Isaak's "Wicked Game."
Mark Kanemura
The delighfully weird Mark Kanemura pirouetted right off of season four and into the arms of Mother Monster when Lady Gaga hired him as one of her dancers. This season, he came back as an All Star again and rocked the judges' socks with the quirky jazz routine he choreographed for his partner Jenna Johnson.
More:
Miley Cyrus Is Still Trying To Get Our Attention
Constructing the Perfect Bruno Mars Halftime Show
2013's Best Music Videos (So Far)
---
From Our Partners:


40 Most Revealing See-Through Red Carpet Looks (Vh1)


15 Stars Share Secrets of their Sex Lives (Celebuzz)