'So You Think You Can Dance' On the Scene: Top 20 Announced!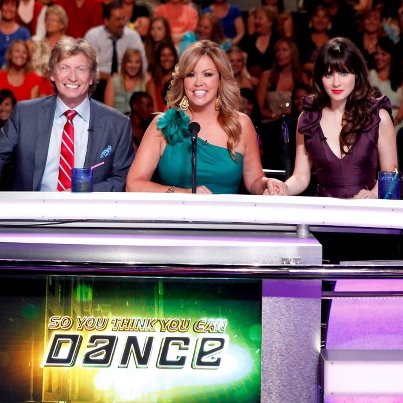 Let me start off by saying I am huge New Girl fan and I have seen 500 Days of Summer, oh, probably about 500 times. (Or, at least, more times than I'm comfortable admitting in public.) So you can imagine my squeals of delight upon learning I would be going to the 200th episode of So You Think You Can Dance, in which the lovely Zooey Deschanel would be guest judging the new Top 20.
Surely the self-proclaimed "adorkable" Fox actress would be predictably cute and quirky,armed with plenty of wit and insight, right? "Oh my gosh, you guys are all so great. It's hard for me to think of anything to say!" Deschanel exclaimed after the first routine. Fair enough. It was the first performance on stage — she's still probably getting her seat warm. Plus, who wouldn't be distracted by Mary Murphy's patented deafening screams?
But I wasn't the only one who noticed Deschanel's initial discomfort. Executive Producer/Judge Nigel Lythgoe told me backstage that the actress "started nervously" and had a hard time deciding on which performance she liked best. Says Lythgoe, "Every single routine that happened was her favorite routine. 'That was my favorite!' and then the next routine, 'That was my favorite!'"
Unfortunately, as the show progressed, it was clear to everyone in the audience that Deschanel's knowledge of dance was frustratingly limited. (And while her cute smiles helped, they didn't quite hide her lack of dance knowledge.) Luckily, this was one of the few pre-taped SYTYCD shows, so Fox was able to take full advantage and edit out some of the longer awkward pauses, word stumbling, and frequent proclamations of "I'm speechless!" Where's Jesse Tyler Ferguson when you need him? 
Some of my favorite, yes, "adorkable" (if uninformed) Deschanel critiques that didn't make the cut:
"It must be difficult to lift each other right?"
"Your teamwork was, like, incredible."
"Were you rehearsing that for days?"
"That dance looked like it required a lot of [long pause] coordination."
In the end, the big-eyed beauty decided to take the safe sugar-laced route and put extra sweetness into her words to make up their lack of flavor. "What a beautiful routine for such beautiful girls. You're all so lovely and to work together must be so much fun. I think you should all enjoy it and you're all just wonderful." Former Idol judge Ellen DeGeneres, how did you get into Deschanel's body?
Still, despite its not-so-impressive guest judge, Wednesday's
So You Think You Can Dance
 episode had plenty to celebrate. The series, which is now in its ninth season, aired its 200th episode with the Top 20 announcement. Though
So You Think You Can Dance
has found success — and dancers who have moved on to fruitful careers on TV (
Dancing With the Stars'
 Chelsie Hightower) and on tour (Lady Gaga backup dancer Mark Kanemura) — I found out the series was almost a no-go. "I didn't even think we'd be successful with one episode!" Lythgoe said backstage. "When Simon Fuller suggested it, we were so successful back then with
American Idol
, and he said, 'We should do this sort of similar show for dancing!' And I said, 'Well, that will never work.'"
And apparently, it didn't. Nigel revealed that there is a long-lost SYTYCD pilot that will never see the light of day. "The first show that we did was horrific, I mean, like, really bad. No one has ever seen it and no one ever will. It was terrible and I thought this is not going to work … So to be here 200 episodes after is wonderful."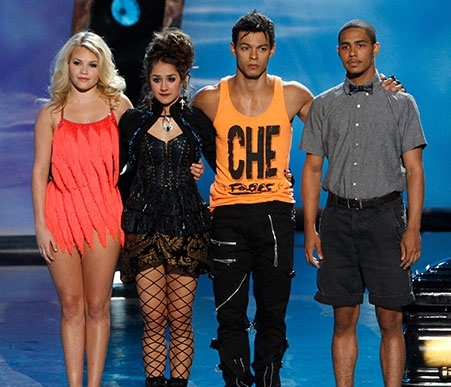 It seemed like Judge Mary Murphy may have been drinking the same rainbow-and-lollipop Kool-Aid as Deschanel. When I asked her why So You Think You Can Dance has lasted for nine seasons, she said, "This country still has a lot of diamonds out there, and if we give them the chance and give them the opportunity they're going to grow." I don't know about you ladies, but I would just love to plant some diamonds and watch 'em grow. I'm thinking a bracelet bush and a tiara tree to for starts in my garden. 
Although the series has been a successful one, Lythgoe decided to implement some big changes this season. First off — and most notably — America and the judges are crowning not one but
two
So You Think You Can Dance
 winners this year. And while we can say hello to two winners, we can wave goodbye to the dreaded results show. 
Said Lythgoe with a laugh when I asked how Season 9 will be different: "What's going to make the difference? One f**kin show! One show is going to make it very different."
Some have expressed confusion on the new elimination process, but, luckily, British beauty Cat Deeley broke it down for you. "America votes on the three people who are in danger and then at the end, the judges will choose who goes home. I think is going to make it more exciting for the viewer because it will add a layer of jeopardy to the performances."
So what dancers will viewers have to get behind during Season 9? The full Top 20 list includes Alexa Anderson, Amber Jackson, Amelia Lowe, Audrey Case, Eliana Girard, Janaya French, Janelle Issis, Lindsay Arnold, Tiffany Maher, Whitney Carson, Brandon Mitchell, Chehon Wespi-Tschopp, Cyrus "Glitch" Spencer, Daniel Baker, Dareian Kujawa, George Lawrence, Jr., Matthew Kazmierczak, Nick Bloxsom-Carter, and Will Thomas. But, below, check out the five finalists that looked best at the live taping: 
Eliana Girard: Obsessed. She reminds me so much of Tai from Clueless (it's all in the quirky facial expressions!), I want her futuristic tutu, and damn her legs are fierce!
Matthew Kazmierczak: I was definitely impressed by this talented fella. Not only is he easy on the eyes, but he didn't even roll his eyes when Mary Murphy made him do that stupid "opening the door to the Top 20" move. Bravo Matthew, bravo.
Whitney Carson & Lindsay Arnold: Yes I am aware that I listed two names, but I put these baby bombshells together because I loved their fiery threesome routine. I also didn't feel like figuring out exactly who's who just yet.
Cyrus "Glitch" Spencer: I have absolutely no idea how this animation dancer gets his body to move like that. A suspicion in me thinks that he's some kind of robot, so if the apocalypse does happen this year, I want to make sure I'm in his good graces.
Janelle Issis: She's clumsy. I'm clumsy. We're kindred spirits. And thanks to the wonderment of DVR, I watched her head smack into that door at least 11 times, so I feel like I kind of owe it to her.
So You Think You Can Dance returns live Wednesday, July 11 at 8 p.m. on Fox.
Follow Leanne Aguilera on Twitter @LeanneAguilera
[PHOTO CREDIT: FOX]
MORE:
'Real Housewives of OC' Recap: The Party's Overa>
'Pretty Little Liars' Recap: Roger That: The Hanna Show
Louis C.K. Discusses New Season of 'Louie', Including Jerry Seinfeld's Cameo