'So You Think You Can Dance' Recap: Hotlanta!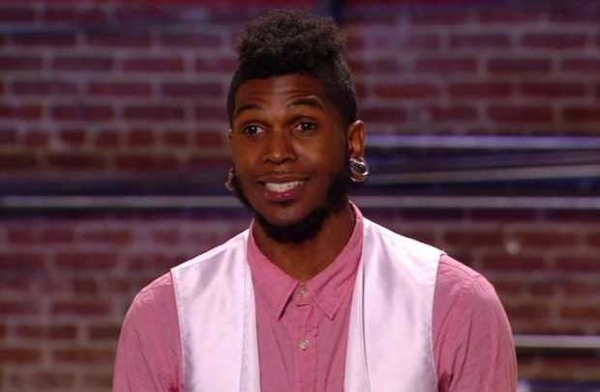 On Wednesday, we returned to the city of champions.
By that, I mean Atlanta. Naturally.
Episode 3 of So You Think You Can Dance brought us back to the illustrious city that produced Melanie Moore, the most recent Favorite Dancer of the Year: the dirty ATL, home to one of my only loves, Mr. Decatur-Till-I-Die . For the occasion, Cat wore a giant gray leopard, and this week's fabulous guest judge was Debbie Allen, better known as Jackson's mom and Richard's play thing from Grey's Anatomy. Love her.
It's easy to see how this city produced our most recent champ: These people can straight up dance. It truly wouldn't be surprising if half of the finalists came from this crop.
First up was The Girl Who Farts With Her Elbow (don't ask), Audrey Case, who was a beautiful dancer — she possessed the most admirable combination of balance and flexibility we've seen thus far in Season 9, and her personality was infectious — so it's a shame that she'll forever be known as That Girl Who Farts With Her Elbow. Alas, everyone must have his or her thing. She got a standing O from the studio audience, Nigel called her magical, and she was granted an auto-ticket to Vegas.
The three hip-hop dancers who followed — all of whom live in a tiny apartment with "millions of other people" (actually seven) — were a bit more exciting. Boris Penton, the first of the three to audition, performed a stilted, robotic routine to a piano version of "Love the Way You Lie." I'm always so impressed when the dancers can maintain a completely still countenance even while the audience is going nuts. Actually, Boris kind of reminded me of a cheaper version of The Exorcist. (Yes, I will bring him up in every recap until Vegas begins and we are finally reunited.)
Nigel was absolutely smitten with this dude, and Debbie even pulled out the Kara DioGuardi Special and used the word "artistry" at least five times in her 30-second critique. Unsurprisingly, he got sent straight to Vegas. The funny thing about this audition is that Nigel made a big show of worrying that Fart Girl wouldn't be able to adapt to other styles of dance, whereas he didn't even bring it up with this guy, who seems like a pretty clear-cut hip-hop specialist.
The next roommate to take the stage was Andre Rucker, whom we shall call Chris Bosh. After he began his routine by hatching from an egg, he took the robot motif a step further and gave us what was easily one of the most impressive performances this season. In his intro package, he said he wanted to create a style that was completely new and innovative, and he definitely achieved it; he honestly, truly looked like a robot. Even his mouth moved in this weird, stilted way.
NEXT: Glitch in the system.
The third and final roommate, Cyrus "Glitch" Spencer, aimed to move like a "robot anime popper," and you had to figure that the one the producers saved for last had to be the best. You would be right. Cyrus was the most natural, the most fluid and also the most dramatic and artistic of the three. Robot anime characters would definitely look like that. I'm a sucker for dubstep as it is, but Cyrus truly moved like he was being manipulated by some crazy video editor's magic mouse. He was scary and awesome and impossible to look away from; in fact, he might have even seized The Exorcist's throne.
Actually, let's not get ahead of ourselves.
The judges saved their most effusive praise for Cyrus and sent him straight through to Vegas. The moment was compromised by some unfortunate pit stains, but we shall ignore that.
Eighteen-year-old Joshua Alexander was one of the best male dancers we've seen so far, at least as far as ballet goes. He was so graceful, so fluid – there was so much ease in his movement that it was impossible to ignore his raw talent, plain and simple. He also looked so darn happy while he was dancing. When he was finished, each judge wordlessly held up a ticket to Vegas, and Joshua accepted all three, which confused me because there was only one of him.
The most pimped audition of the night — the one we've been seeing in promos all week — was that of Tim Conkel, who used karate to conquer childhood bullying. Before long, he transitioned from the martial arts into dancing in the hopes that it would help him get girls. In fact, he brought his favorite girl onstage with him in the form of a purple Selena Gomez backpack.
Despite the fact that the secondhand embarrassment I experienced rivaled anything I've ever felt while watching The Bachelorette, there was no denying that Tim Conkel was absurd. True, he made the white-girl-dancing face several times, but it didn't matter. He was half-break dancer, half-insane gymnast. The worst parts of the routine, weirdly, were the karate moves, which seemed like afterthoughts thrown in at the end and simply didn't mesh.
The judges were all concerned that Tim couldn't dance any other styles, so on the spot, they asked him to put his limited ballet training to the test, which provoked a series of deafening belly laughs from the lady judges. Nevertheless, he got the ticket to Vegas. I still don't think he's making it out of there alive, but we'll see.
NEXT: Fire in the belly.
Another standout was Palestinian belly dancer Janelle Issis, who was discovered in church (yes) and performs regularly at nursing homes. That must get the blood flowing. Yes.
Her routine was easily my favorite of the night. It was somehow modern — probably because of the hip-hop track — yet still authentic, and every part of her was invested, physically and emotionally. It was impossible to look away. Nigel, too, was grossly infatuated and sent her to choreography, where she prevailed and earned the ticket to Vegas.
Danielle Dominguez came to the audition with her mom, and her sit-down with Cat revealed her to be the real-life girl from SNL who thinks her parents are the coolest people in the world. She also had a really gross infatuation with bacon, which she enjoys eating by the plateful. Literally, the plateful.
Because Danielle is willowy and thin, Nigel suggested that perhaps she could begin a Bacon Diet movement — you could feel the hole forming before he even began his next thought — and he then suggested that Mary and Debbie take part in this groundbreaking diet. Both female judges were then predisposed to hate our friend Danielle, a self-described "weird dancer" whose routine didn't seem incredibly technical; it was more of a collection of sensual movement, enhanced by her double-jointedness. The judges, alas, liked her uniqueness and sent her on to Vegas.
Courtney Kirby actually did pull a Bachelor when she brought her grandmother to the audition to distract Nigel. Nigel invited Grandma to sit in his judge's seat, and they spent several minutes giggling and nuzzling before Courtney began her routine. Do we need to go over this? She made it straight through to Vegas.
Now, for the routine: Her technique was excellent, but it was a bit much for me in the hairography department, and the ending was straight-up weird. It was far from the most impressive thing we saw all day, but sometimes, cute grandmas get the best of our emotions.
The most intriguing audition of the night was that of Asher Walker. He dressed like a frat boy and talked like a cast member from Straw Dogs, and the self-professed redneck taught himself to dance in his garage by watching videos. Now, he aspires to be a Justin Bieber backup dancer. Truth.
NEXT: Copycats?
He may not have had a grandma with him, but he had the charm to make up for it, and the chops, too. Aside from the fact that he could move at all in such tight skinny jeans, which already should've earned him a ticket to Vegas, his routine was all rhythm and hip-hop and a little bit of corndoggery but, alas, charming. He quite obviously didn't have as much technical skill as most of the other hip-hop enthusiasts we've seen this season, but he certainly has raw talent and he's totes adorbs. Mary likes to throw out this phrase a lot, but this really is the guy people are going to pick up the phone and vote for. On to Vegas he goes.
Brittany Ortner, who needed seven takes to record her pre-audition interview, is from a tiny town in Florida and believes Uncle Nigel is the only genie in the world who can save her from Chicken Town. This girl was half-Taylor Swift, half-Miley Cyrus – a deadly combo – but she was pretty good. Kind of raw, but skilled. On the scale of Anna Faris to Kate Winslet, she was a solid Shailene Woodley. The judges liked her personality, but they sent her to choreography and eventually on to Vegas.
At the end of the night, we were treated to the resurgence of Damon Bellmon and Deon Lewis, who auditioned for Season 8 and performed a "tribute" to a Les Twins routine, which was "misinterpreted" as dance plagiarism. In their defense, they admitted in their pre-audition sit-down last year that their routine was inspired by group, but the producers cut it.
This year, they did their own routine – pinkie swear – to "Moves Like Jagger," which was alternately awesome and unwatchably corny. The best part came during a dubstep break in the middle, where they were really able to use their buddy-cop routine to their advantage. They got a standing O from the audience, but Nigel wanted to see how good they could be with female partners rather than each other, so they went on to choreography. Damon proved that he can indeed roll with the ladies, but in a dramatic turn of events, Deon was cut. He was happy for his bro, anyway.
What did you think of The Dirty? Was the robot anime trio worth all of the pimping it got from the judges? Who didn't deserve the ticket to Vegas? And most importantly, what animal-printed couture will Cat treat us to next week?
[Image Credit: FOX]
More:
So You Think You Can Dance Recap: Holly-woo!
So You Think You Can Dance Season Premiere Recap: Get This Party Started