'So You Think You Can Dance' Recap: Judges' Pet Lives To See Another Day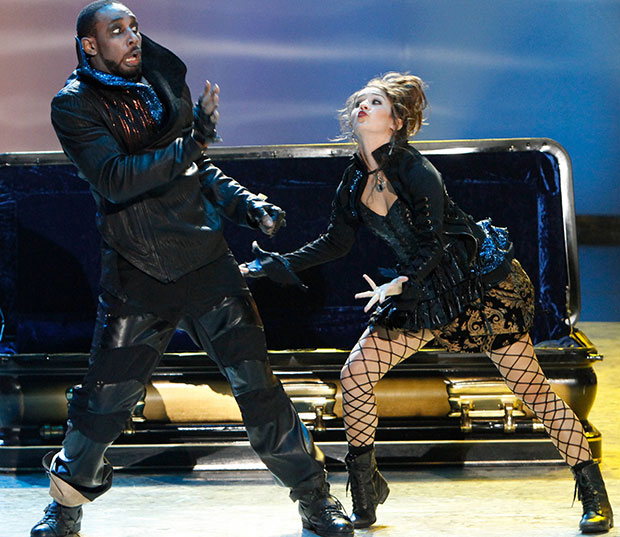 Last week, we endured the only shock-elimination of the season thus far. How would those vying for the titles of America's Next Favorite Male and Female Dancers respond? 
Ladies and gentlemen: This. Is So You Think You Can Dance.
Okay, so that was my best Ryan Seacrest. 
This week's show opened with a very strange number that featured Tyce Diorio for some unknown reason, and featured the dancers in sailors' costumes, army costumes and a variety of other costumes that made little to no cohesive sense. Turns out, it was a tribute to Gene KellyCK, and Tyce was filling in for an injured Cole. This. Is So You Think You Can Dance.
It was almost as entertaining as the ad we saw for a movie called Oogieloves, which is rated G and yet boasts "Starships" by Nicki Minaj as its theme song. 
Last week, we said goodbye to Amelia and Janelle, plus Matthew and Dareian (cue tears). That left us with just five – five! – pairs of dancers, and by the end of the episode, there would be a mere four. The finale is just three weeks away! Dun dun dun. 
This week's guest judge: Choreographer of Black Swan, Mr. Natalie Portman! Whaaaat? For serious, Benjamin Millepied finally gave us a relevant guest judge who had pertinent things to say. Man … they were pulling out all the stops this week. 
Starting with—wait. Tiffany and Brandon? Oh, the top 10 teamed up with All-Stars for this episode! That would have been helpful to know ahead of time. And just to clear up the confusion that afflicted me the entirety of this routine, this is not the same Brandon that was eliminated earlier this season. 
And Tiff didn't do anything to help my confusion by dressing like J.Lo in a semi-sheer bodysuit and performing to Cobra Starship. Though releasing her inner J.Lo did allow her to show us a new, smoldering side of herself, her number (both the one she was wearing, and the one she was dancing) was unpleasantly seizure-inducing. Still, I had to hand it to her for bringing the energy. She has a future as a pop star's backup dancer—and isn't that the Holy Grail for the graduates of this show? 
Nigel was excited that Tiffany was able to wear a castoff from Adam Shankman's closet, and added that she brought the requisite amount of energy and excitement. Benji said they were a great pair, and he was also suitably impressed by their energy. 
Personally, I worry that going first this week will be enough to banish Tiffany to SYTYCD purgatory next week. 
Next up, Witney teamed up with Season 1 champ Nick Lazzarini to perform as ghosts in an abandoned lounge. Travis earnestly told the cameras that he choreographed the routine to enable our 18-year-old lady to be as sexy as possible. 'Kay. 
Wit cast off her inner ballroom dancer with gusto, alternating between partnering with Nick and her microphone stand. Admittedly, though, these two were so in rhythm—with the music, with each other—and the choreography was tailored so perfectly to each of them, that it was hard to believe they'd never danced together before. And as we'd learn throughout the duration of this episode: Chemistry was not something to be taken for granted. 
My only complaint was that both Witney and Nick were inexplicably slathered in black makeup—on her lips, around his eyes—in a manner that made it seem as though they did their makeup in the dark. 
Ben Portman started us off by telling Witney and Nick they did an excellent job seizing and then releasing the tension. Nigel told Witney she was even sexy while she was breathing, then added a "young lady" to make it sound less creepy. It didn't work. 
Mary: "Lord have mercy, you were smooooldering out there!" 
To Witney's credit, I'll admit that although she's never been my favorite, she's been improving every single week. She's not going anywhere any time soon. (Spoiler alert!…)
Cole and Anya took on the cha-cha next—and Cole's mysterious injury, which we learned about during the intro, went mysteriously unmentioned. He tried to distract us from said injury by emerging onto the stage with his shirt fully unbuttoned. And then he and Anya cha-chaed to The Wanted, which was a strange marriage I'm not sure I ever wanted to see. Kind of like the marriage of Anya and Cole, who didn't seem to have any chemistry at all. 
It felt like both of them were just so focused on hitting the choreography and hitting their marks that they weren't all too concerned with connecting with each another. And it didn't seem like they were hitting all of their marks, either. Just saying. 
Mary said the routine was amazing, then reminded us that Anya was the first-ever recipient of the Hot Tamale Train phrase. There was no need to remind me of that. I now hate Anya by association. In a more lucid moment, though, she pointed out that Cole's footwork was off, and the connection between the two dancers was nonexistent. 
Benny thought Cole was very engaging, but that his movement quality was just a tad off; he needed to think more about contrast. Nigel agreed with Mary: Normally, Cole has fantastic lines, but not this time. He was mugging for the audience too much, and his chemistry with his partner suffered, as a result.  
For me for Cole, this was a big dropoff from last week, when he was so sinister and so creepy and put forth one of his best performances of the season. This week? A big old disappointment. I wonder why nobody tried to blame it on his phantom injury. 
Lindsay, who just barely escaped the guillotine last week, paired up with Jacob to take on a Spencer Liff-masterminded Broadway routine. Here's the catch: Jacob was behind a screen and was supposed to be Lindsay's shadow, so above all, both of them had to be perfectly in perfect unison. Tricky, tricky. 
Maybe I'm easily impressed, but I thought this little number was pretty spectacular. These two had more chemistry than Cole and Anya, and they couldn't even see each other for most of the routine. Lindsay also seemed to be far more confident this week than I've ever seen her. I don't know what it was; maybe she and Cole are just a bad pair. She really did flourish with Jacob; being forced to mimic his extension and lines—he was supposed to be her shadow, after all—really helped her thrive. 
Nigel had to start off by pointing out Jacob's magnificent feet (hope you're not watching, Dareian), but he admitted that Lindsay was equally magnificent. Mary put Lindsay on the Hot Tamale Train, and Ben thought the lady executed the choreography perfectly and emphasized its natural crescendo.
Next up: How would Will fare without his personal quirky girl, Amelia? Just fine, apparently. He and Step Up: Revolution star Kathryn McCormick took on a Bollywood routine about a snake charmer trying to charm a snake-girl. 'Kay. In the pre-routine package, Will called Kathryn the sexiest snake he's ever seen and was excited to be all sensual and stuff with her. 
The only criticism I have of this routine was that it revolved too heavily around Kathryn. She's not the one who needs votes, y'all, and Will literally spent the first 20 seconds of this number prancing around in circles with a flute while she writhed in her snake cage. After that, though, things picked up. Again, Will displayed his unfortunate tendency to mug rather than let his dancing do the talking, but he was a really strong partner to Kathryn. Maybe his true strength is just that he's a good partner, no matter whom he's with. 
Mary called Will an Energizer Bunny—but one with amazing control. Benny eyed Will suspiciously and then, in a dead monotone, told him he possesses a charming, unique style. Nigel told Will he struggles between wanting to tell Will to tone it down and wanting to tell himself to shut up. He's right, though; Will does go overboard in a kind of obnoxious way sometimes, but he's so darn likeable that you can't really fault him. 
Cyrus, paired with Jamie, was saddled with a routine that was, as Simon Cowell would put it, overindulgent and based upon the movie 2012. And by that I mean, based on the end of the world. A revolutionary concept! No matter the theme, though, this was bound to be a tough one for Cyrus to pull off; he's always had trouble with anything outside of hip hop and animation, and for him, contemporary is always a big stretch. 
Lucky for him, this routine seemed to be so centered on Jamie that it helped Cyrus disguise his weaknesses and shortcomings. I like Cyrus, so it didn't really bother me, but he really just flat-out struggles when he's not in his wheelhouse, and this show is all about pushing dancers beyond their comfort zones and finding out who's excellent under pressure. There was one point where Cyrus leapt away from Jamie, and his extension was embarrassingly bad. Also, I didn't really get "end of the world" from this rubbish. 
Ben said he appreciated Cyrus' raw energy and his ability to partner, thereby establishing that he had no plans to say anything critical of any dancer. Nigel, meanwhile, seems committed to overlooking the fact that Cyrus badly, badly struggles outside of hip hop and animation. Yes, he is passionate, and that's admirable, but right now, he's coasting on the fact that he's a fan favorite. Even Mary said, "The feet, the legs, not the best right now"—but she reveled in his passion and his emotion. 
To that, I say: WHY is The Exorcist not in the top 10. ANSWER ME THAT. 
Next, ballet specialist Chehon took on hip hop for the first time with Season 3's Lauren. This routine was based on Save The Last Dance. Or, "on two best friends who love to dance together." Same difference. 
The track was Maxwell. Blatantly Save the Last Dance. 
I think the choreography may have even been borrowed from the movie (kidding), but really, I love Chehon and I'm glad he could pull this off. There is nobody remaining in this competition with better lines and better extension, and no, this wasn't his best performance, but he can do smoldering! He can do sexy! He can do hip hop! Pick up the phone, people. 
Nigel commended the choreographer for taking that stick … out of Chehon. (Nigel's words, not mine.) He added that Chehon is too trained, but he's finally starting to give himself into the music. (HELLO. He's even stealing the Save the Last Dance SCRIPT.) 
Benny sympathized with the fact that Chehon has dedicated his life to perfecting his technique, and he still felt the routine was spontaneous and exciting. 
Next up, George—getting a break from Tiffany in order to join Allison for a Tyce-choreographed jazz routine—played a guy in Paris who risks missing a train because of a female distraction. A "raunchy night in Paris" then ensues. Oh, Tyce.
George is great, and so is Allison. They're very similar in terms of style and demeanor, so this was a great pairing. His technique is spot-on, and he has some personality, but still, it was obvious that he wasn't going to last much longer. Also, this track sounded like it came off The Jungle Book's soundtrack. Not kidding. 
Here's the problem: George's mechanics are spot-on and he's clearly passionate, but it still feels like something's missing when he's dancing. That's never a good sign. It's like when a football team seems like it's dominating, but it still is somehow losing. That always means a downfall is in store. 
Mary was a big fan of George's technique, and Ben agreed that he's an amazing mover and communicator. He may have even thrown out the word "exceptional." 
Of course, Nigel had to rain on the parade a little: He, like everyone else, feels that George's technique leaves nothing to be desired, but his character was just not believable at all. To Nigel, George was merely dancing and just didn't get down. Sigh. The final dagger: "Allison wouldn't have believed this was a raunchy night. Not with you." 
Eliana delivered the penultimate routine, partnering with All-Star Alex for a nice little number about an on-again, off-again couple that can't just let go. Now this—this was a great partnership. Eliana can partner with anyone because she's so talented and is very clearly willing to give herself over to her partner in order to make both of them look as good as possible. Unselfishness is not something we see a lot of in female dancers, and it takes a lot of confidence to be like her. 
Hey, America: If you want someone who is believable in every character she plays, is excellent in every style she takes on and is mechanically perfect, this is your winner. 
Nigel thinks so, too. He flat-out admitted that Eliana is proving to be his favorite girl this year. Hey, he's here to judge, and that's what he's doing—and he's chosen one of the very few ladies this season who is undeniably likeable. Wise choice. Mary called Eliana "delicious," and Ben thought she had it all: passion and technique. 
Those crafty producers then tried to save the best for last: Audrey, paired with … Twitch! WOO! As Aldous Snow would say, what an eccentric and confident young man! 
There could not be a more random and strange pairing than this one, and honestly, it didn't work as well as I wanted it to. Maybe it was the fact that theirs was a routine based on "a 400-year-old couple that loves to hate each other," as choreographer Dave Scott explained. And by that, he clearly meant a routine based on True Blood. These two came out of a coffin to begin their routine.
As I feared, this routine starred Twitch a bit more than Audrey (and how could it not?), and Audrey seemed to get tripped up by her own insistence that she can't do hip hop. The problem, though, isn't that she can't to hip hop; it's that she isn't Twitch, and there was no better way to emphasize that fact than by putting them side by side. It was the visual equivalent of any Glee duet featuring Lea Michele and Dianna Agron. One of these was not like the other.  
Ben (of course) thought Audrey did very, very well, but it was unfair for her to have to dance with Twitch. Mary still felt that Audrey was engaging (what a generous lie), but Nigel wanted her to be more "Helena Bonham Carter in a Tim Burton movie," and after that I stopped listening because I was thinking about how much better this routine would have been if Eliana had been Twitch's partner. Sorry, Aud.
And then: Elimination time! Dim the lights. 
Your Bottom Two Ladies:
Witney
Audrey
Your Bottom Three Dudes:
Chehon
George
My reaction to the ladies: Noooo! Mostly because I knew that this signaled Audrey's demise. Nigel can insist all he wants that Eliana is his fave; we know it's a lie. 
My reaction to the dudes: Noooo! 
Based on this week's episode, Audrey deserved to be the one going home, as much as it pains me to say it. When you think about the fact that Witney has improved every week, it was impossible to believe the judges would send her home. 
As far as the guys … George has been in the bottom for two straight weeks. That should lead to an insta-elimination. And I'm not just saying that because of Chehon's abs. 
The solos just affirmed what I already knew. Witney wore red and did a strip tease with her clothes on, complete with the requisite hairography. Meanwhile, Audrey chose to perform to one of my favorite songs ever ("And I Am Telling You"), just like my most recent favorite reality show contestant—right before getting the ax.
Chehon took off his shirt and balleted his way into another week of precious life. Meanwhile, George—whose facial expression was ridden with expletives from the moment Cat banished him to the bottom two—also took off his shirt and even attempted a back flip to save himself. 
To no one's surprise, Audrey was sent packing. Nigel tried to make it more palatable by saying that the decision wasn't unanimous. I'm sorry; I'll I heard was him calling Witney a sexy breather. Vom. 
Nigel then stumbled through some convoluted explanation for keeping Chehon and sending home George; a simple, "We are allowing Witney to keep her partner" would have sufficed. Thank you, and goodnight. 
So what did you think? Do you also believe that SYTYCD should be forced to ascribe to the unwritten rules of Project Runway, which state that if you've been in the bottom two before, you must be sent home before a first-time bottom-dweller? Or were you okay with this week's eliminations? 
[Photo Credit: Adam Rose]
MORE:
'So You Think You Can Dance' Recap: Mia Michaels Redux
'So You Think You Can Dance' Recap: Top 16 Perform