'So You Think You Can Dance' Recap: Mia Michaels Redux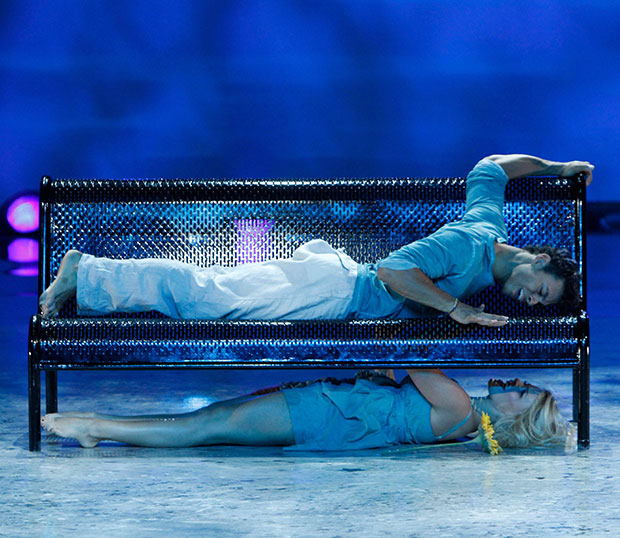 So, raise your hand if, during the entirety of the Olympics floor exercise finals, you kept comparing the Jordyn Wiebers and the Aly Raismans to our favorite contestants from this season of So You Think You Can Dance. 
Fair? Not at all. There is no basis of comparison. But I couldn't help it. I watched them prance around on those floor mats and all I could think about was that I couldn't wait until it was once again time to see the final 14 contenders for the title of America's (New) Favorite Dancer(s). 
Wednesday's episode was a special one because it was the first-ever episode dedicated to celebrating the work of one choreographer: Mia Michaels, ladies and gentlemen. This season's best dancers all performed the most iconic routines from the Mia Michaels arsenal over the last eight seasons. 
And another four(!) would go home by the end of the episode. Talk about two full weeks to really let the pressure sink in. 
Who would crack and who would thrive? You'll be surprised. Trust. 
In fact, Wednesday's episode was just full of surprises. The Mia Michaels tribute, the four eliminations, and, best of all, special guest judges Michael Nunn and Billy Trevett, otherwise known as the Ballet Boyz. 
After the top 14 performed for the first and final time—and treated us to a very gothic and kind of terrifying performance (dubbed by Nigel as "The Fifty Shades of Grey routine"), in which all of the female contenders spent the entirety swinging on chains suspended from the ceiling—Ileana and Cyrus started us off by taking on Season 4's door routine, performed by Katie and Twitch. 
During rehearsals, both of them had trouble with the intimacy factor, but they had no problem emulating the Season 4 standouts once the cameras were rolling on Wednesday. From the costumes—a tattered Guns 'N Roses T-shirt for Ileana, a cigarette and a fedora for Cyrus—to the attitude and the purpose they each showed with each and every tidbit of choreography, the routine certainly lived up to the original. 
As such, Ileana and Cyrus received a standing ovation, and though Nigel admitted it was tough to disassociate from the original, he thought Cyrus and Ileana brought enough of themselves to the routine in order to hold their own. Mary called Ileana "swaggerocious" (I kind of like it. Yes, I'm embarrassed), and Michael and Billy loved the way they built such an intense story around one prop. 
Next up, George and Tiffany kept the momentum rolling in taking on Katie and Joshua's Season 4 hometown routine, which included the infamous assisted run. While I don't know if there was a pair who could've done this routine more justice than these two, it was immediately apparent that it was going to take some digging deep—emotionally—in order for them to replicate what Katie and Josh did. 
And for the most part, they pulled it off. These two are so fundamentally sound, it was hard to believe they wouldn't be able to contend with the choreography; it would be about whether or not they could connect, and they did. Oh, and their version of the running step was pretty good, too. 
Mary said George and Tiffany "murdered" one of the best routines in this show's history, but in a good way (there was definitely some confusion on my part), and added that Tiffany needs to be wary of over-performing. Michael agreed that Tiffany had a tendency to do too much and said that watching this routine was more like watching two simultaneous solos. Nigel said this was the best George has ever looked. There couldn't have been a better time for him (spoiler alert!).
Judges' favorites (and fan favorites) Will and Amelia were up next, looking to continue a run of momentum that's seen them catapult to the top of the heap over the first couple of weeks of live shows. Their project was the Season 5 "butt dance," an Emmy-award winner that couldn't be suited more perfectly to Amelia's style. And yet, she spent the entire pre-routine package faux-complaining about it. And talking about whether or not she has enough junk in the trunk to pull it off. 
That was the least of her problems on Wednesday night. Hint, hint. 
For me, Will was a bit too shticky, but I guess that's what these two are all about, and that's why the audience loves them. Usually, their routines are far more character-driven than choreography-driven, which was why this was the ideal Mia Michaels fit for them. 
Nigel had a hard time critiquing this routine because the original was such a show-stopper, particularly because Randy was so memorable in Amelia's role. He didn't believe that either of Will or Amelia brought enough character to this routine (how is that even possible for these two?), but Mary liked it—though she agreed with me that Will went a little overboard. Billy, with no basis for comparison, thought they were endearing, whimsical and in-character—though "a little subtlety wouldn't have gone amiss" at some points. 
Janelle and Dareian were next up in the hot seat, wearing pajamas in order to perform Kherington and Twitch's bed routine. It seems like this pair has been in danger of elimination each week, and I had a hard time believing they'd get out of this one alive. Alas, they gave it their best effort—especially Janelle, who informed Mia during rehearsals that she hasn't spoken to her significant other in, like, three days. So this waking-up-with-a-broken-heart routine hit home for her. 
Throughout this season, these two have had trouble connecting—with each other, with the audience, with the material. That was the refrain once again on Wednesday. Earlier in the night, Nigel talked about feeling like he was watching two dancers perform simultaneous solos, and that's kind of what it's like to watch these two. Like everyone else still standing in this competition, their mechanics are fine—they, as dancers, just don't resonate with the audience. And especially with a routine like this, so much of it rides on the emotion. 
In order to stay alive, it was clear that these two need to knock it out of the park. They missed. Big. 
Michael loved the choreography, but he complained about Dameian's feet and how they break his line (a refrain we've heard from Nigel all season long), and he said Janelle relied on too much hairography. Nigel felt some personality emanating from Dameian, but he said the routine didn't give Janelle enough room to shine. It sounded strangely like a farewell to her. (Hmm …) To Mary, the emotion Kherington and Twitch brought to the routine was conspicuously missing, and when there was any emotion, it was overwrought. 
Basically, the verdict was: If these two are in the bottom, they're not getting saved. 
Audrey and Matthew, the other two fan faves, took on Lacey and Neil's Season 3 routine about the loss of Mia's father and reconnecting with lost loved ones in heaven. Audrey felt a lot of pressure trying to recreate something that was so good—and so emotional—the first time around, and her fears wound up being warranted.  
It's no surprise that Mia entrusted these two with such a personal and heartwrenching routine; they've been able to pull off anything they've been handed this season, and they were close again this week. They really worked together—which is something we didn't see a lot of in this week's episode. Maybe it was the nature of the routine itself, but this felt like a true duet, and the emotion felt genuine—also a relief. 
The judges, however, weren't so impressed, and that would really hurt Matthew at episode's end. Mary said they both brought dignity to the routine, but Matthew didn't bring enough passion to the stage. Nigel said neither of them brought enough characterization to the routine, and they made it too much about the dancing and not enough about the emotion. 
You have to believe that was an intentional choice, though—they didn't want to overdo it, so they erred on the side of caution and backed off a little. In my eyes, that was the right choice. Better to be understated than vulgar. 
Witney and Chehon—another likely pair of candidates to be in danger on Wednesday—took on the Emmy-award winning bench routine, originally performed by Heidi and Travis. Would America fall in love with these two the same way they once fell in love with Travis and Heidi? Let's hope so, for the sake of Witney's and Chehon's chances of making the tour. 
I've never felt like these two have been totally connected—due in part, I think, to Witney's age—and I know Nigel loves this chick and will never say anything bad about her, but she is the prime example of someone who can't seem to emote genuinely during a routine. This entire performance felt sleepy and almost lazy; it just didn't feel like there was enough choreography to show off either of their strengths. 
Naturally, Nigel disagreed wholeheartedly. This, he said, was a routine about storytelling (the story of Mia trying to give her heart to someone who couldn't reciprocate because he was gay, according to Nigel), and it was one of his favorite of the night. Mary agreed—they both adequately told the story, but she would've liked to see Chehon loosen up a bit more. Michael told Chehon that he will forever have a job with the Ballet Boyz whenever he wants one. 
Lindsay and Cole wrapped things up (doesn't it always seem like these two either go first or last?) with the Season 5 addiction routine—which immediately concerned me because this is Lindsay. She's so young! And peppy! I wasn't worried about Cole—he's one of my favorite guys left, and he's also one of the most technically-skilled—but this was a big project for the two of them. 
Unsurprisngly, Cole was perfect. His stoicism, the way he just tossed Lindsay around like she weighed nothing, his semi-psychotic emotion, which felt so raw… It was hard to even focus on Lindsay at all. Cole has probably been the strongest dancer this season in terms of characterization and mechanics. 
But what was truly surprising was how well Lindsay held her own. She had the luxury of a terrific partner, but the choreography was executed perfectly, and her emotion didn't seem forced. She was really, really good—and she needed to be. This would end up being her dance for her life. 
Billy was suitably impressed with their versatility, and Mary—who called this Mia's best routine—said Lindsay and Cole were the best of the night. She loved the "demented" twist Cole put on his character, and she was just as impressed with Lindsay. Nigel, who admitted he'd been disappointed all night, said these two came out on top, and that Cole "scared the [expletive]" out of him.  
And then—judgment! Which dancers would make the tour, and who would miss out when they were oh so close? 
The results, which Cat read to each dancer, one by one, for the first time this season: 
Bottom 3 Guys
—George
—Dareian
—Matthew
Bottom 3 Girls
—Amelia
—Janelle
—Lindsay
Some surprises here, for sure. The biggest shocker? The judges would have to part with one of their darlings—Amelia or Lindsay—by the end of the show. One of them wouldn't make the tour! That's a result even I wouldn't have predicted when this top 20 was chosen. 
Oh, and there was no point in even seeing Janelle or Dareian dance solos because we all knew they would be on the first flights home, but Nigel opted to see all six bottom-dwellers perform for their lives. 
First up, Amelia—who probably had the most to gain from her solo, since this is truly where she could show off her quirkiness—wasn't as spectacular as she needed to be. She needed to be mindblowing, and her routine seemed sad and a bit lethargic. 
Janelle had a nice farewell performance. She belly-danced. She smiled like a Cowboys cheerleader the whole time. It ended. 
Lindsay was fine—again, not outrageously good—but I was fearful the judges would decide she was too similar to Witney and opt to keep Amelia. There's nobody else in this competition like Amelia, and there's at least one other Lindsay. 
On to the boys: When George first auditioned, the judges raved that he was one of the best contemporary dancers they'd seen in a long time, and he worked it out in his solo. The choice would definitely come down to him and Matthew, whose lines were so clean and who's flexibility was so astounding in his solo that it would be hard to believe the judges would let him go. 
Dareian—also in his farewell tour—is so good that it makes me sad the judges give him so much grief about his feet and his lines all season. He gets such amazing height on his leaps and his jumps! He's like a gymnast! He also danced to Josh Ledet's version of "It's a Man's World," which, you know, makes him the man. 
The judges saved Lindsay—a big surprise to me, and seemingly to Amelia, who had been riding so high throughout this whole competition until crashing a bit until this episode. Nobody thought Janelle was going to win this (sorry, Janelle), but I have to think that even Amelia started buying into her own hype for a while. She had to at least believe she was going to make the tour. 
Nigel and Friends also saved George, after telling Matthew that he needed to find some way to connect with the audience. So true, but yet so tragic. And poor Audrey! What will she do without her all-star partner? What will she be like with Will—objectively the worst fit for her, among all the remaining guys? 
What a disaster this episode was! Two front-runners headed home in one episode. I need a nap. 
Did the judges send home the right four? Who are you most excited to see on tour? And who did the most dishonor to Mia Michaels on Wednesday night?  
[Photo Credit: FOX]
MORE:
'So You Think You Can Dance' Recap: Top 16 Perform
'SYTYCD' Recap: A Striptease, A Proposal, and Four Goodbyes