'So You Think You Can Dance' Recap: The Top 20 Tango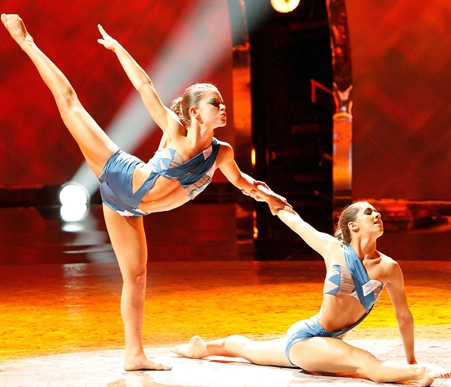 Weeks and weeks of speculation and conspiracies and teasing tweets from Nigel Lythgoe have led to this: The final revealing of this year's So You Think You Can Dance Top 20, or as we like to call it in Nigel-world, the illustrious Green Mile episode.
And it was also the 200th episode of SYTYCD! Who ever would've thought we'd get to this point? Not I. Cat wore a sequined nightshirt made out of a bedspread to celebrate.
In the interest of maintaining the suspense for myself, I avoided spoiler lists all week so I could watch Wednesday's episode with bated breath, like the rest of the world. We started the night with 35 dancers, and by the end of the sort-of-live show, there would be 20. The actual selection process was pretaped, but after each member of the Top 20 was revealed, they performed in small groups on the live stage for the first time this season.
Zooey Deschanel was our guest judge on Wednesday. I wish it was Abby Elliott pretending to be Zooey Deschanel as our guest judge, but I digress. I'm sure her presence on this show has nothing to do with the fact that her show is also on Fox and everything to do with the fact that she's a dancing expert. (Judging by her iPhone commercial.)
The Top 35 came from across the country, each with their own unique story, to Hollywood in order to learn their final fates (dun dun dun!). As the hopefuls processed, one by one, from the holding room into the judges' room, Cat pulled a Heidi Klum and asked, "Are they in? Or are they out?" and right off the bat, we learned that Alexa, our tortured Season 8 veteran, was most definitely in. She was the last lady cut last year, and before she even got the good news, we knew that her manufactured redemption story — not to mention all of that precious screen time — would not go to waste. Still, she got points for arriving at the judging episode dressed like Madonna in "Like A Virgin."
Next up was George Lawrence II, a classical dancer who impressed during his first audition in Atlanta but whom we haven't seen since then. I honestly forgot he existed, but he was added to the Top 20 anyway, as was Will Thomas, who barely even got an intro package.
Megan Branch was the first person cut, but it's okay because I didn't remember her, or Colin Fuller, who was also cut.
Amber Jackson is yet another SYTYCD veteran who was cut during the Season 7 Green Mile episode. Adam Shankman told her it was a strong field of contemporary dancers, and after butchering a moment of would-be suspense, he told her she was one of them. Congrats!
And back to the live show we went! The newest members of the Top 20 gave us the first group performance of the season, choreographed by Tyce Diorio to an acoustic version of "We Found Love" by Jessie J. Interesting. The routine reminded me a lot of the epic dance scene at the end of Romy and Michele's High School Reunion, but maybe I'm just cynical. There was lots of leaping over benches and gliding and frolicking through something that was supposed to resemble a frosty forest.
The judges didn't offer a lot in the way of criticism: Nigel told giant Will that he had to learn to move like someone smaller. He told Amber she had to start believing in herself. He told Alexa she had found her internal light. And he told George that he was a shining beacon of light in the dark.
Mary repeated everything Nigel said, and Zooey commended them for being a team "because if one person messed up … the whole thing … would've tumbled out of control." Because generally, you know, that's the gist of a group routine.
Back to the Green Mile we went to discover the fate of the three remaining ballroom dancers among the Top 35: That would be BFFs Whitney Carson and Lindsay Arnold, plus Nick Carter (no, no that Nick Carter).
Nick was first up, and he wept through his intro package, telling the viewing audiences that he's felt like he's been in the shadows his whole life and he's finally ready to emerge. Once he got in front of the judges, the waterworks began again, creating some profound awkwardness as the judges stared at him blankly. Then, Tyce broke the good news — he was in! — and Nick collapsed in a new heap of tears.
Cat sent Whitney and Lindsay into the judges' room together, which prompted lots of unbearable and affected squealing from both of them and also eradicated any suspicion that either of them would be eliminated. Mary told them the judges were looking for one ballroom girl, but golly gee, they all adored both girls! What a conundrum. They tried to pull a fast one by admitting Whitney first and then belatedly inviting both ladies to join the Top 20, but I don't even think Lindsay was faked out.
The ballroomers performed to "Dance Again" (what would a Fox show be without a little JLo?), and it honestly seemed under-rehearsed and a little frantic, but it was still more entertaining than the forest-prance from earlier. Mary was so impressed that she had to fan down Nigel, and then Zooey told Nick she feared for his life as he attempted to contend with the two "firecrackers" onstage with him. Nigel, tragically, wasn't given an opportunity to speak.
Back to Green Mile we went to learn the fates of the three classical dancers. The girl, Eliana, was up first, but she looks so much like Brittany Murphy pre-makeover in Clueless that it was hard to focus on what she was saying. After she was added to the Top 20, it was time to decide between the two boys, both of whom make careers of dancing: There's David Baker, otherwise known as the Australian version of Sean from The Bachelorette, and Chehon, who was repeatedly told during Vegas Week that he needed to loosen up.
Nigel told the two of them that they put the judges in a quandary: They couldn't decide whether to choose consistency or flashes of sheer brilliance. But just like they did with the ballroom girls, the judges tried to fake out the boys and ended up putting both of them through.
Next: A life performance straight out of Riverdance.In their live performance, Eliana wore a tutu made of shards of glass and the boys wore nothing but tights, and there were lots of bass-enhanced flashing lights that made a slow-starting routine come alive into something almost Riverdance-y. That's a compliment.
They got a standing O from the judges, and Mary called Eliana a ballet warrior and didn't say anything about the boys, instead choosing to WOOOO at them excessively.
The two jazz dancers were up next at the Green Mile, and it would be Tiffany versus Audrey, who look so much alike that it's nearly impossible to tell them apart when they're talking. You might remember Audrey, however, as the girl who makes farting noises with her arm, which helps.
They faced the judges separately, and when Tiffany got the good news and then reentered the holding room squealing and screaming, Audrey looked positively ill. But have no fear! She made it, too, which led me to wonder whether the judges actually planned on cutting anyone during Wednesday's episode.
And they would! They cut a girl named Abigail and three other ladies, all of whom went unseen and unheard in Vegas.
Then it was time for Janelle Isis, who was gunning to become the first-ever belly-dancer in the SYTYCD Top 20. Obviously, she made it — but not just because she's the front-runner to become the judges' pet. She's one of the only dancers I've remembered every week. Not only is she unique, but she's captivating to watch, and she also bumped her head on the doorframe as she left the judges' room, which solidified her awesomeness.
Janelle didn't perform on the live show because she fell mysteriously ill, and instead, Audrey and Tiffany dressed as Na'vi and performed to "Sail," which you might remember was Chehon's audition song. Zooey told them they were amazing and that the choreography was incredible (it was — good job, Sonya!) and she commended the ladies for not trying to upstage each other. She then referred to Tiffany as "embodied," which I'm pretty sure isn't an adjective.
The second hour of the 200th show began with Joshua Alexander, who you may remember as the guy who attempted a back-flip backstage before the final solos in Vegas and landed flat on his back before being whisked off in an ambulance. The judges told him they thought he was very good and were glad he could stand again, but he wouldn't be part of the Top 20. Thanks for the closure, though. After Joshua, Blake, Jasmine and Daniel were also cut.
Matthew Kazmierczak was immediately admitted to the Top 20, and then it was judgment time for Dareian Kujawa, the guy who earned the terrible-feet decree from Nigel during his first audition. Apparently, he "softened his bricks" enough to advance in the competition.
Then, it was down to three girls, and there were two spots left. Janaya French was first up to visit the judges. She auditioned in L.A. and was told by Nigel that she had everything going for her; during Vegas week, Adam told her that he'd never noticed her before but she really stood out. Still, she seemed to fly under the radar (possibly because 83 percent of all Vegas screen time was afforded to Alexa) and worried she was done for as she waited in the holding room.
But she made it! And that left two girls and one spot: Amelia, the wannabe silent movie actress, versus Jill Johnson, for whom the judges had no complaints but who still seemed dangerously anonymous to those of us watching at home. There was a moment of comedy when, in the midst of their pre-juding interview package with Cat, Janaya burst into the holding room and announced that she made it. Both Amelia and Jill pretended to be happy for her, but their FML expressions were far more telling than their words.
The judges chose Amelia based on "star quality," and then she, Dareian, Janaya and Matthew performed in something that seemed like a reprise of the opening-number forest dance, though slightly more engaging. They got a standing O, too, and Zooey told them she felt like she was watching a painting. It was at that point that it started to become painful to listen to her speak.
That gave us 17 confirmed finalists and three remaining spots, all of which would go to guys. Among the remaining hopefuls was martial arts-fusion dancer Cole Horibe. As he appeared before the panel, Mary told him she'd never seen anyone like him and he showed virtually no weaknesses, so he got one well-deserved spot. Sadly, that meant tappers Aaron and Zach were cut, making this year's Top 20 tragically tapper-less.
Steppers Devon McCullough and Brandon Mitchell, both of whom I swear I've never seen before even though I've watched every episode, entered the judges' room together, well aware that only one of them would make it out alive. Brandon was the chosen one, but Devon was adorably happy for him, so it wasn't too sad.
And then we had one spot — one measly spot left — and two dancers: It came down to Cyrus, the super-awesome animator who struggled through much of the choreography during Vegas week, and Feliciano, who seemed to fly through Vegas with flying colors. Why did I feel like Cyrus would be the one to make it through anyway? The star-quality argument, perhaps. And the fact that I'm pretty sure this is the first we've seen of Feliciano. And I would be right. I'm pretty happy about it, though, since Cyrus is my unabashed fave.
Cyrus, Brandon and Cole danced a tribute to the Major League Baseball All-Star Game to be held on Fox in July (no, I'm not joking), and aside from the shameless cross-promotion, it was by far the best routine of the night. They all wore mock baseball uniforms, and a PA announcer read cute little bios about them before they started dancing. The part where they broke their bats over their knees was pretty baller, too.
Cyrus didn't appear to be struggling with the choreography at all, though Cole definitely was the standout — he seemed like the most versatile and the most agile. The whole routine was gimmicky but super cute, and now the date of the All-Star Game (JULY 10 JULY 10 JULY 10) is drilled into my head forevermore.
At the end of the show, we got a performance from all 10 girls, choreographed by Travis Wall and based on the journey of advancing throughout all of the audition rounds to reach the pinnacle. Travis said he threw in a bunch of hard tricks because he was confident the girls could do them, and he wasn't wrong. They floated and arched and leapt their ways back and forth through a giant white door sitting in the middle of the stage, and though the routine was a bit morose on the heels of the awesome baseball-themed number (and a tiny bit cheesy), it was still enjoyable.
Nigel said that the routine flowed and had a lot of body to it, and then Cat asked Zooey if she thought it was ethereal. Zooey didn't know what that meant so she just pulled a Paula Abdul and called them all beautiful.
The Top 10 boys performed a routine choreographed by Sonya, meant to portray "the fight it would take to maintain themselves on the show." Sonya said she loves blood, sweat, and tears, so that is what she tried to evoke. Rawr. She made all of the guys take off their shirts, and despite protests from Will — who felt "jiggly" — Sonya insisted because she wanted all the guys to feel like they had nothing to hide.
Cole must have felt right at home in this routine because it seemed to have a lot of martial arts-influence, and it also had some male-on-male partnering, which was unexpected but made the whole spectacle far more dynamic. As they cut to Sonya aggressively fist-pumping during the applause, I found myself simultaneously amused and terrified.
Nigel told the guys they proved how much athleticism it takes to be a male dancer, and Zooey said, "Wow," and that's pretty much it.
The final routine of the night was a Top 20 party choreographed by Mia Michaels. All of the contestants wore black leotards and Star Trek glasses, and much of the routine involved them standing in a line and, one by one, pushing their glasses on top of their heads. Poetic. It seemed a bit dull and chaotic to me (and confusing, apparently, to Zooey, whose eyes darted nervously as she was forced to applaud), but the judges were too enthralled with Mia Michaels to give a critique.
And there you have it, folks. Your Top 20. What did you think of the selections? Is there anyone missing from this crew? Who's your early pick to win?
[Image: Fox]
More:
SYTYCD Host Cat Deely: 10 Things You Didn't Know
SYTYCD Recap: Last Stop, Salt Lake CitySYTYCD Recap: What's Injured in Vegas Leaves Vegas