'So You Think You Can Dance' Recap: There Is Something to be Said for Having Tact, Nigel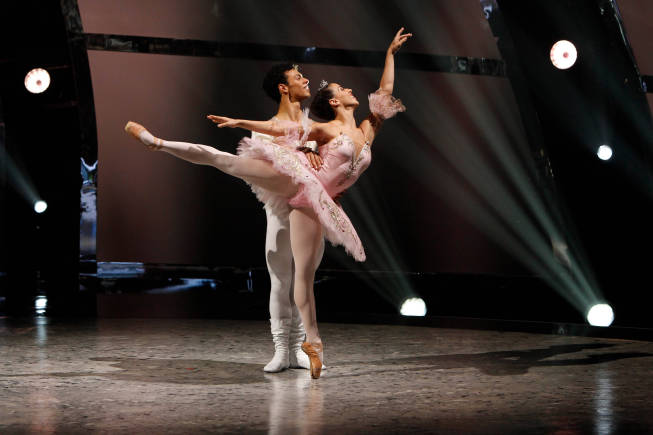 This is it. Way back in May, the day after American Idol ended, when we first met all of these hopefuls, we knew it would come down to this night: The Season 9 performance finale.
And here we are, with four left standing – Cyrus, Chehon, Eliana and Tiffany – and for once, they're dancing for your votes. Live. This week's performance correlates directly to next week's results, for the first time all season.
No pressure or anything. But something told me these four were up for it, especially after the way they all gave it everything last week. They all danced like they really, really wanted it, and at this point, it's anyone's game.
Next week's finale-finale will reveal two winners – a girl and a guy – who will hold the title of America's Favorite Dancer(s) for the next nine or so months until the cycle begins again.
Joining Nigel and Mary on the judging panel for the performance finale was Rob Marshall (I was hoping for a Ben Millepied repeat, but alas, no dice). First up was an interesting spectacle: Cyrus doing the paso doble. With Eliana. Oh, boy. I was actually thinking earlier this week about the fact that Cyrus hasn't really been given any challenging styles this season, so the producers really pulled out all the stops for Tuesday's show.
Both Cyrus and Eliana were clad in red and black, and Cyrus was supposed to be dressed like a matador, but he really just looked like he was wearing a tube dress that he couldn't pull up all the way. As usual, Eliana was excellent and she carried her partner by attracting all of the attention to herself, thereby masking the fact that Cyrus didn't really have to do anything except lift her, spin her and wave his arms every once in a while.
At one point mid-routine, he actually attempted some kind of weird cartwheel that truly looked like that scene in Dumb and Dumber when Jim Carrey is getting ready to fight the cook at the restaurant.
Nigel told Eliana she has a magical combination of performance and technique. Instead of critiquing Cyrus, Nigel chose to remind all of us that Cyrus didn't ever believe he could become a part of this show, that he could make it into the finale, that he could ever escape his apartment with 400 roommates, etc. Blah, blah, blah. Mary actually one-upped Nigel by using the word "conquered" to describe what Cyrus did to the paso doble.
Tiffany has been making huge strides over the last few weeks, but could she continue it in the finale? Hopefully. Her first performance of the night, with all-star Will's help, once again showed off all of her strengths, of which she has many: Her lines are so clean, her extension is always so perfect (pay attention, Cyrus), and she has the ideal combination of technical skill and character. Plus, she's so, so versatile—not that Eliana isn't, but I'm always so impressed with how perfect Tiffany is, no matter what style they saddle her with.
Mary told Tiffany that she is the epitome of a fabulous dancer and a great partner. Rob complimented Sonya for her choreography. Nigel said Tiffany's lines and stage presence were so strong that they hid the fact that she's so tiny.
After a quick break, Eliana got right back onstage—this time, with Chehon, for a ballet number. Could there be anything more perfect for these two? What a great partnership. They're both such excellent classical dancers that even before this started, you knew it was going to be one of the best performances of the season.
It really was magical: There was Nutcracker choreography, and there was a pink tutu for Eliana and a white baptism costume for Chehon, and there was one spectacular lift in the middle of the routine that was so perfectly timed to the track that the entire audience burst out into cheers. It was like the ending of Black Swan times a million. If the producers let Chehon dance like this all season (kind of how they let Cyrus do hip-hop all season), he'd be a shoo-in for the victory. Maybe this will get him there.
Obviously, this got a standing ovation from the panel. Rob couldn't believe Chehon's versatility, and he said Eliana's extension was breathtaking. Nigel also raved about the difficulty level of this routine and said that Chehon made the lifts look easy. Mary said that Chehon and Eliana are a triumph for the show.
Next, it was time for Tiffany and Cyrus to pair up. Would Tiffany be able to mask Cyrus' shortcomings as expertly as Eliana? Would he bring her down? No, they'd be just fine because they got a lyrical hip-hop routine. Of course they did. There could be nothing better suited to Cyrus, but I guess I can't complain because Chehon got a wheelhouse routine, too.
The story was about a young couple that breaks up and makes up once a week (how creative!). Cyrus was okay, but once again, what really amazed me about this number was how seamlessly Tiffany shifted from the paso doble to hip-hop—and how perfect she was in both routines. She really outshined Cyrus, which is difficult to do in a hip-hop routine; she really is so natural and has so much rhythm, whereas Cyrus seemed a bit behind the beat, and his "acting" was a little garish.
Nigel began by congratulating both Tiffany and Cyrus for avoiding the bottom three for the entirety of the competition. Yay. Then, he gave Cyrus credit for being able to memorize the choreography. That's kind of like giving an Idol contestant props for remembering the words, no? Mary said they both killed it, and that Cyrus continues to get stronger and stronger every week ('kay). Rob said both Cyrus and Tiffany had abandon, which he loved, and their routine was his favorite of the night.
Eliana's final solo of the competition was up next, and of course, it was classical because that is where she excels. But it didn't disappoint. Like Tiffany, Eliana has the ability to be so delicate in a routine like this, and yet she becomes a completely different person in a hip-hop routine, or in a jazz routine, or in a Broadway routine. And plus, she has to be one of the most likeable contestants in the history of this show.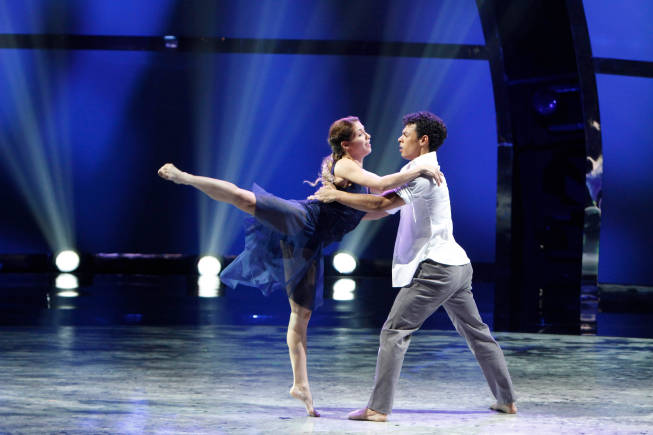 For his all-star routine, Chehon paired up with Allison for a contemporary number about a guy who lets go of his girl because he wants her to pursue her dreams. These concepts are just so groundbreaking. But all corniness aside, this was once again an excellent routine for Chehon (and one that required him to have a completely unbuttoned shirt, naturally).
These choreographers are so, so good at creating these classical routines that really allow Chehon to show off. He's such a strong partner, but he's also so technically impressive on his own. He did a one-handed lift in this routine. Hello. He can do so much that Cyrus cannot that it would be such a robbery if he lost.
Also, just for the record, the acting in this routine was excellent. That's not always Chehon's strong suit, but on Tuesday, he brought it. Like Tiffany, it's so easy to see how much he's grown throughout his competition, and he deserves mad props for that.
Mary said Chehon was loose and free throughout the number, maybe for the first time all season. Rob was impressed with the height Chehon managed to get, and he told Allison she was "fierce." Nigel spent a little too much time lauding the praise on Allison's acting skills, but he did add that Chehon came alive in this partnership. He said that in the past, Chehon has had a hard time showing emotion; I choose to blame that on his robot of a partner who got sent home last week.
Next up, it was time for Tiff and Eliana to do a Broadway burlesque number. I love it when the ladies dance together! I miss this. One of my favorite performances from this whole season was from the first top 20 show, when Tiffany and Audrey did a contemporary number together.
These two ladies are so great. They have so much personality, and when they dance together, they really just set the place on fire. The routine and the track were so perfect for them, too – "When You're Good to Mama" from Chicago – and it really made me wish they didn't save stuff like this for the finale.
It also made very eager to see what was in store for us when Chehon and Cyrus paired up.
Before that, though, it was time for Cyrus' solo. I love watching him dance, but each week, it doesn't seem like we see anything new from him. I feel like I've seen him do the same exact solo for four or five straight weeks—and it's a great solo, because I love animation and I love hip-hop, but reality shows like this favor contestants who truly grow throughout the competition. At least, they're supposed to.
But in the alternate universe of So You Think You Can Dance, this solo got a standing ovation. Naturally.
Tiffany's solo was just as good as Eliana's (and the track was "I Believe" by Fantasia! Holler). It really is going to be such a tough call between these two ladies. Once again, it was fascinating to see Tiffany go from the paso doble to grungy hip hop to classical, and she was so fluid and so natural in each. This one even had just enough of a Disney princess vibe to give me chills.
Next, Chehon and Cyrus performed a warrior routine about the challenges they've conquered in their SYTYCD journey. Sonya was the perfect choreographer for this. She forced Cyrus to step his game up so that he didn't look like a fool dancing next to Chehon.
And somehow, against all odds, he didn't look like a fool. Sonya had them doing lifts with each other, and karate-kicking each other, and throwing each other across the floor … It was intense. I'm not going to lie and say it wasn't totally obvious that Chehon is much more capable and versatile than Cyrus – there were several little solo moments for Chehon, during which Cyrus pretty much just stood there and, like, crouched – but the fact that this wasn't a train wreck kind of amazed me. So, props to Sonya for that.
Nigel, too, credited Sonya with helping the guys up the ante. He then rambled on for about 90 seconds about how much of an inspiration Cyrus is and called him his favorite person on this show and somehow avoided talking about his dancing at all. Nigel then told Chehon that he was his favorite dancer of the night. Not that it matters.
Mary commended the guys for fighting as hard as they could along this journey, and Rob complimented their camaraderie and selflessness with each other.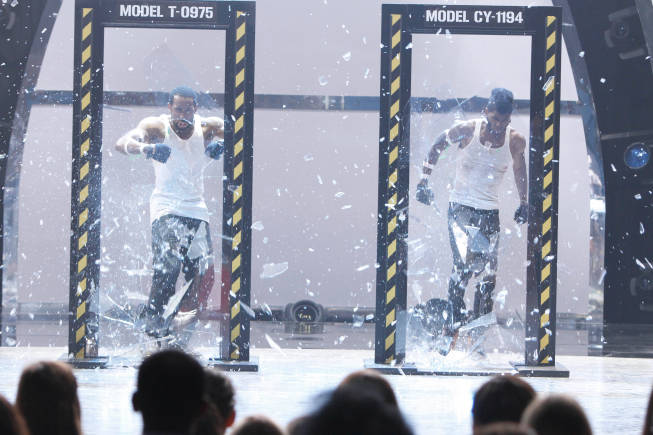 Chehon wore a shirt for his final solo, which began with him reading a letter, throwing it to the ground and then pacing backwards in slow motion. He's so good. He's not quite as versatile as either of the ladies – he still struggles with Latin styles and, naturally, with hip hop – but I find his technical skills so impressive that it doesn't necessarily bother me that he can be a bit limited.
Eliana's fifth and final routine with all-star Alex Wong was choreographed by Travis, and as expected, it was one of the toughest of the night. There was a lot of movement, a lot of lifts, a lot of choreography that required absolutely perfect lines and perfect extension. And to nobody's surprise, Eliana saved her best for last. She was so assertive when she needed to be, and yet when the choreography called for Alex to literally drag her around the stage, she immediately switched modes. She makes something so difficult look so, so easy.
Rob told Eliana there's nothing she can't do and that the routine was poetry. Nigel said it was unquestionably his favorite routine of the night, and then he dropped a huge bomb by telling Eliana she is his favorite dancer ever, in the history of this show. I think he may have just solidified the win for her. Mary said Eliana's feet and ankles were extraordinary and that she oozes passion.
For her personal finale, Tiffany teamed up with Chehon for a rumba. "It has to be so hot, the audience has to be uncomfortable," the choreographer told us. This would be interesting for Chehon, who has been notoriously incapable of connecting with his partners in the past.
I just adore Tiffany. She's so graceful and she, like Eliana, really does make everything look so easy. Chehon was good, too, but he was more of Tiffany's partner in this routine than a competitor. He did prove his worth, though, with one spectacular lift mid-routine –he really is such a good partner – and while I wouldn't say that the chemistry between these two was off the charts, I thought they were very sweet.
Mary said that Chehon has struggled with the Latin styles, but not with the rumba—this allowed him to be masculine and controlling. She did, however, say that the chemistry wasn't really all there. Rob actually did feel that there was a connection between these two, which he found "sexy." Nigel said that he was glad the accounting department finally found room in the budget to buy a shirt for Chehon, but unfortunately, they still didn't have sufficient funds for buttons.
So. Just in case the producers weren't being clear enough with their favoritism. Guess which all-star Cyrus got to perform with for his final number? Twitch. Guess which style they performed? Animation.
Seriously.
(Oh, and by the way, he always, always, always gets to perform near or at the end of the show.)
Of course, this routine was going to be spectacular. How could it not be? People have been saying Cyrus is this show's next Twitch since Week 1, and watching them perform together was special. Christopher Scott choreographed the show's FIRST EVER ANIMATION ROUTINE (as Cat reminded us no fewer than 400 times), about two guys who have been genetically altered and are experiencing their new bodies for the first time. I have to give him snaps for creativity; this was a new one.
This really was one of the best routines of the entire season. Cyrus excels at this (if only at this), and it was so cool to watch he and Twitch perform together, so perfectly in sync with each other. They were like robots. If you haven't YouTubed it yet, do yourself a favor. This routine probably won Cyrus the competition. And if the routine didn't, he and Twitch concluded the number with an adorably ecstatic man hug.
Once the applause died down – which honestly took about two minutes – Rob told Twitch and Cyrus they are two superstars. Mary could barely speak but managed to say that they stole the show. Nigel told them they are both "world class."
And then things got weird.
Nigel said he loves Cyrus and has supported him all season, but that he wouldn't be voting for him on Tuesday. The entire audience definitely thought it was a joke. Everyone thought Nigel was going to follow that up that statement with something Cowell-esque along the lines of, "… I'm going to vote for you a MILLION times tonight!" But instead, he embarked on a rambling explanation for why he would choose to support Chehon instead. He was serious.
To be totally honest, I wondered if this was a ploy to get sympathy votes for Cyrus. It was that bizarre.
I cannot even describe to you the death glare Cyrus gave him during this diatribe. Suffice to say, it was amazing.
And on that very odd note, whom are you voting for? Is Nigel right—does Chehon deserve it more because he's allegedly worked longer and harder for it (or something)? Which lady will take the crown?
Hope you voted!
[Image Credit: FOX]