'So You Think You Can Dance' Recap: Top 16 Perform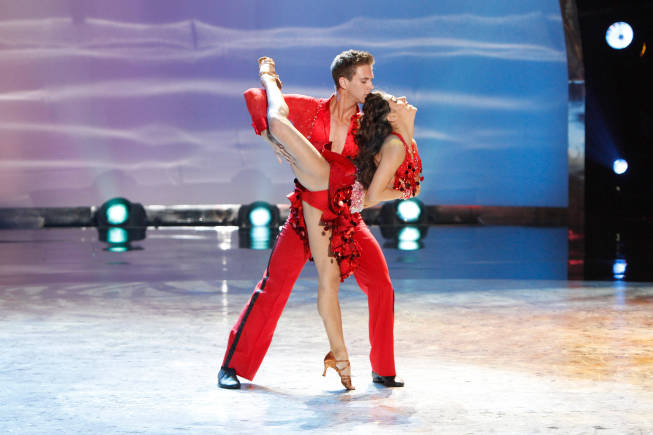 I'm still not sure how I feel about all of the format changes during Season 9 of So You Think You Can Dance, which give the judges full access to that night's results almost 24 hours before the live show takes place. 
What does that mean? That the judges' commentary will never be truly objective. It means that their knowledge, most likely, taints their commentary and their opinions. Look at what happened last week. Even before the results were revealed at the end of the show, you could tell that Nigel was being extra forgiving toward Witney and Chehon, and extra harsh toward Alexa and Daniel.
It was like he was trying to convince himself that his favorite pair deserved to stay, while Alexa and Daniel had worn out their welcome. He didn't want to say goodbye to Witney and Chehon, so he pumped up their performance more than he might have, had the voting tallies been kept from him.
This week, it was impossible to watch the show without thinking about the fact that the judges already knew the results. It was impossible to watch without thinking about who the judges planned on saying goodbye to at night's end and who they were favoring.
After a Charlie Chaplin-inspired opening number that featured (of course) a moustache-sporting Amelia in the starring role, Cat Deeley announced that the show would be off for the next two weeks in honor of the Olympics, and then we met this week's guest judge: Christina Applegate! Yay for a celebrity guest judge who's actually qualified to judge a dance show. 
Tiffany and George started off the night with a hip hop routine entitled, "Adventures in Babysitting." You guessed it: The two babysitters are driven insane—literally—by the sound of a baby crying. Very plausible. Pre-routine, Tiffany predicted the routine would be more difficult to execute than actual babysitting. I do have to give them props for dancing to one of the best hip hop songs of this year, which would be B.o.B's "Out of my Mind", and I also have to give them props for their hilariously '80s neon costumes. In all seriousness, this routine worked because it emphasized each dancer's strengths. Last week, the judges talked extensively about how important it was for the dancers to stay in character during the routines, and both Tiffany and George did. Their rhythm wasn't too shabby, either.
Nigel was entertained by the routine but, in the future, would prefer it if the hip hop routines got a "little bit grungier." He said Tiffany really got down, but George—the track star—look tired. Unclear whether he was kidding. Mary was enchanted by the Dr. Seuss set, and she agreed that Tiffany got down and that George has been improving every week. Christina commended Tiffany for being tough but criticized the pair for the slower portions of the piece, which were not "soupy" enough for her tastes. Unrelatedly, has anyone ever noticed how much Mary talks like a fully-grown Miley Cyrus?
Brandon and Amber drew the second slot, giving us our first look at one of the new couples to emerge from last week's elimination (each of their original partners got the boot). Theirs was a "sexy" jazz routine wrought with sexual energy and steaminess. Trust: There was plenty of writhing and chair-dancing to convey that. Not much was left to the imagination. 
Couples have been criticized week in and week out for having terrible, nonexistent chemistry, and these two certainly didn't have that problem; Brandon's suaveness and confidence are a much better fit for Amber (dressed as Beyonce tonight) than awkward Nick ever was. Another thing: Brandon avoided getting upstaged by Amber, which is another trap the men have fallen into repeatedly this season. These two did everything right. 
Christina was so excited that her entire critique got bleeped out, then told the two of them that their routine was so intimate, she felt like she shouldn't have even been watching. She also told Amber that this was her best performance thus far. Mary fanned herself excessively and said the two of them had lots of soul in their bowls while attempting to make some kind of joke about cereal. Nigel called the number "baby-making choreography." The overwhelming consensus? Now that she's rid of Nick, Amber's been born again as a true contender. 
Poor Dareian and Janelle. They keep getting stuck with terrible placement on every live show; once again, they were buried in the middle. (Why did I feel like they might be in danger of elimination…?) Their cha-cha routine was bound to be one of the most challenging of the night, but if any two dancers could do it, it was them. Come on. Janelle's a belly-dancer. Cha-cha is in her wheelhouse. 
Dareian wasn't too bad, either. He's always struck me as one of the most technically-sound, versatile guys in the competition. Chehon and Cole are comparable, but Dareian seems to have more personality and … flavor when he dances. He never seems to get upstaged by his partner, either, and he always looks like the routine is easy for him, even when it's a cha-cha choreographed to "Call Me Maybe." That cannot be easy to pull off. 
The judges, however, weren't as into it as I was. Mary said tonight's performance was a hiccup, that their chemistry was rough and their footwork was off. Christina agreed—they gave their best effort, but this wasn't their genre. That's kind of a cop-out, though, isn't it? Like… Cyrus had to jive last week. Let's be honest. Nigel also thought Dareian turned his feet in too much, and he told Janelle that although she's sexy when she belly-dances, she wasn't—at all—during this routine. Compared to the terrible "My Girl" debacle from last week? I'd say this was pretty decent.
Lindsay and Cole got a contemporary routine this time around, meant to convey the struggles between light and dark. In one corner: Cole, the dark energy. In the other: Lindsay, the bright, sunny energy. Even though Lindsay was dressed in a sea-green Disney princess dress, this piece was too somber to represent any kind of struggle between light and dark. The entire thing was dark. I always feel like with these two, it's all about Lindsay using Cole as her prop; it sucks for him, but it's a plus for her. Every week, she upstages him, and it's a shame because he's one of the best male dancers left but the choreography never seems to give him a chance to shine—alone. Even the way the routine ended—with Lindsay center stage, facing the audience, and Cole all the way at the back of the stage, his back turned—was indicative of it. 
Nigel told Lindsay her juvenile tendencies finally disappeared and she remembered to point her toes and straighten her legs. He told Cole he was meticulous—also true, but as Nigel pointed out, that can become boring. He really needs to be careful that he doesn't keep getting buried under Lindsay's star power. Mary said Lindsay was mesmerizing, and she gave Cole props for his versatility. It's true; Cole never screws up. It's just a shame that he never really gets a chance to shine on his own merit. Christina admitted that Lindsay's abundant hairography was a bit distracting, but in the end, it didn't matter because her body did so much talking that seeing her face didn't even matter. 
Amelia and Will were next up with some jazz, and for me, this was one of the most anticipated routines of the night. This couple has been so good for two weeks—and so unexpectedly, at least to me—that I feel like I keep waiting for the other shoe to drop.  
That week wasn't this week. The routine, based on the age-old opposites attract adage, was nearly perfect once again. Though maybe perfect isn't the right word; I don't think either of these two is as talented as a Cole or an Audrey, but they work so well together that their chemistry and their vibe trumps raw ability. They're never, ever out of sync, and Will is one of the rare male partners who makes Amelia look a lot better than she maybe is. Christina called them the dream team and commended their chemistry, then said that they're both so seamlessly able to adapt to all the different styles they're saddled with. Nigel completely disagreed, though—he didn't feel like either Amelia or Will connected, with each other or with the routine. Gasp! His first negative critique of Amelia.
The verdict? No, this wasn't as good as either of the last two routines, but it was still good enough—and much better than some of the others we've seen tonight. Christina was totally right: When you're watching these two, you can't even remember what their personal strengths are because it seems like they can perfect any style of dance. 
Next up were my new faves, Matthew and Audrey, doing salsa. Yay! Or no yay? Honestly, I worried that these two wouldn't be able to pull it off. They've been the strongest overall pair thus far, right up their with Amelia and Will, but Audrey has to be one of the two best female dancers here. 
And neither of them disappointed in their sparkly, shimmery, matching red costumes. Audrey's technique is always so perfect; her lines are so clean, and her extension is so flawless, and at one point, she even did a backbend so deep that she was horizontal to the floor—but had her hands on her hips. Her chemistry with Matthew isn't as strong as Amelia's is with Will, but I don't care. If this pair isn't one of the final two left standing, I will be shocked. 
Mary agreed that the chemistry between the two of them wasn't perfect, and unfortunately, it needed to be in a salsa routine. Christina said the same thing, but she also mentioned that the music didn't fit the routine. Nigel said the routine wasn't sexy enough and was too slow, which, again, was no fault of their own. The music is supposed to enhance the number, and tonight, it hurt the number. After this critique, it was obvious that the front-runners were going to get a hard time from the judges tonight. First Amelia and Will, then Audrey and Matthew. What was coming next? Would Nigel tell Witney and Chehon they had no chemistry? Ha. Like that would ever happen. 
The couple that was saved from elimination last week took on a contemporary routine based on two people who are in love but can't be together. Coincidentally, the routine was set to "I Will Always Love you," made famous by Witney's namesake. Apparently, though, her parents didn't know how to spell the name of the greatest female singer of all time.
This was my favorite routine these two have ever done. Embarrassingly, it gave me chills at one point, mostly because the choreography so perfectly matched the climaxes and dips of the song. For once, the choreography played to Chehon's strengths as the king of contemporary, and I think he even managed to out-do Witney a little bit. To her credit, she was also excellent, even though this couldn't have been the easiest of pieces for her, given her ballroom background. The routine got the first standing O of the night, and it was well-deserved.  
Christina was crying before she began her critique and said the routine was one of the most beautiful things she's ever seen in her life. Mary, of course, cried, but that's not worth commenting on; she was so distraught that she referred to Witney as Lindsay, then told Chehon that this was his defining moment of the competition. So true; he hasn't looked this good since his first-ever audition. 
Last but not least, we had Cyrus and Eliana, who finally got to do something Cyrus can do: hip hop! Hooray! Cyrus really needed to have a good week this week in order to prove he still deserves to be here, and he did. The choreographers certainly helped him out a bit, though, giving him a routine precipitated on robots coming to life. Giving the animator a robot-inspired routine … No favoritism there. None at all. 
Not that I'm complaining. I love Cyrus, and everyone who loves him loves watching him do what he did in this routine. Eliana was good, too, but not quite as impressive as her seasoned partner; Cyrus' movements are so stilted and jerky, while Eliana's unsurprisingly conveyed the fluidity of a ballerina. Still, it was nice to see them get a routine they could both rock, rather than watching Cyrus struggle through yet another week of someone else's too-hard choreography. 
The piece got the second standing O of the night, and Mary cooed that it was fabulous. Christina told Eliana she's one of the best dancers she has ever seen, then called out Cyrus for being lucky that he hasn't yet drawn the contemporary card. Nigel told Cyrus he was happy the show decided to take a chance on him, but then told Eliana that at times during the routine, she out-hip-hopped her illustrious partner. 
And without further delay, Part II of the program: results! The bottom three girls were Amber, Lindsay and Eliana. The bottom three guys were George, Brandon, and Dareian. There weren't a whole lot of surprises there. Lindsay went first last week, so it's not hard to believe she'd end up in the bottom; Amber was stuck with Nick in an awkward tango routine last week; Eliana's and Cyrus' jive was perhaps the weakest routine of last week, though given Cyrus' fan following, it's easy to see why he avoided the bottom three. 
As far as the guys are concerned, the judges destroyed Dareian's and Janelle's old-school "My Girl" piece last week, and Brandon and George were both utterly forgettable. Nigel elected to have everyone except Lindsay and George dance again. 
Amber was the first soloist to dance for her life, showing us more of her contemporary expertise spliced with a little bit of hip hop and a lot of sexual energy. While her technique is good, she just doesn't seem to have enough personality to differentiate herself from the other females—all of whom are just as talented. She doesn't bring anything resembling an X-factor to the table. That can't be good news. 
Brandon was the first guy up, and honestly, he would have done himself a bigger favor if he'd refused to perform. Each time he's been onstage during this competition, he's looked better than he did in this solo. The first 45 seconds of his routine were dedicated to jumping and prancing like an emcee rather than a dancer; the stepping—his strength—didn't even come into play until there only seconds left before the buzzer sounded. 
Eliana, perhaps unfairly dancing for her life as one of the best females left in the competition, was flawless. Her extension and her lines were just as good as Audrey's have been, proving that when she can dance the way she wants to dance—and when she's not dancing down to Cyrus' level—there aren't many others who are better. 
Dareian experienced a similar phenomenon: Finally, when he got to dance to his own strengths, we saw why he was picked to be a part of the top 20 in the first place. He has so much personality and so much swagger that his solo left me wondering if his problem is Janelle.  The two of them might just be incompatible. 
Post-solos, my prediction was that Lindsay and Brandon would be sent home. Eliana and Dareian are too damn talented, and Amber and George have been improving every week. You can't send someone home in the middle of his or her upward trajectory. Or can you? Once again, Nigel — when asked for the verdict — waxed poetic about how there are no losers on SYTYCD, only dancers who receive fewer votes than others. And to that end, the judges saved Lindsay and Eliana, plus George and Dareian.
That means it's goodbye to Amber and Brandon. It's just a crummy situation for Amber, who was quite obviously screwed over by the fact that she drew a terrible partner for the first two weeks of the competition. As for Brandon … he was just so smiley and cute, even in defeat, that watching him leave gave me the major sads. 
Did the judges send the right dancers home? Who's in danger next week? And most importantly, were you as excited as I was that Haley Reinhart's "Free" was the backtrack to Amber's see-ya-later package? 
[Photo Credit: Fox]
MORE:
'So You Think You Can Dance' Recap: A Striptease, A Proposal, and Four Goodbyes