'So You Think You Can Dance' Recap: What's Injured in Vegas Leaves Vegas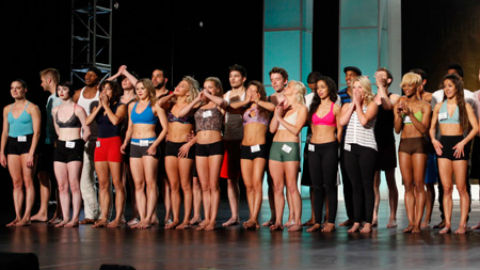 For the first time this season on So You Think You Can Dance, we got a chance to check in with faces we recognized rather than strangers. Yes, ladies and gents: It was time for the most dramatic Vegas Week ever. Or, you know, this year.
It was time to truly step up as a star. Four days of non-stop drama, non-stop Broadway and jazz and hip-hop and ballroom and groups, and at the end of it all, we would finally—finally!— have our Top 20 finalists. And, in the process, we got to be reunited with four guest judges from this season, including Debbie Allen, Tyce Diorio, Adam Shankman and Lil C. Sadly, Jesse Tyler Ferguson was nowhere to be found. (Instead, gearing up for a probably Emmy nomination?)
The Exorcist was first up in Vegas. AH! I was so excited I couldn't breathe. I had been waiting for weeks to see this man again. His solo was even better the second time around, maybe Adam Shankman and Tyce Diorio's tears helped boosted the drama of the situation. What a way to start the night! By the way, Hampton Williams is his real name. Fun fact! I never knew that.
Next up was Janelle Isis, the hip-hoppy belly dancer. Despite the fact that I was worried her giant golden skirt was going to eat her (so did she, apparently, because she discarded it mid-routine), I enjoyed her just as much this time around as I did back during the preliminaries. This girl has Top 20 written all over her. (A sight dirty old Uncle Nigel would likely enjoy seeing.)
After a very brief montage, we were informed that 1/4 of the field was cut during solos, but we didn't see any faces except for our Selena Gomez-loving martial arts hip hopper. Darn. I liked him, too. We were quickly shuffled along to hip-hop (Nigel is on a schedule here, people), where Comfort and Twitch promised to leave our contestants on the verge of cardiac arrest by the time they were ready to perform.
Then, the worst thing in the world happened: The Exorcist quit midway through the choreography. I. Was. Devastated. This season is now empty for me.
Alas, the show must go on, and it did. Many more of our specialists excused themselves as the choreography got too tough and too fast to handle. We even said goodbye to Andre, one of the guys from super awesome Alabama hip-hop crew Dragonhouse. Unlike The Exorcist, he excused himself without telling the judges. #classy
In the first group to perform for the judges, Andre's crew-mate Boris was cut for falling short in what should've been his specialty. Oh well. At least he tried, unlike his buddy. Another casualty was the praying mantis guy from Salt Lake City. Can't say I was upset about that one, though like-minded Sonya Tayeh likely was.
At the end of the hip-hop round, 97 contestants remained, including Cyrus, the one (and best) member of Dragonhouse still standing. After much deliberation, the judges decided to let him continue. Hooray!
NEXT: Tyce is disgusted. You won't like Tyce when he's disgusted. Or ever.Day 2 meant Broadway time, and the contestants were subjected to Tyce, who fed them a story about being in a club at 2 a.m. and drinking bad water and suddenly being infected with lust. And, cue music!
Midway through the round, we were reintroduced to Alexa Anderson, a Season 8 finalist who was the very last person cut in Vegas last year. The judges' complaint: She was too stoic. Tyce looked disgusted as he watched every group during this round, but it reached a new level with Alexa. As the judges deliberated on her group's performance, Adam paused to rip her an (unprovoked) new one in front of everyone for being "dead". On the inside? On the outside? He said he was sick of saving her and that she needed to start dancing like she wants this. That wasn't over-the-top at all.
Nevertheless, the dramatics were all for show and she wasn't cut — yet.
Twenty-three more were sent packing at the end of the Broadway round, and then it was right on to jazz. (Sidenote: American Idol could learn a thing or two from this show about how to keep things moving.) The 82 left were turned over to Sonya, who urged our contestants to fight for their right to stay. Particularly defeated, at this point, was hip hopper Shafeek, who began throwing a tantrum midway through the choreography, walking around in circles and muttering that the routine was stupid. His partner, Danielle Dominguez — better known as bacon girl — couldn't do anything to help him and instead chose to focus on her love for Sonya and her choreography. Also performing for the judges in this group was Rachel, the crazy burlesque girl from Salt Lake City whose goal in life is to resemble Blake Lively in The Town as closely as possible.
When the group finished, Nigel verbally assaulted Shafeek for showing that he messed up, and unsurprisingly, he was cut for attitudinal reasons. Rachel, however, was cut for being unpolished, but did that annoying begging-for-a-second-chance thing contestants tend to do on Simon Fuller shows. The difference is, on this one, they're allowed to do it. All of the judges except Nigel and Adam voted to give her a chance to dance for her life.
Then, in a dramatic a twist of fate, Danielle Bacon Girl went back onstage to fill in and dance the female choreography, since more girls had been cut than guys. She was rewarded with a kick to the head, courtesy of her partner. He was understandably cut, and Danielle was evaluated by paramedics, who loaded her into an ambulance and took her away. Dun dun dun. To be continued…
One person I was not excited to see again was the very first contestant we encountered this season: Amelia, the wannabe silent movie star. She was ready to bite into the jazz like it was a "juicy steak." Fortunately, to save the situation, Cyrus was also in her group.
NEXT: No more drama. As usual, the judges looked displeased watching them, and Amelia was sent on to the dance-for-your-life holding pen while Cyrus was the victim of a fake-out —Sonya told him he was in serious need of some contemporary dance classes before sending him through anyway. Hallelujah!
In the dance for your life special at the day's end, Rachel promised to stay true to her burlesque style — oh joy — and she wore Tom Cruise's Risky Business outfit while writhing around to "It's a Man's World." I didn't know there was anything that could make me dislike that song after what Joshua Ledet did to it, but I was mistaken. Did this girl do anything but strip and unbutton her shirt? Seriously. Apparently, all of the judges agreed with me. She got unanimous no's for being all sex and no action.
Next up was Amelia, who made Adam cry, and at that moment I knew I would not yet be rid of her. To her credit, though, she was very good. Her balance and her technique were spectacularly on point, even if I still wasn't a fan of her ridiculous "acting." Every judge sent her though with rave reviews except Nigel, who was still skeptical that she could dance any routine that wasn't choreographed by her.
Finally, it was time for the group round. Drama! The groups would pick a piece of music at random from a giant black bin of doom and have all night to work on a routine, and in a much-appreciated twist, they were allowed to pick their own groups of five or six.
First up on Day 3 was a group featuring our friend Danielle, who recovered from her head trauma after eight hours in the hospital. She was a late addition to one benevolent group, which had to start from scratch after spending two hours working together. They called it quits at about 4 a.m., and bright and early the next morning, they performed their routine to "Somebody I Used to Know," which was disturbingly out of sync. Nigel told them point blank they were terrible. He said they should all be sent home, but of course he wouldn't do that — and in a surprising twist of fate, he only cut Danielle and some other guy. A kick to the head and that's how you repay her?
Midway through the day, the High Schoolers — four guys and pink-haired ballerina Audrey — were up, performing a prom-themed routine to a super-slow version of "I Wanna Dance With Somebody." Though our female ballet dancer was clearly the star, her supporting cast was pretty impeccable. Tyce told them they were one of the best groups thus far and Nigel called them genius, particularly Audrey. All of them advanced.
The last group up featured three dancers who had previously made it to the end of Vegas Week — Alexa, of course, plus Dres from Season 8 and Adrian from Season 7. Alexa, in particular, was under pressure after suffering Adam's verbal assault earlier in the week, and her group's routine to "Glad You Came" provoked Tyce into making his homicidal-nausea face. Uh oh.
NEXT: Tyce is no longer enamored with beauty.Though Debbie said they were lovely, Tyce took another opportunity to destroy Alexa. He told her the lights were on but nobody was home and that he was no longer enamored with her beauty. Is this tough love or are these judges just a-holes? I hate it when they criticize people for not being loud and aggressive; homegirl can't change her personality. The judges clapped for her when they finally made her cry — You finally showed emotion!, they cooed — which sent an excellent message to our viewers at home. And then, after all of the drama, the judges put all of them through.
In the second-to-last round of choreography — ballroom time — Jason Gilkison subjected the remaining guinea pigs to the Cha-cha. After jumping through so many hoops, Cyrus finally started doubting himself in this round, and it finally hurt him: Everyone in his group advanced, but he was relegated to dance-for-your-life purgatory.
Next up was a collection of contestants featuring Aubrey, our genius prom dancer from the group rounds. I swear she was wearing a bra and a tutu, but the judges didn't seem to be bothered by that. They were, however, bothered by her lack of proficiency with the routine, and she was axed. It's amazing how you can go from such a high high to such a low low on this show.
Alexa was under more pressure than anyone in this round, since this is where she crumbled last year. She finally came alive, prompting catcalls and euphoric cheers from the judges throughout the routine. Jason told her she was one of the best of the day and she was sent through with flying colors. Yay, she said in her internal Daria voice.
At the end of the round, Cyrus was ready to dance for his life. He was in the zone. Nerves were nonexistent, and his LeBron fire came out to play. The untrained street dancer did an excellent job of reminding the judges of what makes him so unique; now that The Exorcist is gone, there's truly no one else who moves like him. He had his fellow contestants in the audience standing and screaming and pounding the seats in front of them, and yeah, me, too. He got unanimous yeses and didn't smile once throughout the verdict. Totally LeBron in Game 7.
The remaining 52 dancers had just one more challenge to endure: contemporary with Travis Wall. They had one hour to learn the steps, and after Nigel told them they wouldn't learn their fates until the end of the day, it was time to really dance for their lives.
We literally got about 30 seconds of footage of the actual dancing (there were no cuts, and therefore no reason to see any talent, obviously), and then it was judgment hour. One-third of the dancers were pushed through, including Amelia (yawn) and Cyrus (yay!). Another collection of contestants had to repeat the choreography so Nigel & Co. could make some final decisions.
NEXT: SYTYCD's answer to Symone Black.One of the on-the-fence candidates was Mariah Spears, the super-cool krumper from the Salt Lake City auditions. My heart was shattered even further when she was cut. First The Exorcist, now this? Dude.
With those cuts made, it was time for one final round of solos, and it was here that we received our token injury moment, SYTYCD's answer to Symone Black, also known as the girl who fell off the stage during Hollywood Week on Idol. Contemporary specialist Joshua Alexander attempted to do a back flip and fell flat the floor, and after his spotter (good job, bud) nervously mumbled, "He's not moving," we heard someone off-camera yell, "Call a medic!" The closest camera guy thought about it — he reached into his pocket for his phone — then abandoned the idea in the name of getting some quality footage. What would we viewers do without these intrepid photogs?
We were left hanging with regards to his fate as Alexa took the stage in the main auditorium. While she performed a haunting classical-contemporary hybrid routine, Debbie mumbled, "This child could win."
The last contestant of the night was the Robin Thicke lookalike from Week 1, whose classical choreography and interspersed acrobatics made the judges ooh and ahh like they were watching someone play with a ring of fire without burning himself. Legitimately. It was like we were watching Olympic dancing. Robin Thicke received a well-deserved standing O.
As all of the boys were corralled back onstage at Nigel's command for one last round of cuts, we said goodbye to was Adrian, our Season 7 vet, who was the very last person cut two years ago. Then, it was time for the girls, and we bid farewell to… no one! All the girls would remain in the running for next week's final final cuts.
And at the end of Vegas Week, we're down to 35. Who are you pulling for in next week's top 20 announcement show? Whose departure devastated you? How eager are you to learn of the unfortunate backflipper's fate?
[Image Credit: FOX]
More:
So You Think You Can Dance Recap: Last Stop, Salt Lake City
So You Think You Can Dance Recap: Hotlanta!
So You Think You Can Dance Host Cat Deeley: 10 Things You Didn't Know