Sofia Vergara Dances in Clip from Next Week's 'Modern Family'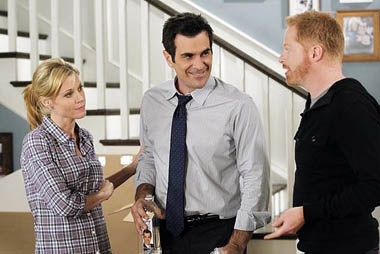 The best thing about Modern Family is that, even though we often see the three households each enjoying their own adventures, they inevitably always come together to form the series' strongest moments, both in sentiment and in comedy. In the clip below, from next week's episode "After the Fire," we get to see all of the adults together, suffering a handful of different problems and sharing them with each other.
"After the Fire" surrounds the family's attempt to organize a community drive after a neighbor's house burns down. Of course, they are all far more absorbed by their own problems. As we can see below, Phil busts in, lamenting the loss of two of his realty firm's best brokers (and the beloved "tube dude"). Mitchell and Cam follow, bickering about the latter's "wardrobe crisis"—just in time to interrupt Gloria's not-quite-right impression of the inflatable dancing tube dude in question. Finally, Jay joins the scene, writhing in pain when his back goes out.
An excitable Phil, an uptight Mitchell, a flashy Cam, a confused Gloria and a grumpy Jay…yep, this is your classic Modern Family scene, and we're all on board with that.
Modern Family's episode "After the Fire" airs next Wednesday, Nov. 16 at 9 p.m. ET/PT on ABC.

Source: ABC