Sofia Vergara on 'SNL': Do Bombshells Make Bad Hosts?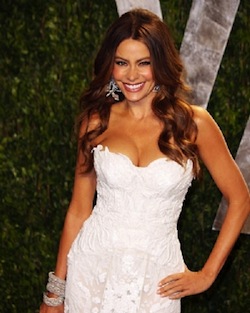 Over the weekend Saturday Night Live announced that Sofia Vergara will be hosting the show's April 7 episode with musical guest One Direction (if you haven't heard of them, ask the tween girl in your life). Vergara seems like a great choice, since she's both hot and hilarious on Modern Family, but bombshells have been responsible for some of the worst episodes in recent memory.
If you've only seen January Jones on Mad Men, you might have the impression that she's pretty, yet robotic. Her 2009 SNL hosting gig didn't change anyone's mind. Jones flubbed her lines and broke character several times, but the low point was probably a sketch about Grace Kelly farting on the set of Rear Window that only 12-year-old Alfred Hitchcock fans found funny.
Paris Hilton got similar reviews after she hosted in 2005. An anonymous show source said she was "an energy vacuum onstage," and Tina Fey described her as "a piece of s**t," on The Howard Stern Show. And it isn't just the ladies. Olympian heartthrob Michael Phelps' 2008 appearance was largely panned after he had a hard time just reading off his cue cards.
Thankfully, Vergara does have a few things working in her favor. We know she can make us crack up as Gloria, and she's also appeared in sketches for Funny or Die and Jimmy Kimmel Live. Live performances are a different ball game (and Vergara did take flak for making a rape joke on The View) so we'll have to tune in on April 7 to find out.
Source: Entertainment Weekly