Sofia Vergara's 'Saturday Night Live' Promo — Watch!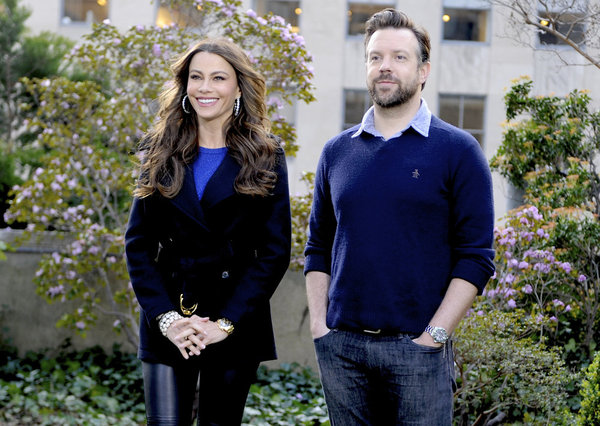 Unless there's a surprise appearance from Phil's wobbly banister, it seems Modern Family's other long-running gag, Gloria's indistinguishable accent, will be front and center on Saturday Night Live this weekend.  As evident by the new promo for the upcoming SNL which features first-time host Sofia Vergara getting lost in translation with cast member Jason Sudeikis.
In the clip Vergara and Sudeikis get lessons in Spanish ("Si!"), English ("What are you saying? That makes no sense! I don't understand you!") and the universal language of extraordinarily beautiful women turning down men's creepy advances ("No.")
Watch the full promo below to watch Vergara and Sudeikis talk about the new episode (with musical guests, teen idols One Direction) from the roof of 30 Rock.
Will you be tuning in to watch Sofia Vergara this weekend on Saturday Night Live? Are you hoping they'll do other jokes than ones about her accent? Or is it always sexy/funny? Anyone else think Jason Sudeikis may have actually had a shot with the Modern Family star? (The guy has a pretty impressive track record.)
[Photo credit: NBC]
Sofia Vergara on Saturday Night Live: Do Bombshells Make Bad Hosts?
Sofia Vergara and Three Sexy TV Stars Hop Into Bed For Vanity Fair