'Sons of Anarchy' Curveball: We Need to Talk About Tara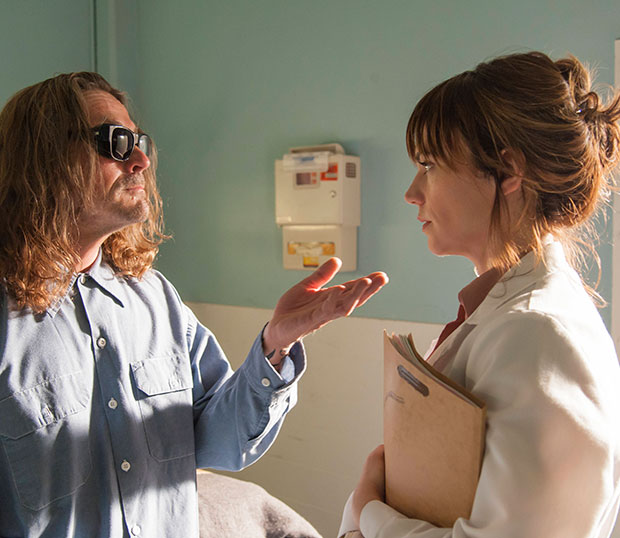 Did that really happen?
Yes, it did. Tara (Maggie Siff) really did let Otto (Kurt Sutter) use her for… let's call it inspiration on last night's Sons of Anarchy. While most people were awaiting election results in fitful anticipation, the FX show was continuing its season-long onslaught of gut-wrenching twists. 
After failing to convince Otto to recant his statement and kill the RICO case the first time around, Tara returns to the prison to give it another shot. She's not prepared to "get on her knees" as Otto requested last time. Instead, she's packing a bottle of his deceased love Luann's perfume. She puts it on her wrist so he can smell it, but he wants more. 
Because he's strapped down on a medical table, he asks her to unhook one of his hands promising he's not going to do anything to harm her. She obliges and when he asks her to hold his head, she only objects until he asks in a touching, desperate plea to "feel a woman's hand on me, one more time." And while she concedes and runs her hand through his hair, all the while Otto is masturbating. It was a scene that was both disturbing and touching, something that should come as little surprise to those of us who've stuck with SAMCRO since Season 1. 
But what was more shocking was the fact that later in the episode, Tara returned home with the perfume and used it for her own inspiration. She's kept this secret from Jax, so it makes sense that her energy as a result of the incident was expressed solo, but why was her response so sexual?
<a href="http://polldaddy.com/poll/6672163/">Why did Tara use Luann's perfume for some alone time?</a>
Follow Kelsea on Twitter @KelseaStahler
[Photo Credit: FX]