'Sons of Anarchy': Kim Coates and Theo Rossi on How To Not Die — VIDEO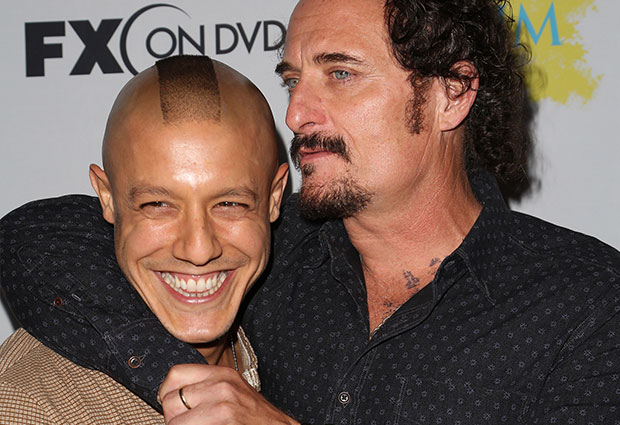 As Sons of Anarchy fans learned the excruciatingly hard way a couple weeks back, the show's notoriously outspoken showrunner (and costar) Kurt Sutter ain't afraid to kill off his main characters. In fact, his co-exec producer Paris Barclay told Hollywood.com before the show's premiere that there would be "quite a few empty seats at the table" by the end of this season. Ouch.
When we heard this unfortunate news, our minds went straight to Tig (Kim Coates), who is already public enemy number one for the vicious gangster Damon Pope (Harold Perrineau). Tig seems ripe for the picking, since Pope already proved that he could take out Tig's friends and family without consequence. Eventually he may get bored of the mental torture, and just off the man himself.
But then we remembered that last season, it seemed virtually impossible that Juice (Theo Rossi) would make it out alive. And he did! Thanks to a suicide attempt gone wrong (or very, very right) Juicey is still around to sleep with cougars and provide some much-needed moral support to Clay. So, in our last-ditch effort to save Coates, we brought him together with his self-proclaimed best friend Rossi for a sit-down on the following topic: How to survive a deadly Kurt Sutter season. Check out the video below, and be sure to watch tonight's episode at 10 p.m. for a disturbing-slash-hilarious surprise guest appearance that, after years of therapy, you still may never forget.
Follow Shaunna on Twitter @HWShaunna
[PHOTO CREDIT: Chelsea Lauren/Getty Images]
MORE:
CBS Bested By Basic Cable? 'Sons of Anarchy' Comes Out On Top
Death on 'Sons of Anarchy': Man, Was That Brutal
'Sons of Anarchy' Premiere: The Boys Are Back — But Not For Long?