'Sons of Anarchy' Premiere: The Boys Are Back — But Not For Long?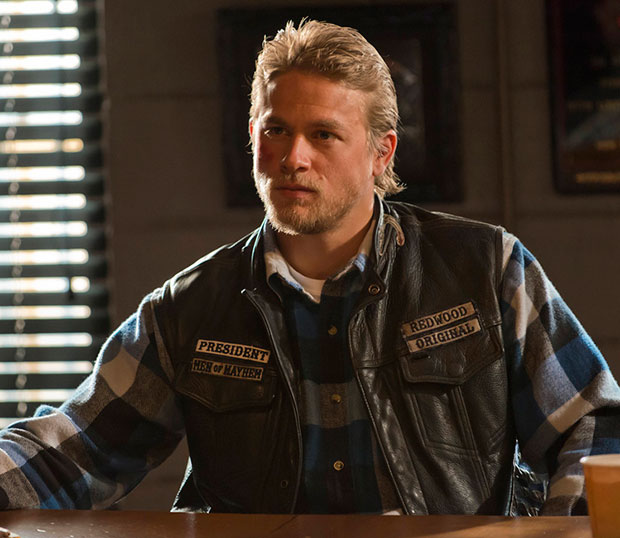 The words "riding through this world, all alone" have never been more true for Sons of Anarchy's Jax Teller (Charlie Hunnam). At the end of last season, new President Jax found himself lying to the entire club (and his family) to maintain a deal he never signed up for with the CIA — whose cartel double agent (Danny Trejo) needed the Sons to help them nail their IRA connections. The problem is, the IRA will only work with the Sons through Clay (Ron Perlman) — Jax's baddie stepdad who had recently beat Jax's mother, Gemma (Katey Sagal), and murdered founding member Piney (William Lucking) to cover his own ass. Oh yeah — and Jax finally learned that Clay had killed his own father decades before. To say the least, Jax would have preferred to see Clay dead. Instead, he now has to sit with him at the table, pretending as if none of it ever happened. And, of course, if the club finds out he's been working with the CIA, that could mean his own head. See? Everyone has work problems.
Hollywood.com was able to screen tonight's premiere episode, "Sovereign," with the cast and crew — who spilled more than a few details on the coming season. First, let's start with the bad news: EP Paris Barclay told us that season five will ultimately be a bloodbath, and that none of our "good guys" are safe. "Everyone who starts out in this episode is not going to make it to the end of the season," Barclay said. "In fact, there are going to be quite a few empty seats at the table by the time we're done. This is going to be biggest changeover in the history of Sons, in terms of the cast."
Ouch. For the love of God — please leave Tig and Juice alone. But there is some good news: First and foremost, that season five's premiere is spectacular, and includes one of the the most shocking moments in SoA's frequently shocking history. You'll know it when you see it, because it's that bad. Also, Lost's Harold Perrineau ("Wallllllt!") has the potential to be the best and most formidable bad guy the club has ever faced, while Jimmy Smits is hilarious and enigmatic as pimp "companion-ator" Nero. And former leader Clay — whom most fans wanted to punch in the face (or worse) at the end of last year — is finally (deservedly) down on his luck.
Most of us would see Clay's current predicament — alone, injured, hated by his wife and stepson, mistrusted by his club, unable to ride his beloved bike — as a negative, but Perlman thinks it's an opportunity for Clay to possibly redeem himself. "I think [he'll try to win back Gemma]," Perlman said. "This is an opportunity for him, with all the things he's lost, to figure out which ones are worth fighting for. When you lose everything, if you don't take it as an opportunity to take stock, then you're missing the boat." There is, however, one boat that Perlman thinks is permanently out to sea. "I'm not sure that [Clay and Jax] can be patched up, now that he knows I killed his old man," he said.
In addition to Jax and Gemma, Clay is also on the outs with Tig (Kim Coates), who accidentally ran over Perrineau's TV-daughter at the end of last season, and Bobby (Mark Boone Junior) who has always aligned himself with Jax. Barclay said that Tig will have his darkest season yet, and he definitely has his share of struggle in tonight's premiere. As for Bobby, Boone says that while he'll do his best to keep Clay and Jax at bay throughout the season, things might change once Bobby learns of Jax's CIA deal. "You'll get the answer to [the question of whether Bobby can forgive Jax for working with the CIA], and I'm not going to give you the answer to that question," he teased. "Bobby is very involved in the whole situation."
Well, there you have it — one episode in, and there's already a world of trouble for the Sons. And we haven't even mentioned the fact that Wendy (Drea de Matteo) will be back to try to steal time with Jax's son, Abel. But we (and Barclay) don't want to be the bearers of only bad news, so here's a bit of fun to cure your SoA blues: Ashley Tisdale will play a strung out, nasty prostitute. "I did a great scene with her in a motel with a john that was one of the most interesting and twisted things I've ever done," Barclay said with pride.
Watch Sons of Anarchy tonight at 10 p.m. ET/PT, on FX.
Follow Shaunna on Twitter @HWShaunna
[PHOTO CREDIT: FX]
MORE:
'Sons of Anarchy': Jimmy Smits Rides Into Season 5 — CLIPS
'Sons of Anarchy' Has a Pop Culture Obsession: Jimmy Smits is the Newest Baddie
New 'Sons of Anarchy' Clip: Now with More Nudity and Explosions