'Sons of Anarchy' Star Rockmond Dunbar on Last Night's Shocker: "Juice is F***ed"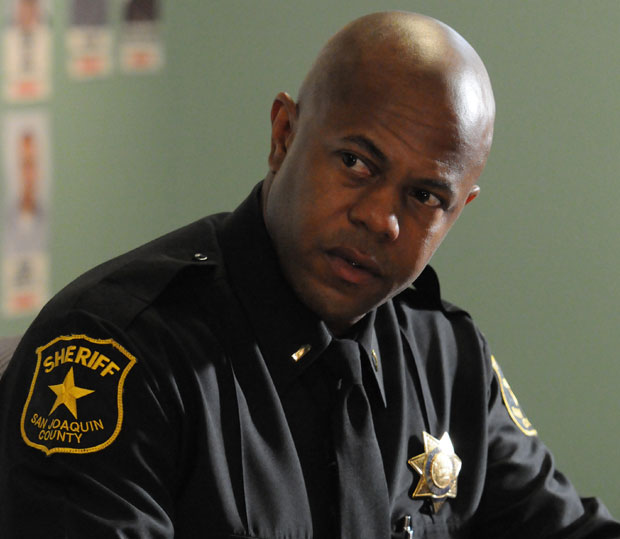 Holy Hell, that was a lot of Sons of Anarchy goodness to process. [SPOILERS AHEAD] First there was the strangest suicide ever seen on television, and definitely the first to involve a forced blow job. Then there was Jax, showing his newfound ability to enact brutality by bashing a man's head in with a snow globe. Add a partnership with Damon Pope, the breakup of Gemma and Unser's decade-spanning friendship, and the revelation that Clay is behind the home invasions to the mix, and you get a crazy, bananapants episode. Oh, and we haven't even mentioned the fact that, due to a snafu in Clay's home invasion plan, Sheriff Eli Roosevelt's (Rockmond Dunbar)'s wife and unborn child are now dead, leaving the man with one hell of a score to settle. 
Hollywood.com spoke to Dunbar about Roosevelt's role for the rest of the season, and this was the number one point he wanted to hammer home: "Juice (Theo Rossi) is f***ed," he said with a laugh. (Um, so not funny!)
If you recall, Roosevelt has a lot on Juice given his blackmail-induced participation in a case against the Sons last year — something that would certainly get him killed, should the Sons ever find out. But Juice won't be the only one on Roosevelt's radar: "Clay (Ron Perlman) is also f***ed," Dunbar added. "We have a bit of a showdown. You're looking at two men who have lost everything… and who don't like each other very much. It gets really nasty."
For a while there, it looked like Roosevelt was this close to becoming a non-threat to the Sons — but even though Jax and the boys plead their case that it's someone working against the Sons who was responsible for Mrs. Roosevelt's death, Roosevelt will still focus on vengeance. "This man has lost everything he had to live for," he said. "So, everyone is f***ed. I have scenes coming up with Jax, I talk to Damon Pope (recurring guest star Harold Perrineau)… there's a scene I shot last night with Gemma (Katey Sagal), Juice, and Clay that I could have done all night. Just the dialogue, the actors involved, and the painful issues they're dealing with… it's some Emmy s***." 
Dunbar also stressed that even though Roosevelt is angry about his wife and unborn child's death, he feels the man is more lost than… well, vicious. "I play him as lost," he said. "I don't play up the angry parts of the character. I go into it as, 'How do you pick up the pieces after you've literally lost everything?' That's a lot more powerful than anger."
So, in case you've lost count, the Sons are now dealing with Roosevelt, the Galindo Cartel, Clay and his home invaders, Nero's posse, Otto and that RICO case, and Damon Pope. That's a lot. "Pack your diapers," Dunbar said, after revealing that he was currently doing work on the season finale. "No one knows what to expect, week to week. We all get the scripts, wondering on what page we're going to get killed. I was supposed to get killed last season! There's crazy twists and turns that even I could never see coming. It's the craziest Kurt Sutter season yet."
Does that mean that Roosevelt is, as Dunbar likes to put it, also f***ed? "I was f***ed when I took the job as Sheriff," he laughed.
Follow Shaunna on Twitter @HWShaunna
[PHOTO CREDIT: FX]
MORE:
'Sons of Anarchy' Gives Us a What-The-Walton-Goggins?! Moment: What'd Ya Think?
'Sons of Anarchy': Kim Coates and Theo Rossi on How To Not Die — VIDEO
Death on 'Sons of Anarchy': Man, Was That Brutal
From Our Partners:

NY Comic-Con: 34 Crazy Costumes(Moviefone)

James Bond's 'Skyfall': New Clip!(Moviefone)