'Sons of Anarchy' Stars Theo Rossi, Ron Perlman, Kim Coates Host Gala For Sandy Relief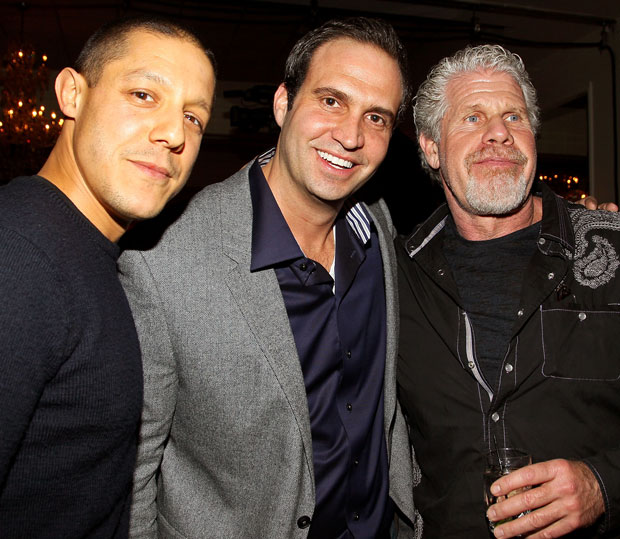 Ever since Hurricane Sandy reared her nasty head on the Eastern seaboard, celebrities, politicians, and everyday citizens have rallied to support New York City and its surrounding areas. We've seen the MTV commercials that claim that we can (and will) rebuild Seaside Heights, and our hearts were warmed when President Obama and Chris Christie crossed the political divide to focus on helping New Jersey. But amidst the media storm, we've heard very little about the devastating damage to the proud community that lives in New York City's oft-forgotten fifth borough — and this brought Staten Island native and Sons of Anarchy star Theo Rossi to action.
On Thursday night, I attended a gala thrown by Rossi and his hard-working friends at Staten Strong — a project with no overheads, that puts all donations directly into the pockets of those who need it, in the form of gift cards, clothing, generators, and more. As a native of New Jersey and someone who has directly benefited from community outreach (my own small town rallied to support my family when our house burnt down in '93), I was touched by the spirit, pride, and generosity I saw in Rossi and his friends (who include, among others, SoA stars Ron Perlman and Kim Coates, Twisted Sister, and Real Housewife Jacqueline Laurita). These are people who are hitting the ground running — giving back to their community with no sense of ego, and no expectations to receive anything in return. They simply, and righteously, want to see their communities thrive.
As Perlman explains, Staten Strong began as a simple grassroots organization, formed by citizens who didn't like what they were seeing. "I checked in with Theo [during the hurricane], because he was back here doing a family visit," he said. "He said everything seemed cool. Then about two days into the coverage, I started finally seeing coverage of Staten Island, and how devastated it was. I called Theo back and I said, 'Dude, doesn't look cool to me.' That's when he started telling me how heartbroken he was by what he was seeing, and how angered he was at how lugubrious the response was."
Rossi may have been angry — and readers/viewers may know him as the king of tears — but Juice was nothing but smiles last night, when he spoke of everything he and his friends have accomplished so far. "We just met somebody outside and gave them $1,000 in gift cards to Target," he said. "We're helping families out, directly, at a street level. I don't care what anybody else is doing, all I know is that this is the town I grew up in. Every time I walk around, nothing has been done. A lot of people didn't want to accept help… people have a lot of pride. Now they're realizing nobody is going to help them. That's where we step in — at StatenStrong.com they can fill out forms and put in applications, and we have people there the next day. We're trying to keep it as basic as possible, because we're not that smart."
Love that self-deprication, Theo. But while Rossi doesn't care what anybody else is doing, Perlman does — the New York native expressed a lot of anger towards an agency he used to support, and he's using Twitter to spread the word. "I got about 100 responses [from Twitter followers], and 100 percent of them were negative towards the Red Cross," he said. "In all of the time I was touring Staten Island, I didn't see one piece of evidence that Red Cross was even on the scene. I have anecdotal stories that they were selling cups of coffee for $1 to those who had lost everything. I'm doing a lot of research, but nothing that I've uncovered so far has led me to believe that the $188 million dollars [raised to Red Cross] went to anybody who needed it."
Coates added another organization that did little for Staten — the news media. "My little brother [Rossi] is here, and his mom is here, and his beautiful sisters… they're okay, but when he started walking the streets with his buddies, looking at the devastation, it was mind-blowing," Coates said. "Finally CNN did a story, maybe six or seven days later. [But] Theo got on his horse immediately."
As Rossi said, the Staten Strong website makes it easy for Sons fans or just general concerned citizens to make a difference, but Perlman had one more suggestion on how to spread the word — and it involves a very notoriously outspoken (and frequently profane) showrunner. "Lobby Kurt [Sutter]," he says. "Kurt's got a lot of Twitter followers. I'm sure whatever efforts he tries to put himself behind could make a big difference."
Follow Shaunna on Twitter @HWShaunna
Follow Staten Strong on Twitter @StatenStrong
[PHOTO CREDIT: Steve Mack/Getty Images]
MORE:
'Sons of Anarchy' Season Finale Gives Jax His Just Deserts
'Sons of Anarchy"s Theo Rossi on Life With Jax and Clay: 'He Has an Excuse to Kill Me'
'Sons of Anarchy': Kim Coates and Theo Rossi on How To Not Die — VIDEO

20 Hottest Bikini Bodies of 2012: Kim Kardashian and More!