'Sons of Anarchy': When Clay Falls, A New King Rises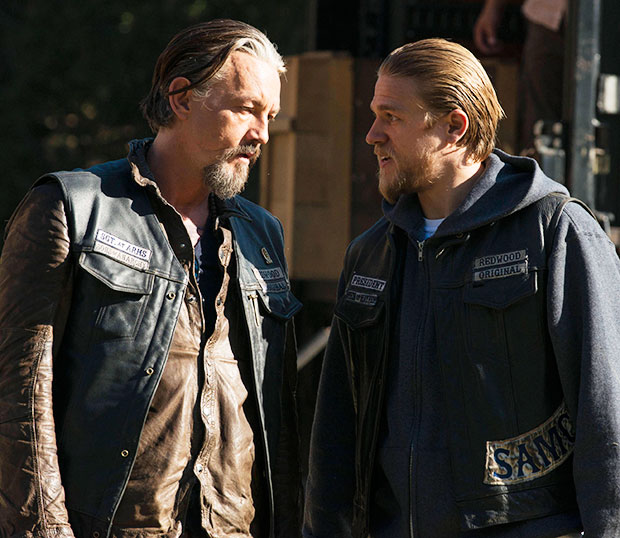 "You can't sit in this chair without being a savage." 
With that line,
Sons of Anarchy
signaled the true fall of the King and the rise of Charming's new leader, its tarnished young prince.  It's taken Jax (
Charlie Hunnam
) five seasons and the brutal loss of his childhood best friend to bring him to the harsh truth, but he's finally accepted it. If he wants to run the club correctly, he's going to have to get his hands a little bloody. He's been inching towards this conclusion all season, but it wasn't until he sat down at the Sons' table after sentencing Clay (
Ron Perlman
) to excommunication from the club that has defined his entire life, that Jax truly accepted his new fate. In order to do this right, he's got to, in a sense, become the reaper. By the end of the episode, Jax has taken his first violent action against his ex, Wendy (
Drea de Matteo
), who after being kidnapped by the Irish tried to use her newfound knowledge of Abel's kidnapping back in Season 2 to wrest custody from Tara and Jax. Now that Jax has fully assumed his role as ruthless leader, those principles are bleeding into the rest of his life as well. He takes a page from Gemma's playbook and replicates her sly move from Season 1: he corners Wendy, injects her with drugs, and says he'll call for drug testing if she pursues the custody battle.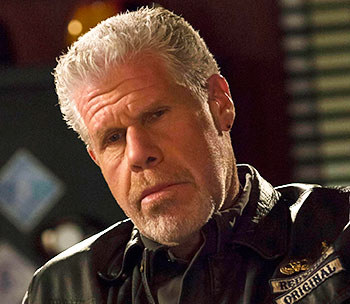 This dark, violent reaction is the perfect picture of who Jax has become. When it comes down to it, everything he does – no matter how vile – is for family, whether that family is the club or Tara and the boys. At its core, each horrible act is based in love and honor, but in Jax's reality that honor can only be achieved by sinister means. That's the simple, sad reality of Charming. It's a questionable existence that Jax was never able to fully accept or ingest, and chasm his father never managed to cross. But Jax has become what his father couldn't, and he's discovering that he needs pieces of Clay's ruthlessness to truly reach that goal. It's fitting and poignant then, that the final scene before Jax takes down Wendy is that of Clay's excommunication. While the miserable music flows over the scene, Clay's Sons tattoos are blacked in. Unlike other former club members, whose tattoos were removed with excruciating pain and melting of skin as a way of obscuring the mark they no longer deserve, Clay's final moments as a member of the club were quiet and simple. He didn't flinch and his body was covered with the giant black mark of his betrayal. He very simply told Gemma they'd sleep at his place, to avoid getting the ink on her fancy, clean sheets, and sauntered off to his hour of reckoning. And while the moment was all about Clay and what he'd lost, it's impossible to view this moment without thinking of the man coming in to truly take his place. It's the passing of the crown, as only
SoA
can do it. Jax has been leading the club all season, and all the while, Clay has been trying to usurp him. Now, with his betrayal on the table and his membership stripped from him, Jax's transformation is complete: he's got the final piece necessary for his ruling armor. As the black ink filled in Clay's image of the Reaper, we could see Jax's authority becoming whole. And despite everything Clay has done, the moment is tinged with great sadness. This is what was always meant to happen. This is what we wanted, what Jax wanted. So why does it feel so wrong?
Follow Kelsea on Twitter @KelseaStahler
[Photo Credit: FX (2)]
More:
Sons of Anarchy Stars Kim Coates and Theo Rossi on How Not to Die – VIDEO
Sons of Anarchy Won't Let Up, Sends Gemma Off the Deep End
Sons of Anarchy: Introducing the New Jax

'Two and a Half Men' Star Says Sorry: Sincere or Lame Apology?

'X-Men' Sequel: Huge Casting News!