'Sons of Anarchy' Won't Let Up, Sends Gemma Off the Deep End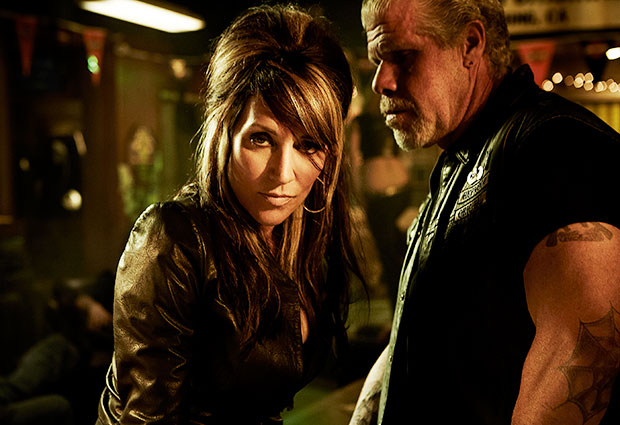 Please be aware this post contains Major Spoilers from "Toad's Wild Ride."
After we get through this fifth season of Sons of Anarchy, some of us are going to need some serious therapy. With the confidence of a consistent 2.0 (or more) share in the ratings and the audacity of creator Kurt Sutter, the FX series continues to emotionally eviscerate fans with crippling twist after crippling twist. This week, the show really hit us where it hurts: Jax's kids.
And of all the people that could bring harm upon the two tiny rays of light in Jax's life, it's his continually screwed up mother, Gemma. After going off the rails as a result of watching Carla shoot herself in the head (and right after she tried to force Gemma to perform fellatio on Nero for her amusement, no less), Gemma is having a rough go of things. She saddles up to the nearest dingy bar, finds herself a hot young piece with mommy issues (guest star Joel McHale) and promptly follows him to a seedy motel for a little knocking boots and banana vodka. (Note: "Banana vodka" is not a euphemism. McHale's douche just has terrible taste).
But all this fornicating sends our matriarch into a tailspin, which she decides to handle by crying alone in the dirty motel bathroom. She doesn't count on the loser she just bedded being a total scoundrel, so she's naturally surprised when she emerges from the bathroom and finds herself without money or mode of transportation. The bastard stole her wallet and her Cadillac. But when Jax and Nero rush to her aid the next morning, she's not greeted with much sympathy. In fact, her own son spits out "she's a goddamn trainwreck" while she's standing just a few feet in front of him.
It's no wonder that by the end of the episode Gemma has completely lost it. Of course, before she goes on her wild ride she receives the love and support she's craved for so long – a factor that only makes her downward spiral that much more difficult to bear. Jax pulls her aside after her sexual escapade and tells her he loves her. It's all she's wanted to hear all season, and it's followed by Tara finally conceding and letting Grandma Gemma act as weekend babysitter for Abel and Thomas while she and Jax spend a night relaxing in the SAMCRO cabin. Unfortunately, it doesn't take long for all this progress to be wasted completely.
When Gemma picks up the boys and packs them into her car, it's clear she's not about to win Grandma of the year. And if the jaunty music in the background wasn't an indication, Tara's final warning to Gemma that she "better be safe" with the boys was a confirmation. Grandma and the boys aren't on the road for long before Gemma starts drifting. It's not clear why she's losing her bearings, but she drifts nonetheless. Right into the path of a semi-truck. As she careens off the road, the concern is not whether or not she'll live through the accident. She's made it through worse. It's what happens to the kids.
Thomas' cries confirm that he made it through, but Abel is slouched forward and silent. Jax's first son appears to have been lost due to his grandma's poor judgment. And in a final gut-wrenching few seconds, the camera pans down to reveal blood dripping onto a white piece of cloth below Abel's seat. Once again, Sons has changed everything. Jax could forgive his mother for the unforgivable over and over again, and he has. But this is his son, who's been through hell and back, who survived despite the drug-addled mother who birthed him. Abel is Jax's miracle, and Gemma has just robbed Jax of him.
<a href="http://polldaddy.com/poll/6634459/">What will Jax do when he finds out what happened?</a>
Follow Kelsea on Twitter @KelseaStahler
[Photo Credit: James Minchin III/FX]
More:
'Sons of Anarchy' Stars Kim Coates and Theo Rossi on How Not To Die – VIDEO
Death on 'Sons of Anarchy': Man, That Was Brutal
'Sons of Anarchy' Delivers Another Episode Full of Blood, Sweat, and Betrayal