Sorry, but Beyonce's Super Bowl Halftime Show Wasn't That Great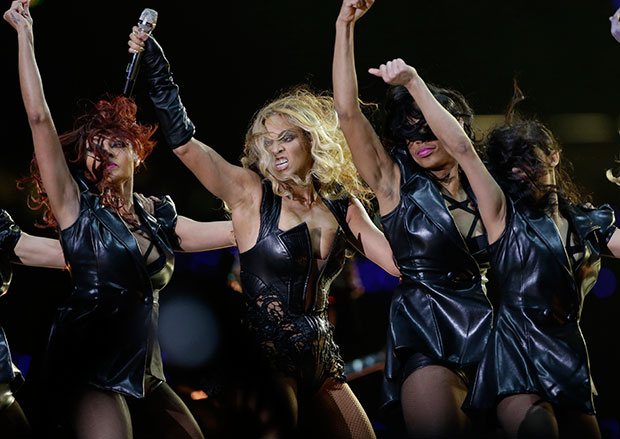 Immediately after she took her incredibly awkward bow for her Super Bowl halftime show (brought to you by Pepsi, fame, and abnormally excellent genetics), the reviews for Beyoncé rolled in with praise and the GIFs of every movement she made popped up like chicken pox on an 8-year-old. But, I'm sorry, but I didn't think it was that great.
RELATED: 47 Reasons The Halftime Show Was Better Than The Game
I'm gonna start off saying that I am a Beyoncé fan, that I have her music on my iPod, and that I have made the "Single Ladies" hand on the dance floor in more than one gay bar in more than one city in America (and one in Canada). I think she is an enormously talented and wonderful performer with a great voice, and I believed he was not lip syncing at President Obama's inauguration. And her performance at the Super Bowl was good, but it was basically a Beyoncé concert distilled down to 12 minutes. Just like we had to endure commercials for Go Daddy, 2 Broke Girls, and (ugh) Scientology, we also had to endure this extended informercial for Beyoncé, something that most of us would gladly buy anyway.
Just look at how the performance began, with a shot of the stage that was monomaniacally shaped like not one but two Beyoncé heads. Then we saw a giant silhouette of her — larger-than-life in pink neon — posed like the real version of her below. Then she strutted her way across an empty stage. It was clear from the start that this was going to be all about Beyoncé. It got even worse as she stood, practically alone, at center stage. That's like having a deliciously prepared Thanksgiving turkey and only eating one drum stick. There is so much more you could do!
To make matters worse, when there weren't enough Beyoncés on the stage that were made out of Beyoncés, the singer had video projections of even more Beyoncés just so you knew that this was, after all, a Beyoncé show. The problem is, we didn't want a Beyoncé show. We wanted an extravaganza. We wanted something that was huge and maximalist and full of surprises. We wanted the biggest "wows" to not be a guitar shooting sparks, and Kelly Rowland and (non-Oscar nominee) Michelle Williams launching themselves out of the floor. This wasn't about Beyoncé, this was about football. This was about America. This was about the biggest pop cultural event of the year, and she failed to do anything special.
Not only did she not debut any music or even flog a new single (maybe because the new Destiny's Child track is rather subpar), but all of the moves in the show were cribbed from other Beyoncé performances. We saw her dance with video projections of herself at the Billboard Music Awards. We've seen her snap her weave in the air and punch toward the ground in a the "Single Ladies" video a million times. We've also seen her "give the hand" both in the video and in concerts a million times, and she did it yet again last night on every television set with a half-boozy audience tuning in between bites of nachos. This was nothing original, nothing new and — though deftly executed — nothing like the extravaganza we were hoping for.
RELATED: The Best of Beyonce: Bey's Top 10 Performances
But what about the Destiny's Child reunion, you say? Another let-down. It was bad enough that we barely got to hear more than 30 seconds of each of B's biggest hits, but we only got two short snippets of the girl group's top hits, "Bootylicious" and "Independant Woman, Part 1." (We're still waiting for that sequel.) And where was "Bills Bills Bills"? Where was "Say My Name"? Where was "Survivor"? While ostensibly equals in a girl group (yeah right), the other two were officially relegated to back-up dancers serving the Queen B. Adding insult to short-lived injury, Beyoncé then forced these two to sing back up on one of her songs. They each got a little verse to sing alone, but when they did, their mics were turned so low you couldn't even hear them (the same was true when all were singing together). Then we were told to give it up for Kelly and Michelle as they resumed their rightful place somewhere off the stage.
RELATED: Beyonce Heats Up Super Bowl Rehearsal
The pace of the whole package was quite frenetic and didn't flow well, trying to hit as many of the hits as it could without giving us a meaty bite of each to chew on. This wasn't a five-course meal, it was a tapas dinner, which always leaves you feeling dissatisfied. When trying to go from song to song, there were long pauses so that we could all cheer and applaud— why not wind all of the tunes into one seamless performances. Poor Beyoncé didn't even sing that much. That might be due to the whole lip-syncing controversy she just emerged from, and her promise to sing live. I get all that, because she had to do it to save her reputation. Still, she was spending so much energy and breath on the dancing that she couldn't spend as much singing. That's understandable, but considering there were casts of thousands of dancers at her disposal and two women who she sang with for years who were barely dancing at all, maybe she should have shared some of the burden. (An invitation to get sister Solange up there would have been greatly appreciated as well.)
But no, Beyoncé never shares the burden. It is always all about her, just like last night was, and the show suffered for it. Again, this was not her concert. This was not her HBO special documentary. This was not the Grammys or the American Music Awards or the VMAs. This was the Super Bowl, and I expected more. In my opinion, Beyoncé did not deliver the show stopper I know she's capable of. I can't wait to see what Rihanna comes up with next year.
Follow Brian Moylan on Twitter @BrianJMoylan
[Photo Credit: Mark Humphrey/AP Photo]
---
You Might Also Like:

Biden? Ford? Surprisingly Hot Young Pics of Politicians

Who Wore This Crazy Hat?

Stars Who Changed Their Look After Love