Sorry, 'Friday Night Lights,' Romney's Still Got 'Clear Eyes'
Earlier this October, Friday Night Lights creator Peter Berg wrote a colorful letter to presidential candidate Mitt Romney after Romney employed the classic phrase used by FNL protagonist Coach Taylor (Kyle Chandler) before every big game. "Clear eyes. Full hearts. Can't lose" means a great deal to fans of the series, and it makes sense that Romney would hope to win over voters' emotions with the well-written phrase. However, Berg isn't a supporter of the Romney campaign, and with the recent addition of "Clear Eyes" bracelets to Romney's campaign store, Berg is likely going to be miffed once more. 
When Romney first uttered the phrase, Berg insisted that the candidate stop using it, writing:Your politics and campaign are clearly not aligned with the themes we portrayed in our series … The only relevant comparison that I see between your campaign and
Friday Night Lights
is in the character of Buddy Garrity — who turned his back on American car manufacturers selling imported cars from Japan.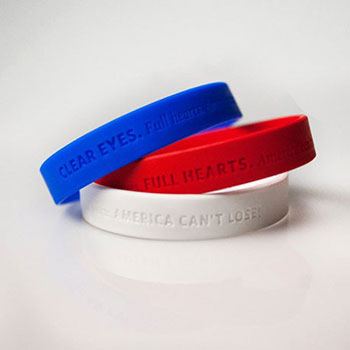 And if this was Berg's reaction before, when Romney was simply re-purposing the phrase for an audience in Iowa—"We have clear eyes, we know what we believe. Full hearts, we love this country. And we can't lose," he said—imagine what he'll have to say now that Romney's merchandising department is selling a set of red, white, and blue bracelets with the phrase, "Clear Eyes. Full Hearts. America can't lose." It appears to be a direct copy of the
FNL
phrase, where there was only overt re-purposing before. To add insult to injury, Romney's camp also passed the bracelets out during a flag football competition on Sunday between campaign reporters and his staff, according to the
Washington Post
.
Of course, now that Romney's camp is actually using a direct copy of the phrase instead of the permutation Berg previously claimed was "plagiarized" (before requesting that Romney "Please come up with [his] own campaign slogan") it is possible that what was once simply a contentious turn of phrase could come under scrutiny as a real issue of plagiarism. 
From Our Partners:

Pippa Middleton Acknowledges Her Famous Bottom in New Book: 'It's a Bit Startling to Achieve Global Recognition'
(Celebuzz)

LeAnn Rimes Sits Down With Katie Couric For First TV Interview Since Treatment For Cyber Bullying
(Celebuzz)