'Spartacus' Marches Into Final Season: Quitting While It's Ahead?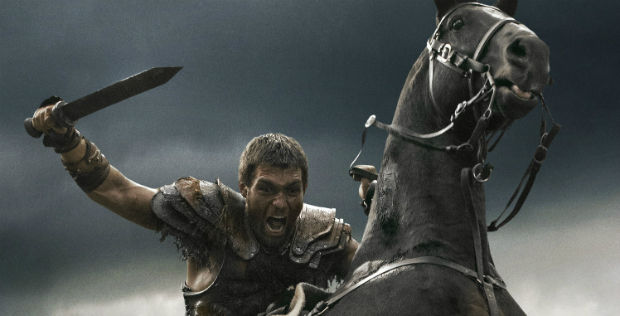 If there were a television equivalent of the Cleveland Indians in 
Major League
, it would be
Spartacus
,
in all its uniquely named forms (
Blood and Sand, Vengeance,
and
War of the Damned
). The Starz series burst onto television in a barrage of visually delighting, yet regrettably empty, sexual and visceral images, and almost no one was watching. The series' first season,
Spartacus:
Blood and Sand
, debuted to a measly 660,000 viewers, however, by the end of the season, Starz's history-inspired series had improved immensely. More importantly, it roped in over a million viewers for the first season finale. The series now rakes in about 1.5 million for each new episode of Season 2,
Spartacus: Vengeance
. Still, Starz announced that the series is heading into its third and final season:
Spartacus: War of the Damned
.
This news comes at a time when most networks are keen to keep a series trucking until it's got no steam left and only a small faction of flag-waving fanatics still milling around the finish line. Even Starz has adopted the same strategy: The pay-network kept beloved cult comedy Party Down on the air long after its ratings flew the coop. And as thankful as its stalwart fans are, its final episode tempted just 74,000 viewers to tune in — that's low, even for cable. Plus, Starz gave its critically acclaimed, but staggeringly low-rated political drama Boss a second season before the first even aired. So why is the network that allows its series second, third, and upteenth chances letting go of Spartacus? 
Because it is time. If there's anything Starz is committed to, it's giving its series the proper chance to stretch their creative legs. With that mentality also comes the ability to let something go when the going is good instead of running it into the ground like so many final seasons of Entourage. And that's exactly what showrunner Steven DeKnight says in a statement regarding the decision to end the series. After noting that decision was not made "lightly," DeKnight assures fans that ending the series is the best thing for the show: "In the end, the story was best served by rolling all of the remaining action and drama of Spartacus' journey into one stunningly epic season that will be extremely satisfying for everyone who's been along for the ride."
And after all, the series is based on the historical figure of Spartacus, a Thracian gladiator who led a slave rebellion against the Roman Empire from 73 to 71B.C.E. Historically, his finite story ends with his defeat during a battle in 71 B.C.E., so it's only a matter of time before the series either ends or lays waste to any semblance of historical accuracy. It's clear that DeKnight has no plans to mar the series' integrity.
To add fuel to the plot-driven fire, the series has seen great hardship, most notably the loss of its original star, the late Andy Whitfield. The charismatic, charming star lost his battle with cancer in September 2011, forcing the series to replace him with new star Liam McIntyre. The series has had a robust, tumultuous run, so it's only natural that the goal would be to send it off right, even if that means Starz loses its most lucrative original series. 
Spartacus: War of the Damned is currently filming in New Zealand and will follow Spartacus into his final battles with the Romans. It is set to air in January 2013.