Will Ferrell's Epic Mini-Series Spoof 'The Spoils of Babylon' Gets Epic Cast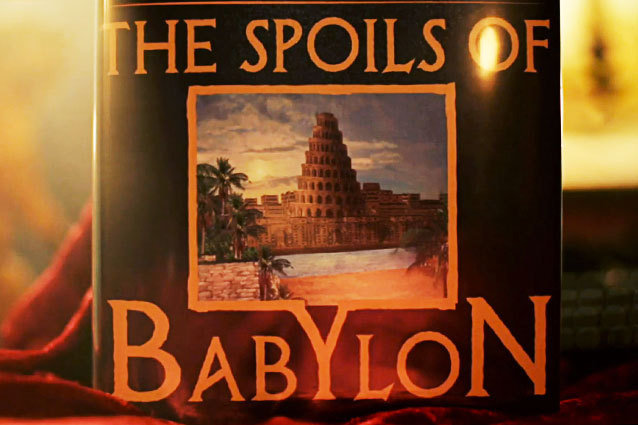 Will Ferrell has teamed up with Funny Or Die and IFC to bring you The Spoils of Babylon. It is an epic mini-series spoof, and it has an epic cast to go with it. Aside from Ferrell, the mini-series will star Jessica Alba, Val Kilmer, Tobey Maguire, Haley Joel Osment, Michael Sheen, Tim Robbins, and Kristen Wiig. It will consist of six half-hour episodes that will premiere in 2014.
"The Spoils of Babylon, a century-spanning saga, chronicles the sexy and dramatic lives of the Morehouse family, led by Jonas Morehouse (Robbins), his daughter Cynthia (Wiig) and her adopted brother Devon (Maguire) who made their fortune in the oil business," according to a press release. "The series takes viewers from the oil fields of Texas to boardrooms in New York City, through war-torn battlefields and velvet-sheeted bedrooms. Cynthia and Devon's unbridled and taboo passion for one another cannot be prevented. Add in Cynthia's evil son Winston (Osment), her put-upon husband Chet Halner (Sheen), and Devon's new love interest Dixie Mellonworth (Alba), and the booze, the pills, more passion, more pills and the heartache, and you have a mercurial potboiler. Then add in illegal arms deals, international espionage, the Shah of Iran (Ferrell), and two U.S. Army generals (Kilmer, Steve Tom) and it begins to overflow with boiling liquid in a pot on a hot stove that is operational."
The Spoils of Babylon may be a parody, but with the level of talent the cast brings to the table it wouldn't be surprising if turns out to be one of those shows that makes the week between episodes seem like a year. Besides, who doesn't love a good incest-driven romance torn apart by drugs and guns?
Follow Jordyn on Twitter @jordynmyah | Follow Hollywood.com on Twitter @Hollywood_com
More:
Haley Joel Osment Joins Will Ferrell's IFC Epic Miniseries 'The Spoils of Babylon'
Make 'Em Laugh: Will Ferrell Heading Back To the Small Screen and a 'Ben Stiller Show' Reunion
Funny Or Die Is Going All Hollywood On Us In New Movie Deal
---
From Our Partners:


Zoe Saldana Strips Down For Magazine (Celebuzz)


33 Child Stars: Where Are They Now? (Celebuzz)