SpongeBob Goes 'Jackass' With Johnny Knoxville — EXCLUSIVE PIC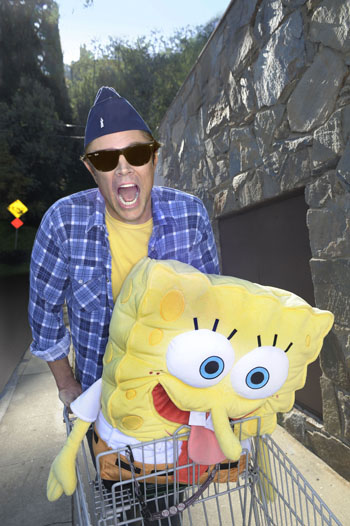 Who would have ever expected taser-loving, groin-crushing Jackass star Johnny Knoxville to appear on an animated kids' show? 
But, yes kids, the 41-year-old father of three (here in an exclusive pic,left) will make his triumphant 
SpongeBob Squarepants
 debut on Saturday at 8 pm. 
He'll voice the character Johnny Krill, a member of the Drasticals extreme sports team. When the crew comes to town, SpongeBob and his buddy Patrick try to show that they're just as extreme, throwing themselves into motor biking, hang gliding, surfing and even, extreme bubble blowing (the horror!). 
Making the episode was chum-buckets of fun for everyone involved. 
"Johnny's a fan of SpongeBob," Sarah Noonan, SVP of Talent and Casting at Nickelodeon Animation tells Hollywood.com. "He was really excited to be doing a voice on the show."
Of course, his insane bone-crushing shenanigans on Jackass certainly played a role in production. "In the recording booth, we showed him some of the crazy stunts his character was doing in the storyboards and he said, 'Wow, I think I actually did a stunt like that,'" says Noonan. 
And, somehow, it totally makes sense in the end — in a SpongeBob sort of way. But should it really be all that surprising? 
After all, Johnny and SpongeBob have a lot in common: 
* SpongeBob is the star of successful TV shows and movies. * Johnny is the star of successful TV shows and movies.
* SpongeBob's original name was SpongeBoy but it was changed because that was already the name of a mop. * Johnny also goes by a stage name. He was born Philip John Clapp.
* SpongeBob lives in Bikini Bottom. * Johnny hangs out with men who wear bikini bottoms. 
See? They're practically like twins. 
Check out an early image of SpongeBob and Johnny Krill. 

And a clip from Thursday night's episode. 
And let's hope that Johnny's time in the water ends better than Steve-O's.