'Star Trek' Ever Returning to TV? Join Our Google Hangout Tonight at 6:30 ET to Discuss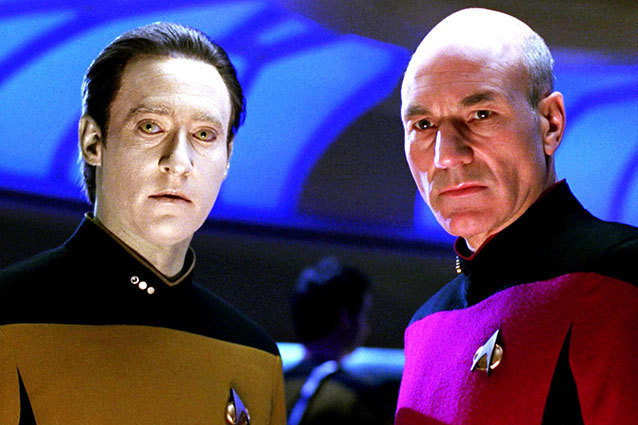 Last week on Hollywood.com's Get Thee to the Geek Google Hangout, we discussed Star Trek Into Darkness. And believe me, we had a lot of passionate opinions about the movie: I, personally, questioned whether it even is a Star Trek movie. Our special guest and fandom luminary Bonnie Burton talked about its connection to The Wrath of Khan and geeked out over Benedict Cumberbatch's role as SPOILER. And all of us —my co-host Eric Geller (@ericgeller) of TheForce.Net (@TheForceNet), Bonnie (@Bonniegrrl), and myself, your host Christian Blauvelt (@Ctblauvelt) — felt the film treated its women rather shabbily. 
But there's one thing that can't be denied: J.J. Abrams' two Star Trek movies have been massive financial successes that have given Trek, previously a cult franchise, a whole new visibility. So why has no one talked about bringing it back to its first home, television? All three of us would argue that Star Trek is at its best on the small screen, and Abrams got his start as a TV producer, so how come there's not a peep about a new series being launched anytime soon? Star Trek's future prospects on TV will be our topic tonight on our Get Thee to the Geek Google Hangout, so join in our discussion at 6:30 p.m. ET/3:30 p.m. PT. You can watch it as an embedded YouTube live stream as it's happening right here. Hope to see you!
Follow Christian Blauvelt on Twitter @Ctblauvelt | Follow Hollywood.com on Twitter @Hollywood_com
More:
'Star Trek Into Darkness': Post-Movie Discussion Google Hangout
Watch LeVar Burton Talk 'Star Trek,' 'Reading Rainbow' in Our Google Hangout
Ask 'Fast & Furious 6' Stunt Driver and 'Top Gear Stig' Ben Collins About the Movie's Amazing Stunts!
---
From Our Partners:


Zoe Saldana Strips Down For Magazine (Celebuzz)


33 Child Stars: Where Are They Now? (Celebuzz)