'Star Wars: The Clone Wars' Over at Cartoon Network, New Series Planned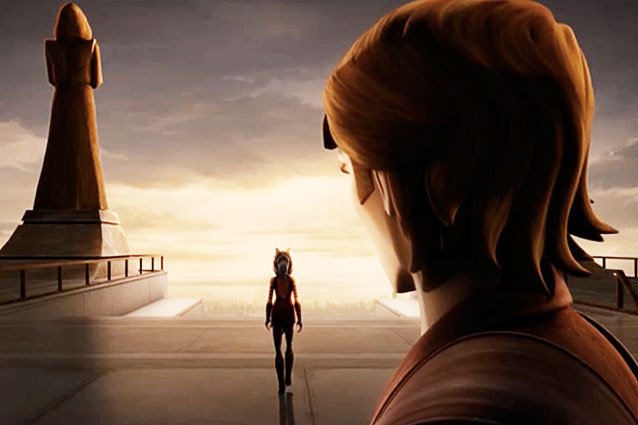 If there's one lesson to be learned from the Star Wars saga as a whole, it's the importance of letting go. Fans of Lucasfilm Animation's five-year spin-off series, Star Wars: The Clone Wars, are going to have to do just that.
The studio announced today via their official website StarWars.com that the show is leaving Cartoon Network, it's home for over 100 episodes since 2008, and will be "winding down." Lucasfilm is continuing to produce new Clone Wars episodes, however — installments that in a video on the site supervising director Dave Filoni says are the "best stories we've ever told" — but they will not appear on Cartoon Network and are being referred to as "bonus content." That suggests those stories may end up on a direct-to-DVD release or for web streaming and not find a home on Disney XD as was thought, following Lucasfilm's merger with Disney last October.
On top of this, Star Wars: Detours, the animated sitcom set in that Galaxy Far Far Away created by Robot Chicken masterminds Seth Green and Matthew Senreich has also been put on the back burner. No further development on that show is expected at this time.
RELATED: 'Clone Wars' Finale Recap: The Fate of Ahsoka
These moves follow Disney's announcement that the 3-D rereleases of Star Wars Episodes II and III, previously scheduled for a theatrical run in fall 2013, would be shelved in favor of focusing primarily on the production of Star Wars Episode VII. That seems to be what's happening with The Clone Wars and Detours.
However, Lucasfilm's press release opened by stating that they've decided "to pursue a new direction in animated programming," including "a whole new Star Wars series set in a time period previously untouched in Star Wars films or television programming. You can expect more details in the months to come."
A rep for Lucasfilm confirms directly to Hollywood.com that that indeed means a new animated series, not a live-action series, is in the works. (Although that long-gestating live action series set between Episodes III and IV isn't necessarily off the table, it's just not a part of this announcement at all.)
RELATED: Ashley Eckstein on Why Ahsoka's 'Clone Wars' Future 'Seems a Lot Brighter'
For a new animated show, it would make sense that Lucasfilm would revisit several of the characters and situations from The Clone Wars TV series in a later period. The most likely candidate to anchor another animated show would be Ahsoka Tano, Anakin Skywalker's Togruta Padawan. Voiced by Ashley Eckstein, the character went from being a reviled part of the 2008 Clone Wars movie to an essential, beloved part of the TV series. Her whose much-speculated-about fate—why isn't she in Revenge of the Sith?—was finally answered on The Clone Wars in the Season 5 finale, when she decided to walk away from the Jedi Order.
Not to mention that the Clone Wars series as a whole has seemed to be gearing up for an endgame of late, with hints in the air of Order 66, Emperor Palpatine's directive to hunt down the Jedi, and the visual style of the show becoming more and more monochromatic and Imperial. A video featuring Dave Filoni talking about the future of the show includes a clip from an upcoming installment in which a clone trooper seems to get a jump on Order 66 by gunning down a Jedi a little too early. The Clone Wars, as a conflict, only takes place for three years, meaning that the series is already a pulling a M*A*S*H by having aired longer than the conflict it's depicting. Setting a spin-off show in the Dark Times after Revenge of the Sith and focused on Ahsoka as she struggles to survive and evade the Jedi Purge unleashed by Darth Vader could be fascinating.
The other possibility is that it could be an animated series set after Return of the Jedi as a set-up for J.J. Abrams' Episode VII, introducing key themes and elements that will eventually appear in the big screen treatment. It takes a lot of time to launch a new major animated series, however. The Clone Wars itself was in the works for three-and-a-half years before it's fall 2008 launch. If they're just starting on a spinoff now, it may not be ready in time for Episode VII in 2015—once again making the idea of a continuation series featuring characters from The Clone Wars likely, as it can mean recycling previously used character models.
RELATED: 'Clone Wars' Recap: Good Jedi Gone Bad
No matter what, there are some major loose threads from The Clone Wars that need to be tied up before that chapter in galactic history becomes one with the Force. What the heck happens to Darth Maul, last seen being filled with Force Lightning by a vengeful Darth Sidious? It seemed like he would be forced to do Sidious' bidding once again. What's the ultimate fate of Asajj Ventress, the Sith assassin-turned-bounty-hunter whose arc on the show has been very different from previous Expanded Universe interpretations? And will Anakin and Ahsoka ever see one another again before he gets a mechanical makeover?
Hopefully we'll find out soon.
Are you excited for the possibility of a new animated series? Or is that excitement outweighed by sadness that The Clone Wars is ending?
Follow Christian Blauvelt on Twitter @Ctblauvelt
[Photo Credit: Lucasfilm]
---
You Might Also Like:


8 Male Stars With Tramp Stamps


15 Stars Share Secrets of their Sex Lives (Celebuzz)