'Star Wars: The Clone Wars': Chat Live With Ashley Eckstein on Twitter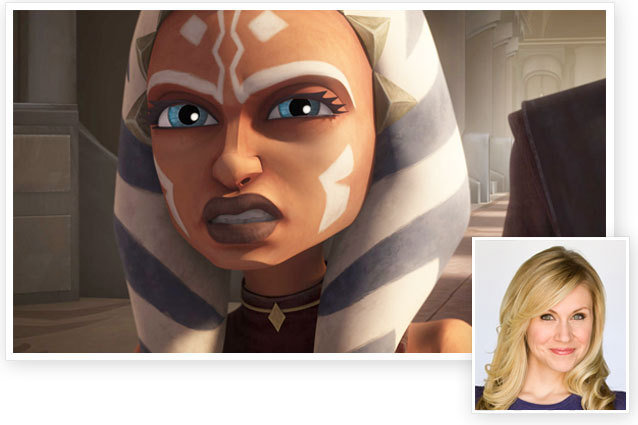 UPDATE: Matt Lanter has had to withdraw from the chat. Taking his place will be Ashley Eckstein, a.k.a. Ahsoka Tano, and all the rest of the details are the same. See you at 1:00 p.m. ET/10:00 a.m. PT.
Poor Ahsoka Tano. She's apprenticed to a future Sith Lord, has spent much of her teenage years on the battlefields of that Galaxy Far, Far Away, and now is on the run for a murder and bombing she didn't commit. And in this weekend's Season 5 finale of Star Wars: The Clone Wars, the drama will reach a fever pitch. Trust us, you're going to be talking about this one for a long time after it airs.
So to get you ready, Ashley Eckstein (@HerUniverse), who voices the on-the-run Padawan, will be joining Hollywood.com for a Twitter chat Friday March 1, at 1:00 p.m. ET/10:00 a.m. PT. She'll be taking your questions about the Ahsoka Arc, which you can submit by using the hashtag #CloneWarsChat. Then we'll retweet the questions we select for Ashley to answer directly to the @Hollywood_com handle, so if you prefer to just observe the chat, rather than participate, you can do that too. Just tune in to the @Hollywood_com Twitter page and follow along. 
RELATED: 'Star Wars: The Clone Wars' Recap: Good Jedi Gone Bad
How does Ahsoka feel Ahsoka's relationship with Anakin has grown over five seasons? Why is Ahsoka so sure that the Council won't believe she's innocent? And how has she benefited or not benefited from being Anakin's Padawan? Those are the kinds of questions she'll be answering and much more. So start brainstorming! And join us at 1:00 p.m. ET/10:00 a.m. PT today. See you then!
Follow Christian Blauvelt on Twitter @Ctblauvelt
[Photo Credit: Lucasfilm/FlameFlyNet]
---
From Our Partners:

Kate Upton Bares All In Body Paint (Celebuzz)


33 Child Stars: Where Are They Now? (Celebuzz)