'Star Wars: The Clone Wars' Season 6 Likely Leaving Cartoon Network, Season 7 In Doubt

When news broke last week that Disney bought Lucasfilm in an astonishing $4.05 billion deal, most of the entertainment press focused on the new Star Wars movies, particularly Star Wars: Episode VII set for 2015, that were announced as part of the deal. Not quite as much attention was given to what might be the franchise's most visible and successful offshoot these days: Lucasfilm Animation's series Star Wars: The Clone Wars (read our recaps here), now in its fifth season on Cartoon Network. But because of the acquisition, it seems entirely likely, in fact almost a given, that The Clone Wars will move to the Mouse's cartoon-oriented channel, Disney XD.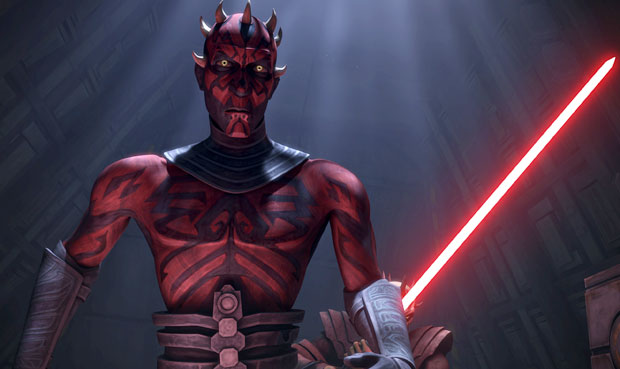 We reached out to Lucasfilm for official comment, and all the studio would say is this:
"The Clone Wars will remain on Cartoon Network through its fifth season as planned. Additional episodes of the show are currently in pre-production."
Sounds pretty cryptic and uninformative, right? Well, actually it's quite revealing, especially with the emphasis on additional "episodes" having been greenlit, not "seasons." As TheForce.Net contributor and all around Star Wars guru Eric Geller notes to Hollywood.com, "The conventional wisdom has been that The Clone Wars will end after its sixth season."
Though a source inside Lucasfilm suggests that the long-term fate of the series is still up in the air—no hard end date has been set, that's for certain–supervising director Dave Filoni recently confirmed to me that much of the sixth season is already completed. Filoni also said, "Clone Wars will keep going as long as George [Lucas] wants it to keep going."
But considering how recent advertising for the Clone Wars has teased major character deaths this season with the tagline "Who Will Fall?" one would assume the series is winding down toward its endgame. Right now, the chronology places season five at two years into the three-year conflict, indicating that the events of the Clone Wars-ending Star Wars: Episode III–Revenge of the Sith are around the corner. And since Episode VII will take place will after the events of Return of the Jedi, and thus decades after the events of Clone Wars, it's reasonable for Disney and Lucasfilm to shift their attention to exploring that time period rather than continuing to dive deep into the Prequel Era.
Lucasfilm hasn't confirmed anything about where those "additional episodes" might air, but rumors suggest that, even before the Disney deal made Disney XD the most obvious broadcast partner, the studio had been looking for another network.
For the fifth season, Cartoon Network moved the series to a new 9:30 a.m. Saturday timeslot in the hope of building a block of action programming geared squarely at kids—an unfortunate decision for older Star Wars fans who enjoyed geeking out over the show with their kids when it previously aired on Friday nights. In terms of ratings, the Saturday-morning move hasn't really hurt the show. There had been a steady viewership decline in the Friday-night timeslot from an average of about 2.9 million viewers for season one in 2008-09 to about 1.6 million for season four. Season five matches last year's numbers, with also a robust uptick in DVR playback and other time-shifted viewership. Time-shifting reflects the viewing habits of Clone Wars' older audience, who are drawn to this season's buzzy storylines, including the continued galactic fallout from the resurrection of Darth Maul. However, Geller notes, "The Saturday morning timeslot has definitely hurt the series in one sense: live reactions. I used to see tons of live reactions on Twitter when TCW aired on Friday nights, but now I'm not seeing that anymore. I also think that, while kids may be able to get up early and watch the show, a lot of adults would prefer to sleep in, which may deflate the live viewership numbers." As far as when he checks out the show himself, Geller adds, "I watch it time-shifted later that morning."
Another issue is that Cartoon Network has objected to some of the darker, more violent content that's often included on the show. Last season, a gritty combat-focused arc—one episode was even directed by legendary Apocalypse Now editor Walter Murch—was rumored to give the network palpatations. This season's episodes, three of which were written by Chris Collins, a writer on The Wire and Sons of Anarchy, have already featured 24-style torture scenes and even a (thwarted) public execution. In 2010, one gloriously kinky scene featuring villain Asajj Ventress kissing a clone trooper she had just impaled with her lightsaber, was censored by the network and deleted outright from their broadcast. You can see that scene here:
If it were to move to Disney XD for season six, The Clone Wars would likely have greater artistic license because of the Lucasfilm-Disney partnership. Combine that freedom with Disney's greater marketing capabilities and you could see the show become a much greater Force. "While a lot of people have already made up their mind that this series isn't for them," Geller says, "Disney has a lot of marketing resources at its disposal to convince undecided people to tune in. They can advertise it at their theme parks, they can show commercials on all of their TV channels, and they can splash ads across their website, which a lot of kids visit."
All of which means that Clone Wars' days at Cartoon Network are numbered.
[Photo Credit: Lucasfilm]
More:
'Star Wars: The Clone Wars' Recap: No Mr. Ollivander for the Jedi
'Star Wars: The Clone Wars' Recap: Onderon Strikes Back
'Star Wars: Episode VII' Theories: Eight Directions It Could Take
'Star Wars: Episode VII': Could Mark Hamill and Carrie Fisher Return?

Katy Perry Moves Forward at Barack Obama Rally in Wisconsin (PHOTOS)
(Celebuzz)