'Stars Earn Stripes': Boot Camp or Bait?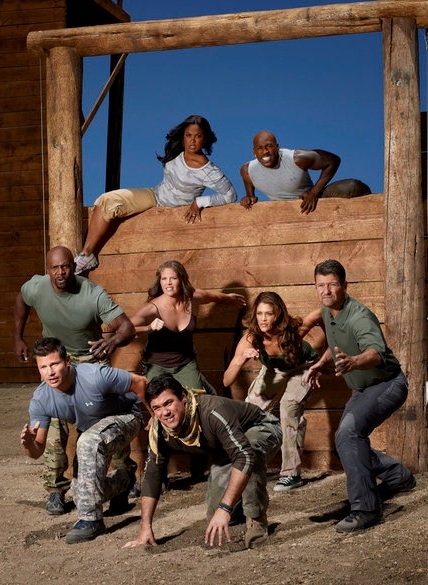 "Americans are really about two things: supporting our troops and reality shows. So why not combine the two and have Mark Burnett produce it, right?" – A quote some executive at NBC probably maybe hypothetically said at one point. And so it was done, and they even brought Todd Palin around, since he hates being on TV as much as the rest of his family!
Stars Earn Stripes is the name of the new show from the Survivor producer, and features a veritable smorgasbord of pseudo-celebs trying to win money for military-based charities.
Joining the former First Dude on his quest will be Laila Ali, Dean Cain, Terry Crews, Nick Lachey, Picabo Street, and Eve Torres. Hosting the whole shindig will be former presidential candidate Wesley Clark (I know), along with Dancing With The Stars' Samantha Harris.
The show is made up on challenges meant to "test themselves as they step up to take on these tough challenges," explained Clark in a statement from NBC. "This new series pays tribute to members of our dedicated armed forces and civil law enforcement and I know that the winnings, which will be donated to first-responder charity and veterans' groups, will make a difference and send an important message."
So how does it work, you ask? Well the contestants are shipped off to an allegedly super-secret military training facility, where they will be given a coach that guides them through the competition. Each week someone will be eliminated.
"Our cast is ready to be put to the test — using the same physical and mental challenges that prepare our nation's bravest men and women to defend our nation — and their arduous journey will make for riveting television," explained NBC President of Alternative and Late Night Programming Paul Telegdy in a statement. Sounds like we're going to be in for a lot of tears, and a lot of red, white and blue.
Seems like each of the stars will have to play into their strengths, huh? In case they forgot what those are we've broken it down for them:
Todd Palin:
Moose-wrestling, Snowmobiling
Dean Cain:
Duh, the man was Superman! Flight
Nick Lachey:
Staying at a sustained, healthy body temperature
Laila Ali:
Please, she's a retired professional boxer. Watch her hands! She'll probably win the whole thing.
Terry Crews:
Well being expendable is probably a weakness. BUT! He sure is good at yelling.
Picabo Street:
Speed, nicknaming prowess
Eve Torres:
Wait, homegirl is a wrestler? She'll be really good at beating the s**t out of people (or at the very least pretending to) and wearing very small items of clothing.
As much as the dudes will try to own this one, we're interested to see how Laila Ali and Eve Torres match up, because those are two girls that beat people up for a living. Yikes! Stars Earn Stripes premieres with a two-hour episode on Monday, August 13th at 8PM on NBC. It will then air on Mondays at 9PM.
Could this show be any good, or do you think it's just a cheap ploy to get people to tune into yet another reality television program? Let us know in the comments!
[Image Credit: NBC]
Follow Alicia on Twitter @alicialutes
More:
Bristol Palin's New Show Portrays Life as a Tripp — VIDEO
Dick Wolf, Mark Burnett Team for Military Reality Show: 5 Celebs We Want to See
Is Vanessa Lachey Becoming a 98 Degrees Groupie?