The Amell Cousins: Stephen vs. Robbie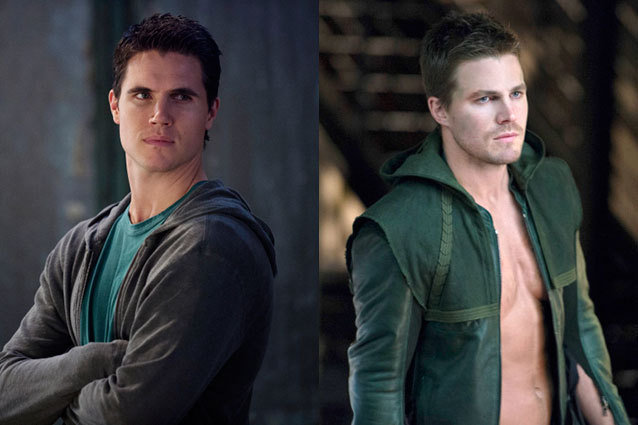 The CW
In a masterful stroke of marketing magic, The CW decided to air both of its shows starring a member of the Amell clan on Wednesdays. Arrow and The Tomorrow People have brought fans together to celebrate "Amell Wednesdays." But let's answer the question that's on everyone's mind: who's better, Stephen Amell or Robbie Amell?
The CW Shows
If we're pitting Arrow, a reboot of the DC Green Arrow superhero, against The Tomorrow People,  a reboot of a 1970s British sci-fi show, it's not hard to choose. Arrow, now in its second season, has grown into its own as the best superhero show on TV while The Tomorrow People still has some kinks to work out. 
Stephen 1, Robbie 0
The Heroes
However, if we take a look at Oliver Queen and Stephen Jameson, who would you really want to be the hero of your city? They've both got the selfless thing down — they're willing to do anything to save someone's life, especially if that person is someone they love — but while Oliver is good with a bow, Stephen has actual superpowers: telekinesis, telepathy, teleportation, and he can stop time.
Stephen 1, Robbie 1
The Resume
Both Stephen and Robbie have plenty of roles under their belts. Stephen bounced around with small bit parts before landing bigger roles on Hung, Private Practice, and Heartland. Meanwhile, Stephen stuck to media geared toward a younger crowd: Life with Derek, True Jackson VP and Scooby Doo! Curse of the Lake Monster.
Stephen 2, Robbie 1
The Bring-Him-Home-to-Mom Factor
While both the Amells can be charming, imagine bringing them home. Every sister, female cousin, aunt, and teenaged niece would be vying for Stephen's attention, while Robbie could woo the whole family with his boy-next-door thing.
Stephen 2, Robbie 2
The Abs
Now, this is a hard one (pun not intended.) Both Stephen and Robbie look fantastic shirtless — though Stephen is more often without a shirt than Robbie on their respective shows — but this one is going to have to go to Stephen. Have you seen those promo shots for Arrow? Even Felicity Smoak agrees with us; her favorite pastime is watching Oliver Queen work out.
Stephen 3, Robbie 2
Winner: Stephen Amell!
(Sorry Robbie, we still love you.)