Stephen Colbert Makes Donald Trump An Offer He Can't Refuse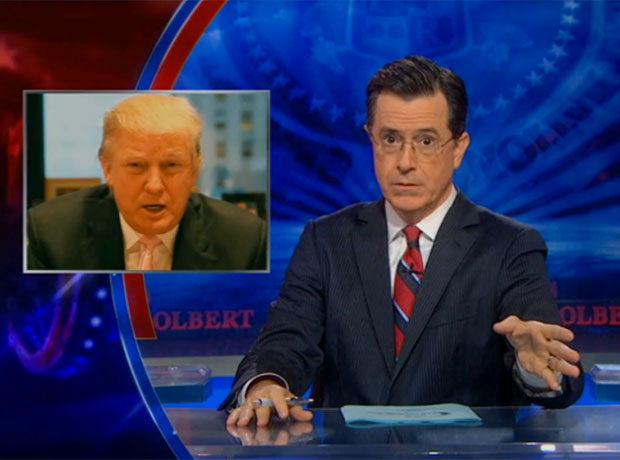 How do you a solve a problem like attention-seeking, intentionally button-pushing media leeches? It's the question many of us have been asking ourselves this week in response to
Ann Coulter
's choice of insensitive words (or one word in particular) for
President Barack Obama
and
Donald Trump
's "bombshell" full of hot air regarding the POTUS. 
It's not by ignoring them (however tempting that may be) or writing rants about their contributions to society. It's not even by writing them
thoughtful, kind letters
or peace offers that more than likely don't even scratch the surface in thawing their cold hearts. No, the solution is this: have
Stephen Colbert
offer to tea bag them for $1 million given to the charity of their choice. 
During Wednesday night's installment of The Colbert Report, the host matched Trump's offer to Obama to release his college records and application, as well as his passport application, by "5 in the afternoon" (wait… what?) on October 31 (because, as Colbert put it, he's "renting out his enormous orange head as a Jack O' Lantern") and he'd donate $5 million to a charity. Colbert's offer was similar to Trump's, only instead of demanding to have Trump's documents released to him, he offered "if you let me dip my balls in your mouth" he'd give $1 million from the Colbert Super Pac to the charity of choice.
"Nothing would make me happier than to write this check," Colbert told Trump, "and nothing would make America happier than to have something going into your mouth instead of coming out of it." This is how you solve that problem, people. 
From Our Partners:

Jon Hamm Goes Shirtless With Bikini-Clad Jessica Paré
(Celebuzz)

Kim Kardashian Childhood Halloween Pics
(Celebuzz)